For the most part, I do a pretty good job of keeping a positive outlook for my life and circumstances. But, but, but...I have been feeling sorry for myself lately. My kids and I have been sick, they don't sleep well, they don't eat well and Bean's delays and sensory issues get me down at times. Husband's bus got cancelled which means more money and later nights. I think about going back to work often and then I feel bad for wanting that. Nothing that bad, just whine, cry, boo, hiss...
Then, something puts my life in perspective for me. Today, a Williams Syndrome (WS) mom posted this link on facebook. The link is an article about a young family facing a very challenging time with grace and optimism. Both the mother and father were diagnosed with cancer within nine days of each other. She has stage 4 metastatic breast cancer and he has stage 3 colorectal cancer. They have an 18-month old daughter. They are chronicling their story here. To add even more perspective, the mother that posted this story has a one-month old son with WS. He has spent almost all of his life in the NICU and has already had open-heart surgery. Her story is here and her positivity and optimism is truly inspiring.
After reading these stories, I am reminded that I am no worse off than anyone else. We all face challenges and we all have bad days. I have a three-year-old that behaves live a beast sometimes. My youngest son has WS and related minor health issues as well as developmental issues. He will always have health risks and will likely have intellectual disabilities. I don't remember the last time that I slept for more than two consecutive hours and I don't remember the last time I was able to eat at a favorite restaurant or enjoy a glass of wine. I deal with the daily frustrations and challenges just like everyone else. Boo hoo, right?!?!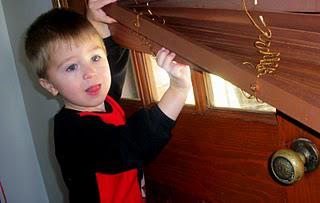 In reality though, I have two beautiful, amazing and (relatively) healthy little boys. I have a wonderful, supportive husband that has worked his butt off for the past two years so that I could stay home with our kids for now. We have the best support network of family and friends and an outstanding team of doctors and therapists. When the time is right, I have the education (thanks, mom!) and experience to find a reasonably paying and satisfying job. I have my health. I have my home. I have my life.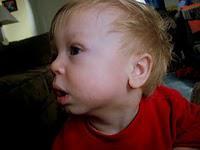 I don't personally know the mother that posted the link above. I only know her from a facebook support group for WS families and from her blog. But I appreciate her sharing the Bond family's story and reminding me that we all face challenges, heartbreak and heartache. I am also inspired by her positivity and by they way she advocates for her sweet son. The stories helped put my life in perspective. It's perfectly normal to have rough days and get caught up in all of life's drama. But in the end, I love my family. I love my boys (husband too!). And I am grateful for all of the support from family and friends as we work through life's little quirks.