Anyone mildly serious about food will tell you how much they cherish their local farmers market.  Attending one for the first time – especially if you're accustomed to shiny nutrition labels and fluorescent supermarket lighting – can be a surreal experience.  It's a small, slightly underground community where ingredients reign supreme and prices reflect the actual costs of their labor.  There are no checkout lines or shopping cart trains.  Just stacks of fresh produce and the tanned, leathery faces of the humans who produced them. For the modern man, it feels both foreign and nostalgic, slightly uncomfortable and yet definitively real.
Such an experience might inspire you to live a bit simpler, or at least eat a bit simpler for the next two or three days.  So you fill your hand-sewn hemp bag with bunches of kale, chard, and fuyu persimmons, hoping that their collective volume will force you to purge your refrigerator of its lesser, more pasteurized inhabitants.
Then you panic.  You have absolutely no idea what you're going to eat for dinner and, more importantly, how it's going to sustain you for more than 10 minutes.  You berate yourself with questions like When will I have time to peel a beet? and Why did I buy so much goddamn kale?  Six hours earlier these products were a beautiful example of nature's bounty.  Now they're just super annoying.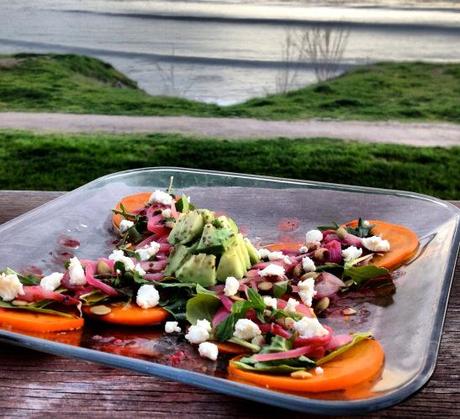 The truth is that you're suffering from a lack of creativity.  You've been clinically trained to see food at face value: beets are rough and hard and difficult to peel.  Kale is bitter.  Frozen ravioli, however, is both tasty and filling.  This is the most logical conclusion for your brain to make.
But if you care about food on any level – be it personal health, environmental sustainability, or just plain narcissistic pleasure – you'll get your hands dirty with those vegetables.  You'll think about their specific qualities (arugula is bitter, persimmons are sweet) and pair them accordingly.  Maybe you'll come up with something both delicious and reflective of the ground on which you're standing.  Maybe not.  But at least you'll be doing your body and your local community a favor.
Still want that frozen ravioli?  Me neither.
Ingredients:
1 ripe persimmon
1/2 cup arugula
1/4 cup quick-pickled onions (recipe below)
1/4 avocado, diced
1 oz goat cheese
2 tbsp pepitas
2 tbsp blackberry lime vinaigrette
1 tbsp extra-virgin olive oil
Directions:  Cut persimmon into thin slices.  Arrange on plate and top with arugula, onion, avocado, goat cheese, and pepitas.  Drizzle with blackberry lime vinaigrette and olive oil.  Add salt and pepper to taste.
Quick Pickled Onions:
1 red onion, thinly sliced
1/4 cup vinegar
juice of 1 lime
2 tbsp sugar
Directions:  Heat a small saucepan to medium-high.  Add ingredients and cook for 3-5 minutes, until onion is slightly tender (but not mushy).