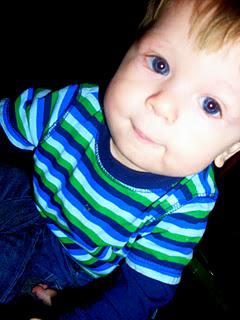 Bean has the most beautiful blue eyes. Every time we are out, we get comments on those eyes. They are beautiful, blue, sparkly and full of emotion. They are also a feature of his diagnosis - Williams Syndrome. Every time I look in to his perfect eyes, I am reminded of his imperfections. But isn't that how everything in life is? Perfectly imperfect?
Tomorrow, we head to the diagnostic referral group at Children's. They will review his entire medical record and determine whether we need to visit any additional specialists. We are currently scheduled for follow ups with his gi and cardiologist. We also have an appointment scheduled with a physiatrist to determine whether Bean will need ankle foot orthotics (AFO's - or ankle braces). I am expecting to hear that we will need to visit an endocrinologist, opthamologist and an audiologist and possibly an ENT. But we'll see. All of these doctors will be looking for more imperfections. 
And while they may find imperfections caused by his genetic "errors," I will do my best to remember how perfect he actually is. He faces many challenges but the "error" in his genetic makeup has resulted in the most loving, sweet little boy that makes everyone around him smile - even on a bad day. He looks at the world with wonder and delight. To me, nature got something right with him. He truly defines "perfectly imperfect."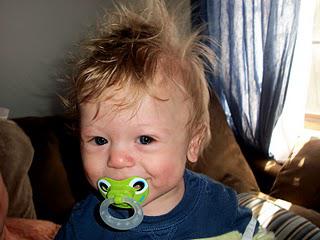 --------------------------------------------
On another note, I wanted to mention that our family is participating in the annual Pittsburgh Walk for Williams on May 21 at 10am in North Park. Please consider joining us or making a contribution to the Williams Syndrome Association in honor of our sweet Bean at www.walk4williams.com. Online registrations in advance of the event receive a discount and are guaranteed a sized tshirt. Hope to see you there!