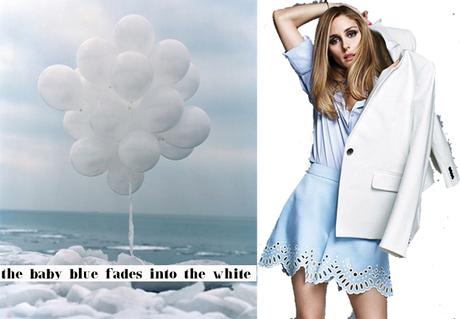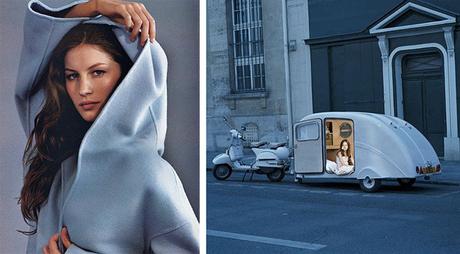 {per la versione Italiana in alto a destra}
">
">There is a color that is not a color, but not as black, which is the sum of all the colors, or white that is the apparent absence of tones and shades.
The baby blue, light blue is the color of the sky when clouds dissolve within it; t
">
">he color of the ocean when it mixes with the foam of the waves.

">
">This nuance, trivially called pastel, is much more.

">
">It changes depending on fabrics and patterns.
It becomes gently aggressive on a tulle, ruffled and bulky; calm and quite, like the sea before a storm, on homogeneous and compact materials;
">
">brazenly coy on lace, crochet and embroidered cottons.
We can find baby blue in Chanel haute couture collection with surreal and magical clothes that are the envy of Alice in Wonderland;  in Vionnet  – the queen of seamless and constraints volumes – where  lightness and lines are combined, an untouchable pleated chiffon matched with a textured woolen coat.
It may be either soft and smooth in fluffy sweaters or
">
">sophisticated and elegant in a ton sur ton tweed.
">
">

">
">You can dare a total look, break it into different shades or strike the attention on accessories.

">
">Whether it's a pair of sneakers, a makeup or a mini bag.
The baby -blue is one of the softer colors which could be imposed with strenght and identity.