Pear shaped engagement rings are so hot right now. Yes, that was a Zoolander thing and no, I don't care how dated it sounds and nah, I'm not going to stop using it anytime soon. But pear shapes.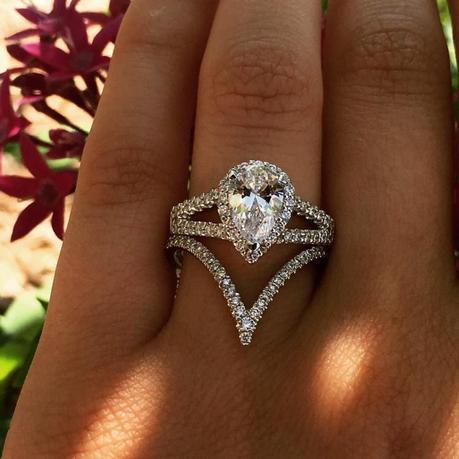 Wowza. Click here to shop.
Pear shaped diamonds are one of my favorite options for brides who are fashion-forward and like to stand out in a crowd. They aren't a shape you see every day, so whenever you do spot one in the wild, it invites further admiration. Pear shaped diamonds are also incredibly versatile and look just as great in a contemporary halo setting as they do in a Harry Winston style three stone setting with tapered baguettes.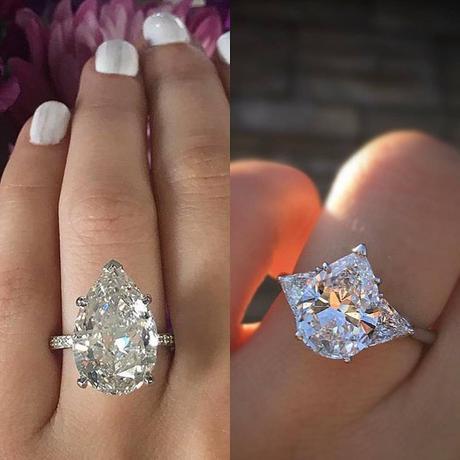 Yum.
Pear shaped diamonds also give brides some room to play with length to width ratios, like cushion cuts. The more disparate the ratio, the more dramatic the diamond. And it's always fun to find a diamond that goes as extreme as possible with l:w but still sticks to the proportions that create a pleasing diamond. What are those, for pear shaped engagement rings?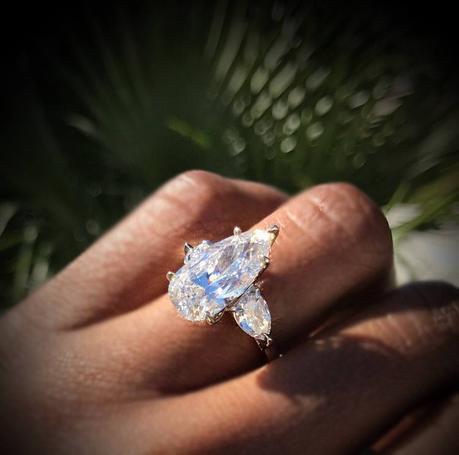 Extra L:W. Shop here.
Tradition dictates it's a 1.40-1.70 length to width ratio, but again – you can go as crazy as you want to with that as long as you don't sacrifice the diamond's beauty for it. Because pear shaped diamonds are the sparkling centaurs of the diamond world, upper half one shape and bottom half another, they combine for an epic result. The mix between a round brilliant bottom (called the belly) and the marquise upper half (that culminated in the point) is stunning, and gives the diamond all the advantages of a brilliant cut (color and clarity camouflage, extra super sparkliness) with the striking shape of the marquise. Like the marquise, every pear will also show some degree of the bow-tie effect – a dark, bow-tie shaped shadow in the center facets. The cut grade of each individual pear will determine how prominent it is.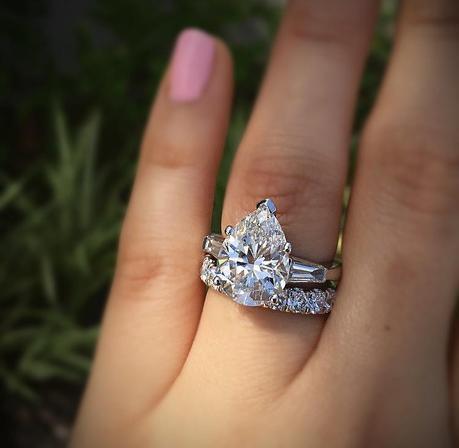 No bow tie from this angle!
When it comes to maximizing your pear shaped engagement ring budget, look for a diamond with H color or better for white metal settings, and K color or better for yellow gold or rose gold. Again, thanks to its brilliant cut heritage, you can hide so many inclusions with a pear shape, and hunt for one that's VS2 – SI1 to save more money for carat weight. You already know you aren't allowed to skimp on the cut grade, so once again I take you by the hand, look you square in the eye and tell you to get the highest cut grade you can afford.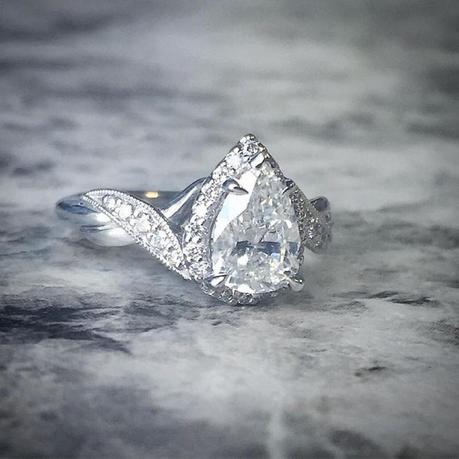 Contemporary and Classic. Shop here.
Now, there are some strong opinions about the other details of a pear shape – whether a "fat" pear is more appealing (spoiler alert, it is) and whether a "curvy" pear, rather than one with straight sides, is absolute crap (wrongo.) But, like I've just expertly demonstrated, the only opinion that matters is yours. And buying a pear shape with a big bottom and convex sides might save you money over one with a textbook cut. The most important factor of evaluating the shape is symmetry. Curvy sides don't mean uneven or wavy sides, they just mean they're more appealing to you. Stick with the basic rules for getting a great deal on a diamond then have fun and follow your heart.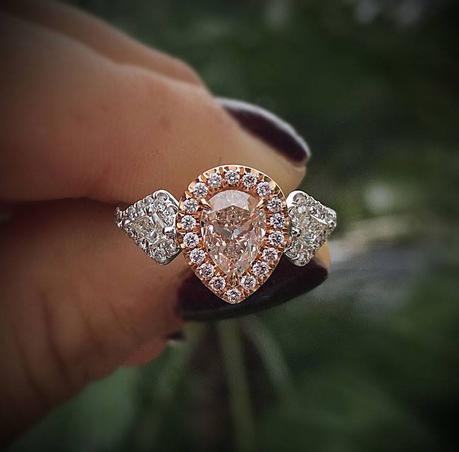 Pretty pear in pink!
Pear shapes are trickier to buy online because they have so much personality. So if you are shopping long-distance, make sure you ask your jeweler for selfies on a hand, and ideally some video of the pear shape in natural sunlight, so you can get a better feel for its character. And always, make sure the return policy protects you.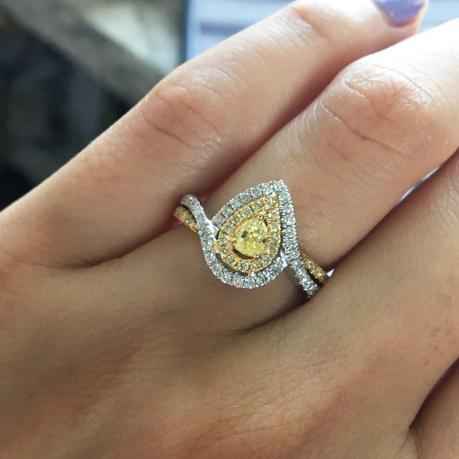 Looking good in fancy yellow.
If you have any questions about pear shaped engagement rings, you can always message/ comment/e-mail or DM me – I'm happy to chat! And if you just need more eye candy, make sure you check out the pear shaped perfection on my Instagram, DBRL's and RLJ's.