Some of my favorite plants are herbaceous perennials. They are so versatile in the garden and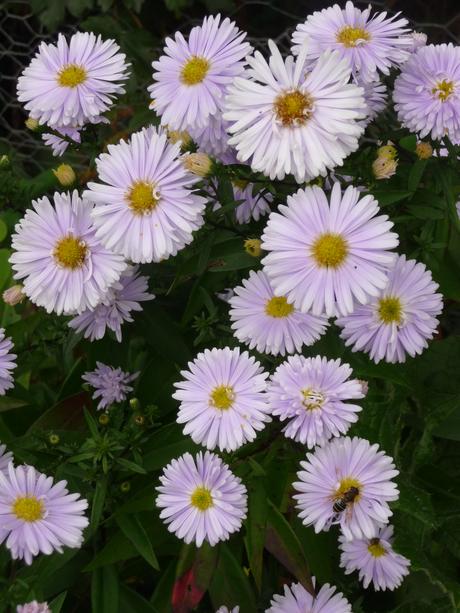 varieties can be found for any conditions and to provide blooms throughout the year.
The Lenten Roses (Helleborus x hybridus) are quiet plants for much of the time, concentrating on making a mass of leathery, evergreen leaves through the growing season and growing happily in a dry shady spot. But their beautiful blooms are a highlight of our garden in early spring when the nodding heads rear up from the ground on sturdy stems. Their only fault is that the flowers hang their heads and must be scooped up to admire their colours. We have plenty of seedlings which are offspring from the original plants and which have produced a range of colours including whites which are heavily freckled with deep purple, pure apple green and slate-blue – all tributes to the bee's work. Hellebores are important early food plants for them.
Phlox, Delphiniums and Lupins are all stalwarts of summer borders and we have a lovely clump of white Phlox which has a sweet scent and seems to produce its green-eyed flowers for months from early summer onwards. I like to give this one the 'Chelsea Chop' albeit in late April rather than at the end of May and the plant grows back bushier, more compact and with more flowering stems than ever. The tops are used to make soft wood cuttings and increase my stocks for other parts of the garden.
We had beautiful Lupins in our previous garden but here, I dare not risk them or Delphiniums due to the slugs that patrol our patch, dispatching small plants overnight! The organic slug pellets based on ferrous sulphate are very effective but I prefer to choose plants that they do not eat or eat to a lesser degree!
Perennials for dry shade are some of my favourites especially as some are the first flowers of spring. Dicentra spectabilis has plenty of common names - 'Dutchman's Breeches', 'Bleeding Heart' and 'Lady in the Bath' are three -  and the elegant pink and white flowers hang like mobiles on wiry stems, set off by the smoky green leaves. We have a clump in very dry shade where it spread slowly each year and has produced several seedlings. Dicentra spectabilis is an amazing plant, appearing almost overnight from fat buds on the surface of the soil. The tall stems motor upwards and flower for several weeks before the plant dies down for the summer and emerges again in the following spring for its brief but endearing display. There are plenty of other varieties of Dicentra including the new 'Heart's Series' that have blue-green filigree leaves setting off vivid pink or red flowers on shorter stems. These dumpy plants make beautiful mounds of leaves and are in flower for months – much longer than the original D. spectabilis, creating a cool picture at the front of a shady border.
Another favorite time is late summer when the daisy-like Asters (Michaelmas Daisies) Rudbeckias and Heleniums come into their own. These handsome plants look beautiful massed in one of our borders in heavy clay soil which is enriched with good mulch made from homemade compost and applied in a thick layer each spring. The tapestry of golds, reds and inky blues and purples that they produce are the perfect end to the year before the garden fades out to tawny seed heads through the winter months.