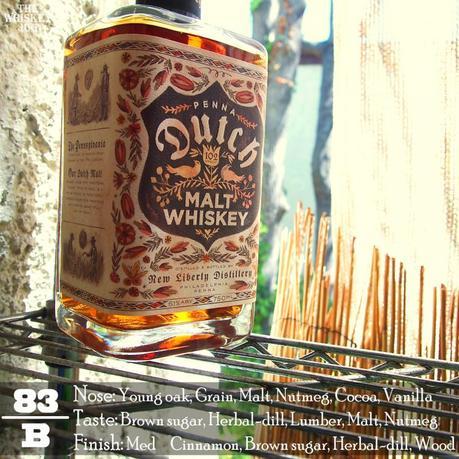 Penna Dutch Malt Whiskey is the new flagship release from the relatively young New Liberty Distillery and is made from 100% malted barley done in the Munich style. This means the malt has received a bit darker of a roast than might otherwise be done which is more of a beer approach to the treatment of the malt than a whiskey approach.
In New Liberty Distillery's Words: Penna Dutch Malt Whiskey
"The Pennsylvania Dutch came to America from Germany in the 17th century. This Dutch Malt Whiskey, made with traditional "Munich" style of malt, is a fitting tribute to those early pioneers whose rich traditions and enduring legacy still lives on today.

Some of the first whiskey distilled in America hailed from this storied region, where what we ate and drank relied on what we planted and harvested.

We've sourced our two-row barley from Deer Creek Malt House in Chester County, PA, for a depth of flavor only possible using traditional floor malting techniques."
Without a doubt the Penna Dutch Malt Whiskey is interesting and it's part of the growing number of American whiskey producers who are putting out 100% malt whiskies. It's a style that's familiar all over the world (single malts), though they're typically aged in re-fill barrels and not new charred oak.
It will be interesting to see how this use of new oak influences the creation of these whiskies and if it leads America to create its own signature profile in the single malt area. No one knows what the future holds, but we do know the present holds, the Penna Dutch Malt Whiskey review, so lets get on with it.
Penna Dutch Malt Whiskey Info
Region: Pennsylvania, USA
Distiller: New Liberty Distillery
Mashbill: 100% Malted Barley
Cask: New charred oak
Age: 6 months (mix of 6 mo – 2-year-old whiskey)
ABV: 51%
Price: $50*
Penna Dutch Malt Whiskey Review
EYE
Bronze
NOSE
Young oak, grain, velvety malt sweetness, nutmeg, cocoa, vanilla and light bits of orange peel and acetone. Not crazy complex, but nothing off about it.
PALATE
Brown sugar, herbal dill-like character, lumber, malt, nutmeg and a bit of acetone. Like the aroma it's not going to blow your socks off, but it's highly interesting.
FINISH
Medium drawl of cinnamon, brown sugar, herbal-dill and wood.
BALANCE, BODY & FEEL
Not fully balanced, medium body and a bit oily on the delivery.
OVERALL
If it weren't for the "interesting factor" this would have landed in the B-, but I love when I get to experience something that I haven't before and this Penna Dutch Malt Whiskey certainly fits the bill. The youthful notes bring a sharpness and a sweetness to the whiskey and play off of the darker notes brought on by the new charred cask and older whiskey giving it some semblance of balance.
In this Penna Dutch Malt Whiskey I see promise, like I do in many craft distilleries today. This category is changing, working and building into a viable arena for the discovery of new profiles and experiences in the near future. It's an exciting time for whiskey and I'm excited to see how this Penna Dutch Malt Whiskey evolves and changes over the coming years.
SCORE: 83/100 (B)
*Disclosure: This Penna Dutch Malt Whiskey was graciously sent to me by the company for the purposes of this review. The views, opinions, and tasting notes are 100% my own.