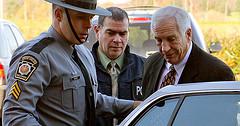 Penn State pervert Jerry Sandusky was arrested Saturday November 5th on numerous felony charges. The charges range from involuntary deviate sexual intercourse too aggravated indecent assault that involved at least eight boys –one which was as young as 10-years-old. If convicted on all counts Sandusky could spend the rest of his life behind bars. The news of Sandusky's arrest rocked Penn State and shook the foundation of the Catholic Church –which is still under strict scrutiny from past molestation cases involving priests.
   "Sandusky is charged with multiple counts of involuntary deviate sexual intercourse, corruption of minors, endangering the welfare of a child, indecent assault and unlawful contact with a minor, as well as single counts of aggravated indecent assault and attempted indecent assault" (Associated Press, 2011).
   Adding insult to injury, Penn State Athletic Director Tim Curley and Senior Vice President of Business and Finance Gary Schultz were arrested for perjury and failure to report Sandusky to authorities. Additionally, the character of Coach Joe Paterno has been called into question and his resignation requested because of allegations he disregarded morality by doing the bare minimum when reporting  Sandusky's dirty little secret to school staff.
   State Attorney General Linda Kelly had this to say about Curley and Schultz's cover-up: "Their inaction likely allowed a child predator to continue to victimize children for many, many years" (FoxNews.com, 2011). Kelly continued by saying that Paterno fulfilled his legal obligation when he reported Sandusky to school administrators; therefore, he would not be charged. When asked about Paterno's moral obligation, Kelly had this to say: "I'm not going to comment on morality" (Brady, Carey, USA Today, 2011). State Police Commissioner Frank Noonan however, did not pass up the opportunity, stating:
   "Somebody has to question about what I would consider the moral requirements for a human being that knows of sexual things that are taking place with a child…[adding] that means everyone: whether you're a football coach or a university president or the guy sweeping the building. I think you have a moral responsibility to call us" (Brady, Carey, USA Today, 2011).
   I agree whole heartedly. That being said, these three moral-inapt pigs should swing by the neck next to the pervert they protected. What decent human being would enable a child rapist to continue his perverted predatory improprieties to save the reputation of a university and their prize-winning pig? The lowest, slimiest, self-centered, narcissistic pig that ever drew a breath –that's who! Yes, that's right –I just called Paterno, Curley, and Schultz low-life, slimy, self-centered, narcissistic pigs. I personally hope guilt and shame commandeer their souls, eating them alive until devoured by the Hounds of Hell. As for Sandusky, I wish him a lengthy stay in prison with a cellmate that never tires.
References
Associated Press. (2011, November 5). Two top officials step down amid Penn
   State scandal. FoxNews.com.
   http://www.foxnews.com/sports/2011/11/05/penn-state-ex-coach-charged-in-child-sex-case
FoxNews.com. (2011, November 7). Penn state officials covered up alleged sex
   scandal, prosecutors say.
   http://www.foxnews.com/sports/2011/11/07/penn-state-officials-cover-up-allegations-sex-abuse-scandal/
Brady, E., Carey, J. (2011, November 8). Cain's support holding for now.
   USA Today. Gannett. Volume 30, No.39. ISSNO734-7456.