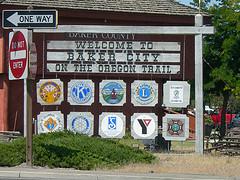 Welcome to Baker City, Oregon (Photo credit: jimmywayne)
We all have choices in life; be a part of the problem, or the solution. I've chosen to take part in the solution, and the following project is how! I urge all citizens to remember your civic duty to your community, and give back! 
When folks say "One person can't make a difference", they're wrong ~simply wrong! I'm only one person (a cancer survivor (a few times over), domestic abuse survivor, was homeless, raped as a child, mother was a drug dealer and user. Point being, if I can come out of said trauma a survivor, educated, logical, and wise ~so can others. We can all do this, if we retrain our minds and hearts to give instead of take. 
Keep in mind: I'm the only one doing the leg work, PR work, collecting donations, decorating, cleaning, and much, much more. I'm not complaining at all. It's just another example why and how we can all help our own communities and others.
'The Backing Baker Project'
October 26, 2012 10:00am -?
VAOI Event Center, 1901 Main Street, Baker City
Community Services Education Conference & Silent Auction Fundraiser
Supporting Four Local Charities
Veterans Advocacy/ 'Goodies & Love' Program
May Day
Best Friends
Cost to get in:
Two Cans of Food, or, Pet Supplies, or, an item for 'Goodies & Love' program, or an Unwrapped Toy
Items needed and explanation for 'Goodies &Love'
VAOI packs & sends Boxes of 'Goodies & Love' to our deployed troops. We pack these with notes & letters of encouragement, Support and thanks for their Service to our Country. These are supplied from all our various Community members & youth groups. We can also use goodie items such as Beef Jerky of all kinds, Sunflower Seeds, Powdered Drink Mixes and toiletry items.
Any of these items are welcomed donations here at our Veteran Advocates of Ore-Ida (VAOI) Event Center in Baker City at 1901 Main St.
Regards,
Doug Dean
Pet Supplies Needed
Dog & Cat Food, bedding, toys, collars, crates, litter
Acceptable Food Items
Canned or non-perishable items only please
Acceptable Toy Donations
Any unwrapped toy is acceptable (ages 0-17)
Current Local Sponsors (more will be added)
D&B
 Burger Bob's Drive-In
 Computer Maniac
 Courtesy Home Furniture
 Sycamore Tree
 Aud's & Ends
 Baker Heritage Museum
 Embroidery by Blue Mountain Design
 VAOI (Event Center)
 Domino's Pizza
 Bella's Market
 Marilyn's Music
 Baker City Theater
 Main Event
 The Flower Box
 Current Confirmed Speakers:
Baker City Police Officer
 May Day
 Best Friends
 Veteran's Advocacy of Ore-Ida
 Veterinarian From Baker Animal Hospital
 (More Speakers are Anticipated)
 If any business or organization would like to speak or donate, please call Stephanie Ann Kinzel at 541-519-9933 or email [email protected].
Greetings Community Member!
My name is Stephanie Ann Kinzel. I've just moved back to Baker City from Nashville, TN in March. When I came back to Baker City, the one thing I told myself is, I want to spend the rest of my life here. Now, that decided, it was time to figure out how I could help improve the community I now call home. Additionally, I felt it was important to associate myself with positive, productive members of the community. Therefore, the "Backing Baker Project" was born.
My intention is to educate the community about the dangers of drugs, violence, fire, smoking, and what community services are available for victims, addicts, and their families. This project is an effort to improve society and raise funds for the agencies that help community members, pets, and Vets (Veterans)! United we stand, divided we fall!
Thank you kindly for your time,
Stephanie Ann Kinzel
http://cowgirlkitty.com