Both styles; pencil and swing skirt are flattering and popular.  Which one is for you?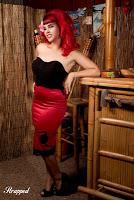 Kaboom Pencil Skirt
The Pencil Skirt:
Highlights all those curves you have
It's sexy but also professional
Never goes out of style
Gives you that little wiggle walk everyone loves
You can pair it with a belt, fitted top or even flouncy top.  Dress it up or down with your accessories and of course great heels.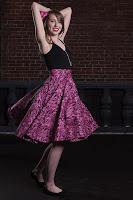 Pink Tiger Full Skirt
The Full Skirt:
Gives you hips if you have no curves; or
Hides your hips if you have large hips
Makes your waist look small
Perfect for dancing and movement
Wear it with any kind of shoe!  Pumps, sandals or even flats.  Can wear with a loose top, tucked in top or a cool belt.
Both work!  It's all good!