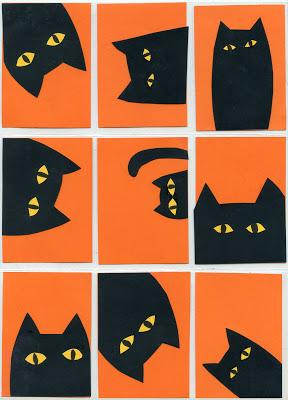 I'm learning that when I try to come with a new art trading card project, it helps to look for subject matter that cn be multiplied. A cute cat drawing inspired this collage combo.
1. I used the colored card stock that you can find in the scrapbook section at craft stores. Each student needs 9 black and 9 orange cards, cut to the 2.5" x 3.5" size.
2. A face is drawn on the black card. The face is cut out and glued onto the orange card with a glue stick, using the same placement.
3. Little eyes are cut out of yellow paper and glued on. The inside eyes are drawn with a black marker.
4. Repeat for all the cards, moving the cat around as desired. Place cards in a trading card sleeve and keep in a binder.