Hey everyone,
Hope the week is going well for you all. I always have reviewed make up and skin care on my blog which is primarily what my blog is known for. But lately I have been trying to review products which are beneficial to everyone as a whole in terms of hygiene and utility too. Today I shall be reviewing a unique product I came across on a popular website which I am very excited to share as it is something which many of you may or may not have heard of. I am talking about the Pee Safe Toilet Sanitizer. Let us find out more about this product in my review...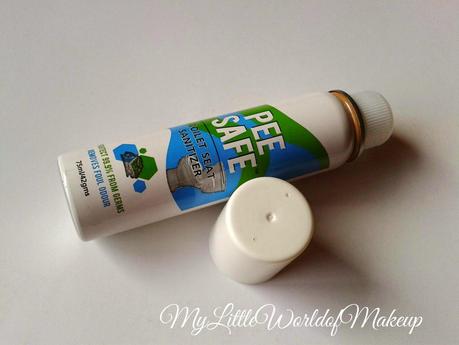 Price: Rs. 120/- for 75ml/42 gms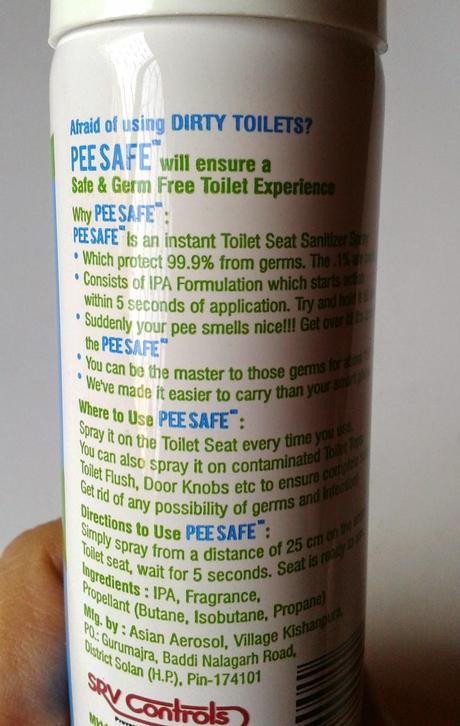 Availability on website: www.safetykart.com

About the website:Safetykart.com is a very unique website which stocks up various and unique products which are categorized into:
Personal

Women and Child

Travel

Home & Office

Sports & Adventure

Cases & Covers

Shop by Brands 
They have brands like P& G, Lotus, VLCC, Johnson & Johnson, Clean & Clear etc. If you go under the shop by brands tab you will find all of them listed there. They have Free Shipping on orders of above Rs.499/- and also have a Loyalty Rewards point option where every Rs.100/-  you spend fetches you a loyalty point which can be redeemed against one Rupee and the more you spend the more you collect points which can be redeemed at some point of time. The categories are simple to understand and website easy to navigate. My personal favorite section is the Self defense one and the Pepper Spray is a must have for every woman now a days.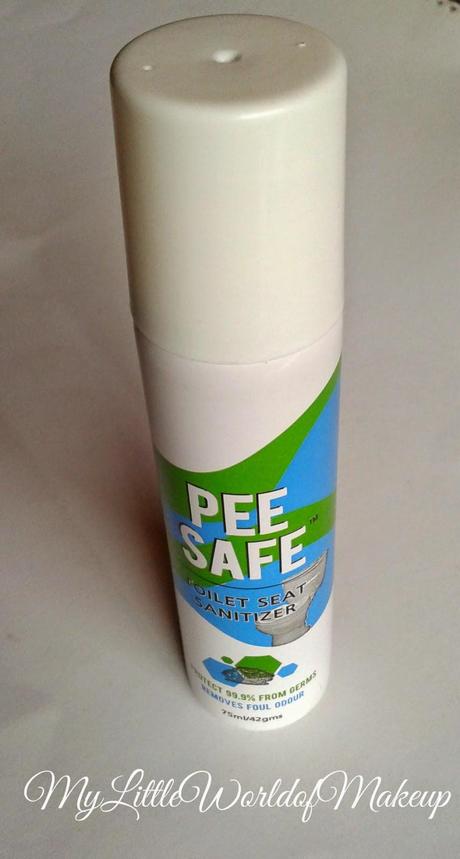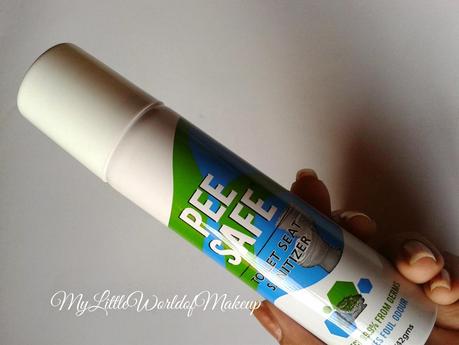 Now coming to the product  I shall be talking about. The product comes in a spray can which is white in color and sealed just like your normal deodrant would do.Personal hygiene is a very important topic for me especially toilet etiquettes.At home our toilets are squeaky clean and germ free and I mean even the commode but sadly the situation is not the same when we go outside say a restaurant or when traveling by far distance trains in India. Sadly since it is a public loo many people would use it and the chances of it being infected by germs is pretty high. This product can of course be used anywhere but while traveling this is a must have. You need to spray this on the commode keeping a distance of 25 cm and wait for 5 seconds or so for it to get disinfected. It can also be used on handles and taps which you may use in public as they are also breeding ground for germs. It smells nice so it won't  cause you a headache either. This is a must have product in my opinion for everyone. You can buy this product here
The Good:
Easily available online through safetykart.com
A must have product for hygiene purposes.
Inexpensive.
Disinfects and kills germs.
Smells nice.
Travel friendly and a must have product for traveling.
The not so Good:
Can't think of any really.
Rating of the product and website:  4.5/5
I am highly impressed with this product and the website which stocks all your needs in terms of safety anf hygiene. A public loo is always infested with germs hence this is a miracle product and a must have for everyone. Hence I highly recommend you to try this product.
I hope this review and post was helpful to all those reading. Please leave a comment with your inputs and new visitors may leave their blog links for me to check  out.
Until next time.. Take care xoxo