Making the decision between a pedestal sink and a traditional bathroom vanity has some large implications. This decision will completely shape the functional and visual experience of guests in your home. Pedestal sinks are ideal in powder rooms and half baths while small vanities are the option of choice when you need storage in a small space.
You can read this Bathroom Vanity Buying Guide for even more detailed information. It's a very comprehensive guide put together by myself and it will take you through each step of the process. You can also flip through this slideshow if this helps you stay focused longer!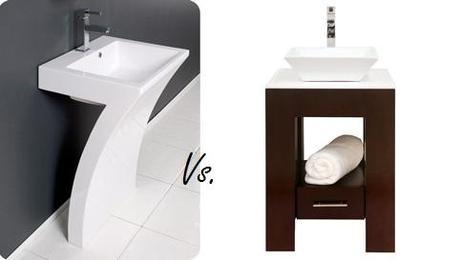 Quadro Pedestal Sink(L) and Amanda Vessel Sink Vanity(R)
3 Things to Ask Yourself
Do you need storage space? If you need storage, pedestal sinks will not work.
Do you want a traditional or modern styling. Pedestal sinks have a simple and traditional feel but the don't offer any decorative options.
Will this be used in the primary or secondary bathroom? For the primary bathroom that's used on a daily basis, vanities work better.
John posed this question on Young House Love a while ago. As you scroll through the pages of comments, you'll realize this is a hotly debated item with staunch proponents for both styles.
Pedestal or Free Standing Sinks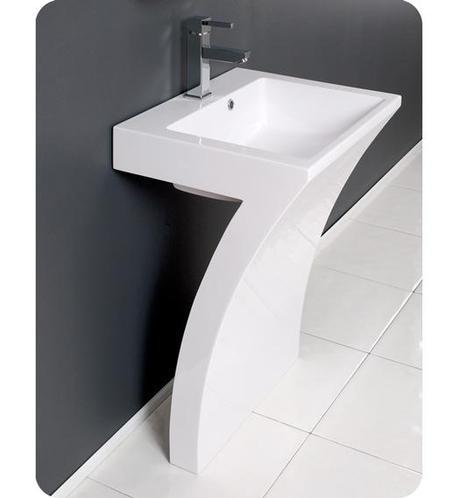 The 22.5″ Quadro Pedestal Single Bath Vanity. $799.00.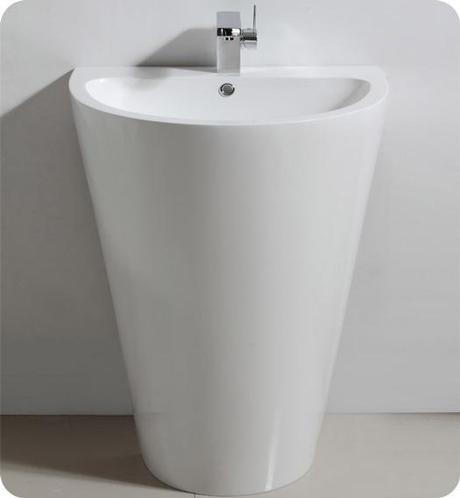 24″ Parma Pedestal Single Bath Vanity. $799.00.
Pedestal sinks have a traditional and clean feeling that echoes sentiments of the simple life. A pedestal sink is a bath fixture that blends the base and the sink together.  Pedestal sinks contrast bathroom vanities that are built with cabinets and shelves.  Pedestal sinks are very commonly made from vitreous china or glass.  They're cute, original, and uniquely stylish.
Pros:
Great for powder rooms or a half bath where you just need a sink and a mirror to touch up really quick.
Great way to save space in the bathroom.
Easy to clean, you can spray some multi-purpose cleaner and wipe down.
No more clutter on your counter top!
Highly durable.
Makes it easier to maneuver around in tight spaces.
Cons:
Porcelain pedestal sinks can cost more than a small vanity.
No space for storage.
Can be a potential turn-off for potential homebuyers.
Pedestal sinks are typically installed by plumbers because they require more skill. Without any cabinets, you have to hide all plumbing lines discretely. If your drain pipes or supply lines or off by just a little bit, they can make your sink look unprofessional. In some cases, extra wall supports are needed.
The Verdict
The problem with pedestal sinks is that they are not exactly ideal for getting ready in the morning. You have nowhere to seat your blow dryer, razor, comb, etc. so it makes things a bit more difficult. If you plan on using this bathroom to get ready every morning, I would suggest choosing a small vanity over a pedestal sink.
In the case of the powder room or half bath, a pedestal sink shouldn't detract from your home resale value as this is not the primary bathroom that will be used.
Ideal for powder rooms and half baths where storage is not a priority. When storage is necessary or desired, cabinet style bathroom vanities are the best option.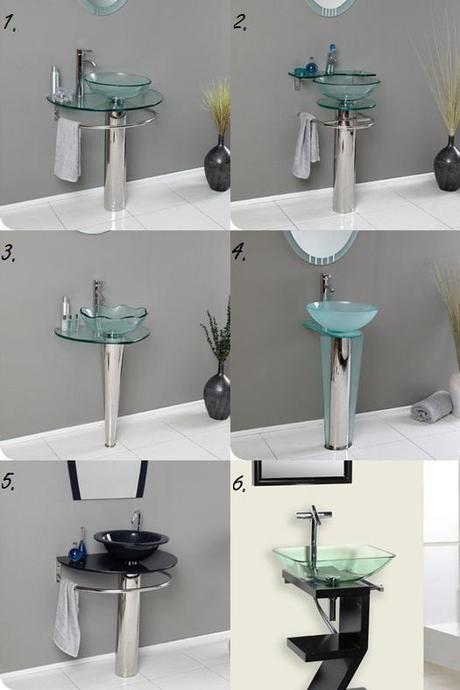 1. Attrazione 2. Ovale 3. Netto 4. Vitale 5. Scoperto 6. Capistrano
Cabinet Style Bathroom Vanities
Just because you're working with limited real estate doesn't mean you're forced into using a pedestal sink. There are hundreds of small bathroom vanities out there that will allow you to keep you free standing vanity without making your bathroom feel cramped. These shallow bathroom vanities take up very little space, some as small as 8″!
Pros:
Ample room for storage of linens, cleaning supplies, soap, toilet paper, and other miscellaneous bathroom accessories.
Affords itself to better home resale value.
Don't have to worry about checking stock on toilet paper in the guest bath when you're entertaining guests!
Furniture style bathroom vanities add to the decor without looking bulky. You can even learn how to turn an old dresser into a vanity.
Easy Installation. Learn how to do it yourself!
More affordable than pedestal sinks.
Cons:
A small vanity can seem too large in a small half bath (5'x5′). Make sure the vanity is sized according to the dimensions of your bathroom. It has to be small relative to the size of your bathroom.
Other alternative as small vanities with glass doors like the 17.75″ Soft Focus. The translucence of the glass increases visual area so your bathroom doesn't feel quite as small as it once may have.
The Verdict
Bathroom vanities are more functional than pedestal sinks. A vanity should be installed when you plan on using this bathroom as your primary bathroom. While a pedestal sink is more common in powder rooms and half baths, you can install a small vanity to find compromise between saving space and ease of everyday use.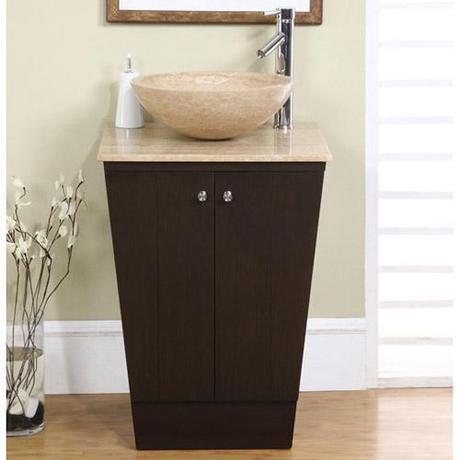 22″ Sellano Single Vessel Sink Vanity. $949.00 with Free Shipping.
Wall Mounted Cabinets: The Overlooked Contender
As a general design tip, the more open floor space that is visible to the eye, the more open the room will feel. Wall mounted bathroom vanities have a very modern styling, giving the illusion that they are "floating." Floating bathroom vanities conserve space while offering area storage. It can serve as the middle ground between pedestal sinks and vanities. Consider some of these small vessel sink vanities. They occupy very little space like pedestal sinks but they're a bit more modern a less inclined to the traditional feel of porcelain.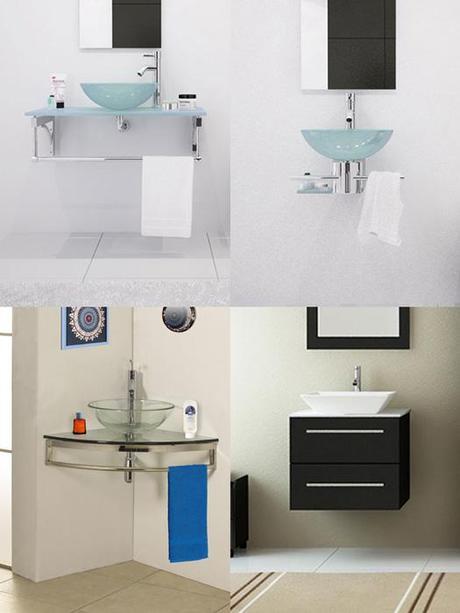 Aries Single Vessel Sink Vanity (Top Left), Artemis Vanity (TopRight), Balboa Corner Sink (Bottom Left), Carina Wall Mounted Vanity (Bottom Right)
Conclusion
There is no right or wrong answer and I wouldn't limit yourself to only browsing either pedestal sinks or vanities. Instead, I would browse them as a whole to find something that fits your needs and taste.
Bonus Tips to Make a Small Bathroom Look Bigger
If you're looking for ways to save room in your bathroom, you can check out Part I and Part II of the "Expert Tips to Make a Small Bathroom Look Bigger."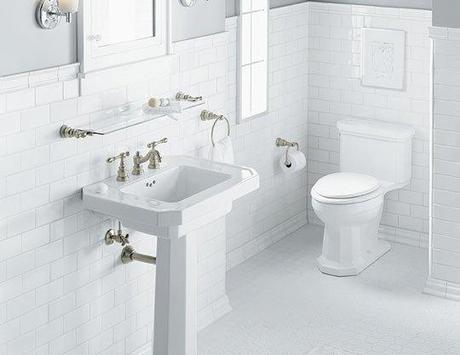 How to Nail a White Bathroom Design
More Bathroom Tips:
20 Small Bathroom Vanities that Are Big on Style
The Best Bathroom Vanity Brands
Shallow Bathroom Vanities with 8-18 Inches of Depth
Floating Bathroom Vanities: Space and Style to Spare!
About the Author
Cheryl Khan is a designer and writer at Tradewinds Imports.com, an online specialty site dedicated to retailing fine bathroom furnishings. She has extensive knowledge about all the finer details that go into planning the perfect bath renovation project and is an expert on all things bathroom! Send her your bathroom Q's on twitter @SuperInteriors!