Recipe Number One Hundred & Two:  Page 350.
This won the vote on my Facebook page by a good sized margin and, from the comments I received, it is obviously a very popular and well regarded dessert! As I have never tasted a pecan pie and had no idea what to expect, I did feel a little lost. Thankfully there is a picture in the Baking Bible, so I at least had some idea what my finished pie should look like. I went into the nearby town to buy the ingredients. I had no problem buying pecan nuts. However, it was a little harder to find the maple syrup. Maple syrup is expensive and I went into a number of shops trying to get the best deal, but I still ended up paying more than I really wanted to!
When it came to making the pie, I have to say that I was worried about even entering the kitchen let alone trying to bake something new; it was just one of those days! Everything I touched seemed to go wrong. If I could, I would have gladly gone back to bed and hidden under the duvet. However, no such luck!
I breathed a sigh of relief when I saw that I would be making rich shortcrust pastry. I had been beginning to wonder if Mary used anything other than fiddly sweet pastry! First of all I measured plain flour into my mixing bowl. Instead of using caster sugar for the pastry, Mary uses icing sugar. I can only presume that this helps to make the pastry a little lighter. For a change the butter didn't need to be softened, so I took it straight from the fridge, sliced it into cubes and added it to the mixing bowl. My usually icy cold hands were scorching hot as we had only moments earlier arrived home from a long walk. Rubbing the butter into the flour and sugar didn't take long due to my excessive heat; not good news for my pastry! Next I needed to add a single egg yolk and a little water to bind the mixture together. I found it to be a fairly dry dough, but was reassured as Mary says it should be firm. I wrapped the dough in some cling film and placed it in the fridge for half an hour. Meanwhile, Isaac and I cuddled up to watch 'In The Night Garden', a very odd programme!
When the half an hour was up I could move on to rolling out the pastry. After watching a British Bake Off Masterclass with Mary Berry last week, I was keen to follow her seemingly wonderful tip on how to maneuver pastry into a tin. Following her instructions, I rolled the pastry directly onto the removable base of my tin! It is rather hard to explain, so I have taken photographs. Just pop over to my
Facebook page
to see the step by step guide. Before adding the filling I needed to blind bake the pastry for fifteen minutes. I know it is sad, but I was quite excited to be using my baking beans; they rarely get to venture out from the drawer! Mary is obviously very keen that we should not experience a soggy bottom (with our pastry base of course)! Therefore, after taking the partly baked pastry out of the oven, I removed the beans and returned the pastry to the oven for another five minutes to make sure that the base was cooked through. Once the pastry case was fully cooked I could move onto making the filling.
I wasn't sure what to make of the filling; it wasn't like anything I had ever made before. First of all I beat some butter and muscovado sugar together. Even though I had left the butter out to soften, I found it really hard to combine the two together. The worktop and floor were soon pelted with lumps of butter and sugar. In the end I used a wooden spoon with slightly better results. I cracked several eggs into the bowl along with a tiny amount of vanilla essence. Last of all was the very important maple syrup. I required a large amount, so at least I would be getting my money's worth! After beating all the ingredients together I was left with a very runny dark mixture. I hoped it would set OK in the oven! Before I could add the syrup mixture to the pastry case I had to place pecan halves directly on to its base. I had bought exactly the amount required. I imagined that I would have to make several layers with the nuts as I had so many to use. I should never doubt Mary, as of course I had just enough to cover the base in one neat layer! Now was the time to pour over the maple syrup mixture. Just as I was about to put the tin into the oven I re-read the instructions. Ahh, I was supposed to place a baking tray under the tin before adding the filling. I quickly learned the reason for this as, when I gingerly tried to place the pecan pie onto the baking tray, a tiny amount of mixture spilled over the side of the pastry. Uh oh, this pastry was doomed to have a soggy bottom! Feeling very annoyed with myself, I put the pie into the oven and left it to cook for just over half an hour. My mood brightened when I took it out of the oven, as it looked very similar to the picture in the Baking Bible, yay!
After leaving the pecan pie to cool I went to lift it out of the tin. Unfortunately, the pastry was welded to the base of the tin. I am sure the syrup mixture would make an excellent glue! Eventually I managed to cut a slice and prize it from the tin with only a small amount of pastry missing! I had a taste. I wasn't sure my pie was cooked through; the filling had a consistency similar to custard (with a crisp top). In a panic I asked an American friend who is a pecan pie connoisseur. She said that was exactly how it should be. Phew, what a relief! The pastry was perfectly cooked, but I think I had rolled it a bit too thin. I was amazed that it wasn't soggy! The filling is ultra SWEET and, of course, nutty! I really like the toffee flavor and, as Mary says, it is best served warm with ice cream - delicious. After a day of everything going wrong it was nice to end up with something going right!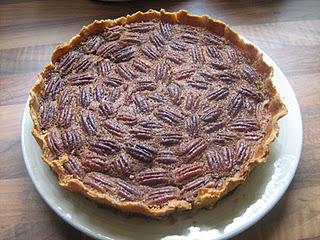 Not perfect but still tastes good :-)