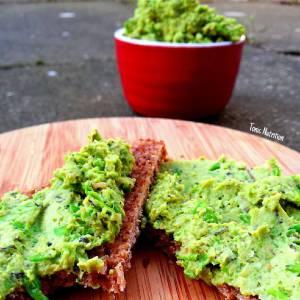 Just a few of my favorite things! I made this for Mr. Tonic actually. I'll let him have some when I've finished "testing" it…With this massive spoon….
Spicy pea and mint hummus…
1 can chickpeas drained and rinsed
2 cups garden peas
2 tbsp dark tahini
1 finger chilli
Sea or rock salt to taste
Garlic granules to taste – about a tsp
1 handful fresh mint
Drizzle of hemp oil
Blend everything together until smooth. Mmmmm 
Peas are pretty cool. A real powerhouse of healing and nutrients.
Peas contain plenty of health-protective polyphenols called coumestrol. Only 2 milligrams per day of this phytonutrient may help to prevent stomach cancer. A cup of peas? 10 mg. Boom.
High levels of antioxidants mean peas are anti-aging and nurture a strong immune system.
Prevention of wrinkles, Alzheimer's, arthritis, bronchitis, osteoporosis and candida come from peas strong anti-inflammatory properties.
Other illnesses linked to inflammation include cancer and heart disease.
Peas are great for blood sugar regulation. This comes from their high fiber and protein content.
In fact, foods such as peas as part of a whole foods diet can help to prevent, or even reverse insulin resistance (type 2 diabetes).
Peas out