Following my last post and just to enter into the spirit of baking cakes with delicious magazine, I thought I would rustle something up for breakfast; Pear and Almond cupcakes. A nice marriage of delicate flavours to awaken your taste buds and to kickstart your day.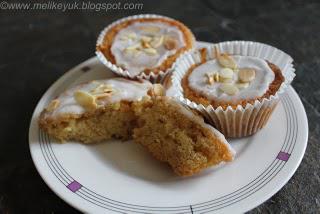 Breakfast: Pear and Almond Cupcakes

Time:
Preparation: 15 minutes
Cooking: 20-25 minutes
Portion Control:
8 medium sized cupcakes
Ingredients:
98g of plain flour
1.5 teaspoon of baking powder
0.5 teaspoon of bicarbonate of soda
or
100g of self raising flour
1 teaspoon of almond extract
1 medium sized pear; peeled, cored and cubed
100g of butter, softened
100g of caster sugar
2 eggs
Icing:
100g of icing sugar
4 teaspoons of water
Handful of flaked almonds, toasted

Directions:

Preheat the oven at 180c/fan160c/gas 4.

Line a mini cake tin with 8 paper cases. 

Place flour, butter, sugar, eggs and almond extract in a mixing bowl and beat together until smooth. 

Carefully fold in the cubed pear. 

Divide mixture between paper cases ensuring each has equal quantities of pear.

Bake in the centre of the oven for 20-25 minutes.

Test the cakes have been sufficiently baked by poking a cocktail stick in the centre of the cakes. If the stick comes out clean, they are ready!

Remove from the cake tin and leave to cool on a wire rack.

Mix the icing sugar with water.

Ice the tops of the cakes.

Garnish with flaked, toasted almonds

Of course, you can use ground almonds in the mixture instead of the extract. I was limited to what I had in my kitchen cupboard! 
Which baking delights would you have for breakfast?