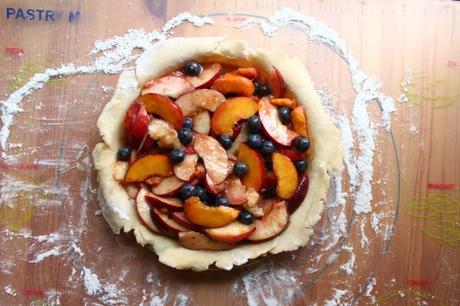 Hi! Remember me?
Yea, I know I've been away for a while…truth is I almost feel like a stranger to my own blog. It's crazy how fast time flies. The reason I haven't posted in so long is because in the midst of training for my first marathon and balancing school work and a social life at the same time, I lost my passion for baking. I stopped following all of my favorite food blogs, I stopped daydreaming about butter and flour and I pretty much lost interest in all things food-related. Scary, right?! My camera and stand mixer sat there untouched for a few months collecting dust while I found myself replacing my love for baking with a new-found love for running and working out. Those long runs gave me such an endorphin rush that I no longer needed baking to make me feel happy.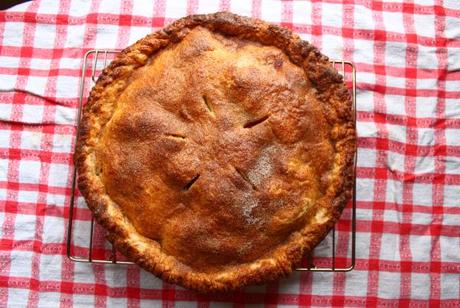 A lot has happened in the past couple of months. I ran my first half-marathon, I ran my first full marathon shortly after which I promised myself I would never run again, I went to Hawaii with my sister where I allowed myself to be briefly romanced by another surfer boy with a motorcycle (nothing quite like the Costa Rica romance, but I don't think anything can really compare to that), I decided I missed running enough to incorporate short 5k runs into my exercise schedule, I lost my mind and signed up for another marathon (currently on week 7 of training), I baked this peach and blueberry pie and pronounced it the pie of the summer, I proceeded to eat the entire pie all by myself in under a week, and I decided this pie was too good to not share with you, thus bringing this blog out of hibernation. Life has been good.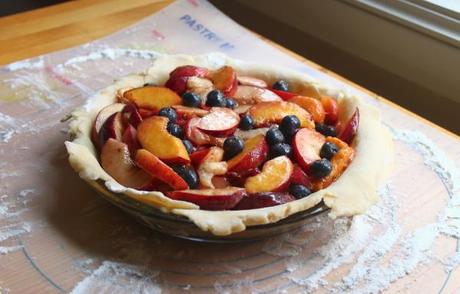 I first saw this recipe 2 summers ago on
Joy the Baker
 and immediately bookmarked it. The only problem was that summer (and the following summer) I was working at an overnight camp where I had no kitchen access at all. So this recipe stayed hidden away until finally this summer I saw the most beautiful, sweet-smelling peaches ever and instantly knew what I had to do with them. It might seem weird to bake a pie in the summer when it's so hot out but really this is the perfect pie to celebrate the fresh flavours of summer. I wasn't kidding when I said I ate the whole thing on my own and while I don't recommend that so much during bikini season, I have absolutely no regrets. The pie dough comes together easily and makes for the richest, butteriest crust while the filling is just bursting with flavor and color. So make the most of peach season and make this pie asap!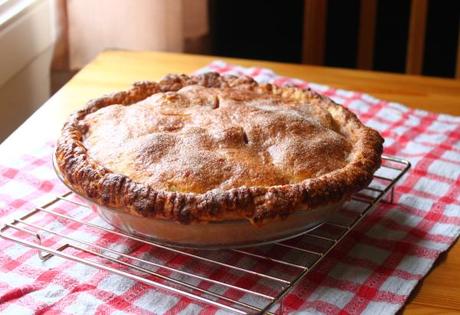 Peach and Blueberry Pie
Yields: one 9-inch pie
Ingredients:
For the Crust:
2 1/2 cups all-purpose flour
2 tbsp sugar
3/4 tsp salt
1 cup unsalted butter, cold, cut into cubes
5 tbsp plus 2 tsp ice cold water
1 tsp apple cider vinegar
For the Filling:
About 3 pounds ripe peaches (I used about 6 peaches)
1 cup fresh blueberries
1/2 to 2/3 cups granulated sugar (depending on the sweetness of your peaches)
1 tsp ground cinnamon
scant 1/2 tsp ground nutmeg
1/8 tsp ground ginger
3 tbsp all-purpose flour
1 tbsp cornstarch
2 tsp fresh lemon juice
1 egg, beaten, for egg wash
2 tablespoons sugar and 1/2 teaspoon ground cinnamon, for topping crust before baking
Directions:
To make the crust, in a medium bowl, whisk together flour, sugar, and salt.  Add cold, cubed butter and, using your fingers, work the butter into the flour mixture.  Quickly break the butter down into the flour mixture, some butter pieces will be the size of oat flakes, some will be the size of peas. Stir together the ice cold water and vinegar.   Create a well in the butter and flour mixture and pour in the water and vinegar mixture.  Use a fork to bring to dough together.  Try to moisten all of the flour bits.  On a lightly floured work surface, dump out the dough mixture.  It will be moist and shaggy.  That's perfect.  Divide the dough in two and gently knead into two disks.  Wrap each disk in plastic wrap and refrigerate for 1 hour.
To make the filling, wash and slice peaches.  In a medium bowl, combine peach slices and blueberries.  In a small bowl, whisk together sugar, spices, flour, and cornstarch.  Pour the sugar mixture over the fruit, and gently toss together with a wooden spoon.  Stir in the lemon juice.  Place bowl of fruit in the fridge to rest while you roll the crust out.
Preheat oven to 400 degrees F.  Place a rack in the center of the oven, and place a baking sheet on the lower rack, just below where you're going to place the pie.  This will catch any pie drippings without making a mess of your oven.
Remove one of the pie dough disks from the fridge.  On a lightly floured surface, roll dough out into about a 13-inch round.  Roll the dough a few strokes, then use your fingers to move the emerging circle around the floured surface.  This ensures that the dough isn't sticking to the work surface.  The circle won't be perfect, that's ok.  Try not to get any tears in the rolled out dough, but if you do, they can be patched together with extra dough.    When you roll the dough and you can see it start springing back, that means that the butter is warming and the crust shouldn't be rolled out anymore.  Gently lift the 13-inch round from the floured surface and center in the 9-inch baking dish.  Place in the fridge while you roll out the top crust.
Roll out the top crust just as you did the bottom crust, moving the dough across the floured surface every once in a while, and creating a roughly 13-inch circle.  Remove the bottom crust and fruit filling from the fridge.  Gently pour the fruit filling into the pie dish.  Carefully remove the top crust from the work surface and drape over the fruit in the pie dish.  With a small knife, trim the crust, leaving about 3/4-inch overhang.  With your fingers press the top and bottom crusts together and fold under.  Use a fork or your fingers to crimp the edges of the dough.  Cut five small slits in the top of the crust so the juices and steam can vent.  Brush lightly with beaten egg and sprinkle with cinnamon sugar mixture.
Place pie in the oven and bake at 400 degrees F for 15 minutes.  Reduce the oven heat to 375 and bake for 45 to 55 more minutes.  Remove from the oven when crust is browned and golden, and the juices are bubbling.  Remove from the oven and allow to cool for 2 hours before serving.  Place covered in the fridge to store.  Pie lasts up to 3 or 4 days.
—SOURCE—
Joy the Baker