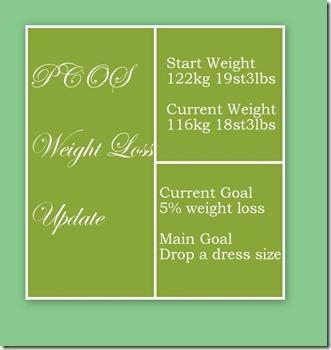 If you have read this post and this post then you will already know that I'm trying to lose weight to help my PCOS. One of the main reasons that I decided losing weight would be a good option is because I feel as though i'm hitting the maximum for me, and also because it is one of the main things I can do to help my PCOS.
4 weeks ago I was prescribed Orlistat which stops the body from absorbing a third of the fat in the food that you eat. My doctor told me about one of the side effects and in her words 'it might come out of nowhere' and she was commenting about diarrhoea, because that's the only way the fat can get out of your body. However, I have not suffered any severe side effects, the worst has been when I've eaten chocolate but we do all know that it is full of fat.
I've spent a lot of time this month going over the foods I've eaten and I have changed my diet. I'm still eating all of the foods that I love but I'm making sure that I cook with as little or no fat if I can. I've been taking much more interest in saturated fat content, the RDA for a woman is 20g, i've seen people recommend that for breakfast you have 5g, lunch 10g, and dinner 15g, so that over the course of a day taking the tablets you will end up having had 20g. I don't see this working very well because i'm sure most people like me enjoy a snack and if you were to follow the set out then there would be no space for snacks which contained saturated fat.
I'm not measuring saturated fat in a way of having an allowance for each meal because I think that makes it too restricted, the yoghurt I have for breakfast is fat free so I don't need to worry about any there, I also have a 10 o'clock snack which is usually a cereal bar at 1g and so with both of these I don't take a tablet because there isn't a large quantity of fat. I try to have soup for lunch most days and by making my own at home I can make sure that it is fat free, I have it with oatcakes, and a bag of baked crisps, sometimes i'll have a mini muffin or two and my lunch time fat content is usually around 3g so i'll have a tablet with my lunch. Dinner is cooked at home and so we might use a dribble of oil to fry some onions in but then everything else is cooked without oil, usually it's a bunch of veggies either in a curry, or sauce so i'll have it with rice of pasta which contain sat fat. I also use Quorn products which are really low in saturated fat making them perfect for replicating the meat dishes the folks have, I'm veggie so have being using them for years but I never realised how low the saturated fat was. I always have a tablet because it's a larger meal and so there is always going to be a higher fat content.
I'm still having chocolate but I tend to opt for a CurlyWurly, Fudge, or Malteasers, or just a small quantity of chocolate like a row from a bar of chocolate rather than eating the whole bar.
I don't think I've had a day where i've gone over the RDA for saturated fat, and I can honestly say that I haven't felt hungry or noticed a difference. I'm continuing to eat the food that I love which is an important thing for me, it's all well and good losing weight but if I was to make a drastic change to my diet and eat salads for every meal then it wouldn't be effective in the long term because as soon as I started eating all the food I loved before then i'd pile the pounds back on.
I haven't upped my exercise yet, I go for a walk on a Tuesday with my mums best friend and a few other ladies. I've bought some workout DVD's but I haven't got round to using them yet, even though I've had the time.
One thing I have decided is that I'm going to set myself a long term goal and smaller goals while reaching it. My first long term goal is to drop a dress size by the time I start college in September, however the first small goal I have is to reach a 5% weight loss from my original weight which I have now reached and so as soon as funds allow I will treat myself to a Rimmel lipstick. My next goal is a further 5% loss from my current weight which means I need to lose another 6kg, or 13lbs, I'm not expecting to reach this in the next 4 weeks but if I do then I'm planning on treating myself to an MUA palate.
An important thing for me is to reward my weight loss with something positive that isn't food, don't get me wrong on Monday i'll have a slice of cake when I'm out with Steph and Rebecca, but that's not a reward, I'll be having it because I want a piece and i'll enjoy it. I don't want to reward myself with clothes until i've dropped a dress size because then I can get a few items which fit well for college.
I have yet to see the weight loss have an effect on my PCOS but it is early days and i'm hoping that losing the weight will allow me to see a difference even if it's just having a period more than once a year. I know that's something some other people with PCOS wouldn't want but i've been lucky in that i've never had period pains, it was just an annoyance and I loved the years where I didn't have one!
I'm planning on keeping you updated every 4 weeks when I go to see the Healthcare Assistant at my doctors surgery, and the weigh in will come from what their scales say my weight is.
Please do let me know if you find these interesting because if you don't then I won't continue with them, or I'll make them a lot shorter. I have a feeling they will be shorter than this in the coming weeks.
Tink x