Pavochon (Thanksgiving Turkey Puerto Rican Style) is a whole turkey that's seasoned and cooked like Puerto Rican roast pork! It's garlicky, herbaceous, and just plain, freaking delicious.
Wow, mi gente! I cannot believe it, it's almost Thanksgiving! This time of year especially makes me grateful for my Puerto Rican heritage. The holiday season is an opportunity for my family to gather around delicious food that is rich in tradition, history, and FLAVOR! The star of our Thanksgiving dinner table has always been, and will always be pavochon. What's that, you ask?
Well, it's really a made up word, or portmanteau, that combines the Spanish words for turkey ( pavo) & roast suckling pig (le chon). So pavochon is turkey that's been seasoned and cooked like Puerto Rican roast pork, AKA Also known as the holy grail of Thanksgiving dinner. Pavochon is garlicky, herbaceous, juicy, tender and just plain, freaking delicious. As you may well have experienced, turkey is one of those meats that really needs a ton of flavor before it can shine. This marinade technique does just that, and more! It's packed with Latin flavors and spices that result in the most delicious turkey you've ever had. Once you have pavochon, you'll never go back to making a regular turkey again!
If you're in the mood to take Thanksgiving to the next level with my mofongo stuffed turkey recipe! Yup, you heard that right! Forget plain old stuffing, we're stuffing this bad boy with Puerto Rican style mofongo!
Essential Puerto Rican Thanksgiving Recipes:
And don't forget to subscribe to Delish D'Lites on YouTube for video versions of all your favorite Delish D'Lites recipes!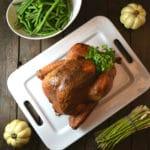 Pavochon: Thanksgiving Turkey Puerto Rican Style