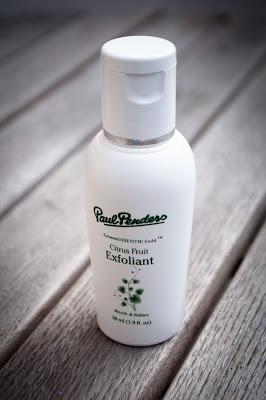 Paul Penders' exfoliant is not a 'mechanical' one since it is formulated with alpha and beta hydroxy acids that will naturally remove the outer layer of dead skin cells. 
It is meant to make your skin look healthier and fresher, by unclogging your face pores and chemically get rid of dead cells. 
It is formulated with Paul Penders' LevensESSENTIE Gold (his traditional pride) a mixture of 22 organically grown herbs. 
Here you have the list of ingredients: 
Aqua, Cocos nucifera Water, Multi Fruit extract blend, Glycerin, Sclerotium gum, Sorbic acid, Salicylic acid, Citrus grandis seed extract, Lactic acid, Ascorbic acid, Angelica archangelica (Angelica) extract, Arnica montana (Arnica) flower extract, Calendula officinalis (Calendula) flower extract, Matricaria recutita (Chamomile) flower extract, Sambucus nigra (Elderflower) flower extract, Zingiber officinalis (Ginger) root extract, Panax quinquefolium (Ginseng) root extract, Lonicera japonica (Honeysuckle) extract, Humulus lupulus (Hops) extract, Equeisetum hyemale (Horsetail) extract, Juniperus communis (Juniper) fruit extract, Lavandula angustifolia (Lavender) flower extract, Melissa officinalis (Lemon balm) leaf extract, Urtica dioica (Nettle) extract, Centella asiatica (Pennywort) extract, Mentha piperita (Peppermint) leaf extract, Rosemarinus officinalis (Rosemary) flower extract, Salvia officinalis (Sage) extract, Hypericum perforatum (St. John's wort) extract, Curcuma longa (Turmeric) root extract, Hamamelis virginiana (Witch hazel) extract, Archillea millefolium (Yarrow) extract, Xanthan gum, Tocotrienol tocopherol, Aloe barbadensis Leaf Juice, Citrus aurantium dulcis Peel Oil, Ananas sativus fruit extract, Carica papaya fruit extract, Retinyl palmitate, Ubiquinone.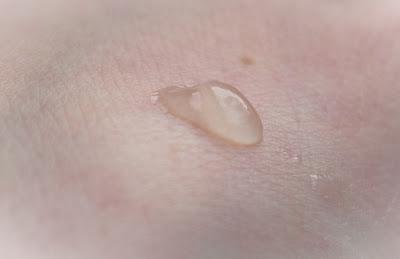 Yes it is such a huge INCI! 
There are a bunch of lovely and fonctional vegetal extracts, I'm just wondering if they are effective in such tiny quantities. -.-' 
Do I like this exfoliant? Yes, I simply do. It is a gentle daily one, you apply it after your toner and before the moisturizer, I personally apply it at night. 
How do you realize it works? In winter I usually have dry and flaky skin around my nose and this guy simply eat the dead flakes at night, it is not a miracle anyway since we know fruit acids have that fonction. I don't know if I'd buy it again because it is quite expensive (19.99€ for 50ml), maybe you pay mainly for the copyrighted LevensESENTIE Gold. I'd certainly be willing to try other fruit acids' based exfoliants, since they work better with my sensitive skin :)