Our next whisky in this Indian Whisky review series is the Paul John Christmas 2018. A whisky that was supposed to make it to the USA, but due to complications, never did. However, that didn't stop folks on the other side of the pond from enjoying it, and enjoy it they did!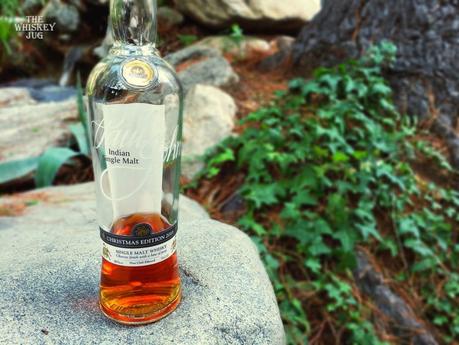 Though thankfully mega-friend of the SCWC (and great friend of mine) the amazing Paul John brand rep Koray brought it to our tasting and I got a sample to take home and review here. Though, to be honest, this is not my first time having it. I actually had it the first night I met the amazing Koray at a cluster***k of a bar, but that's a story for another time.
Paul John Christmas Edition 2018 Review: Details and Tasting Notes
"Offering a unique blend of unpeated and peated single malts, is the Paul John Christmas Edition from the tropical shores of Goa. Delight in rich aromas of succulent fruit cake, wild plum and light smoke, woven into a creamy sherry with lots of honey. Relish the distinctive flavours of warm spice, laced with delicate sweetness and lingering notes of hazelnut and exuberant fruit. The rare dry Oloroso finish, infused with exquisite dry dates and figs is long and memorable."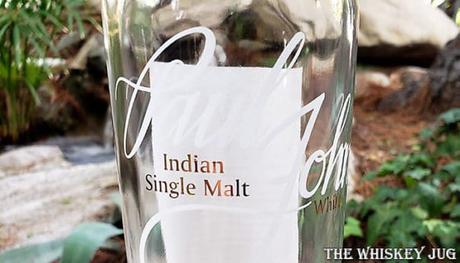 Details (price, mash bill, cask type, ABV, etc.)
Region: India
Distiller: Paul John
Mash Bill: 100% Malted Barley
Cask: ex-Oloroso (1.5 years), ex-bourbon (7 years)
Age: 8.5 years
ABV: 46%
Non-Chill Filtered | Natural Color
Batch: 2018
Price: NA – Auction, Specialty Store or Private Seller
Tasting Notes
EYE
Rusty copper
NOSE
Oloroso, smoked meat, roasted nuts, citrus, leather, vanilla frosting, copper, fruit candy and a touch of spice.
PALATE
Oloroso, smoked meat, roasted nuts, cider spice, honied fruit, leather, copper, touch of candied fruit.
FINISH
Long -> Smoked meat, charred nuts, leather, cocoa and dark fruit.
BALANCE, BODY & FEEL
Great balance, full body and a velvety texture.
Paul John Christmas Edition 2018 Review: Overall and Score
I love this whisky. Aroma is warm and rich with sherry and smoke notes revolving around a malty core; Palate is less nutty than the aroma but just as complex and dynamic with the layers of dried fruits and spices; Finish is the perfect complement and fades out slow with sweet and smoky notes sitting evenly.
A blend of peated and unpeated whisky aged in ex-Bourbon and ex-Oloroso casks, the Paul John Christmas Edition 2018 is a stonking good whisky. I love the Paul John Christmas Edition 2019, but tasting the two side-by-side the hat tip goes to the 2018 – but only by the slimmest of margins. Both are amazing, however this pulls out a slightly richer profile I just can't get enough of.
SCORE: 4.5/5
Paul John Christmas Edition 2018 Review
N/A
Overall
4.5
Nose

(4.5)

Palate

(4.5)

Finish

(4.5)

BBF

(4.5)
Sending
User Review
0

(

0

votes)
Comments Rating
0

(

0

reviews)

Paul John Christmas Edition 2018 Review Summary
"Sweet and smoky perfection" would be the SMWS name of this whisky. On second thought it would be something like "Rusty Nails Facing Down In Paradise" which still captures the sweet (paradise) and smoky (rusty nails) profile of this whisky perfectly.
"""""""""""