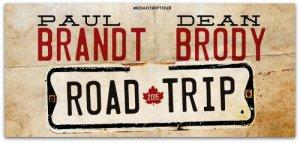 The Road Trip Tour starts in just over a week and fittingly Paul Brandt has released the official music video for his latest single "I'm an Open Road" which features 2015 (and 2014) CCMA Female Artist of the Year Jess Moskaluke. Jess will join Dean Brody and Paul Brandt for a few stops on the Road Trip Tour starting later this month.
Checkout the video below and be sure to purchase the track on iTunes. We'll be seeing you on the Open Road this fall!

Field Service Tech by day, Live Music Nut by night! My family and I call the Thousand Islands region of Ontario home. I'm a blogger, social media geek, tech, and live music fanatic. I founded Sound Check Entertainment in 2010 to help promote festivals and emerging artists from across Canada and the world! I now act as festivals liaison, manage media relations and, of course, cover events in the National Capital region. I'm also a diehard Habs fan but Sens fans fear not; as long as they aren't playing against my Habs I cheer just as loud for the Sens.
SIMILAR ARTICLES