Paul Banks is clearly having an identity crisis. It's been quite some time since Interpol made music together, and what has the band's frontman been up to since then? He's made music as his mysterious alter ego, Julian Plenti, as well as one recent album, Banks, as himself. He's set to appear in a film later this year, which will mark his acting debut. As if that weren't enough to keep one man busy, he's now released a mixtape. That's right– a hip-hop mixtape.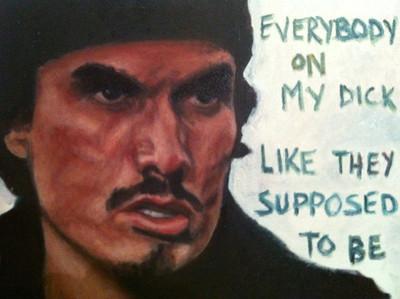 Remember when Joaquin Phoenix "quit acting" to pursue a rap career? It was all for art's sake, of course, and the entire scheme was later revealed as a hoax. Despite the fact that the whole thing was a joke, it still felt like a major waste of time, and that's exactly how I feel after listening to Banks's new mixtape, Everybody on My Dick Like They Supposed To Be. I just want my thirty-five minutes back.
However, there is a bright side to Everybody On My Dick Like They Supposed To Be, and no, it's not the ludicrous title. Banks himself doesn't actually rap, allowing the world to breathe a collective sigh of relief. Instead, Banks somehow managed to convince Talib Kweli, El-P, and Mike G. to contribute on his bizarre string of beats, instrumentals, samples and sounds. Maybe these guys owed Banks a favor. Maybe they just can't get enough Robocop. Either way, they should have just stayed home.
Turn on the Bright Lights, Interpol's near-perfect 2002 debut, was recently re-released as a reminder of its genius. Was that really so long ago? Thanks to Everybody On My Dick Like They Supposed To Be, it certainly feels like it. Just over a decade ago, Banks managed to capture that revolutionary, zeitgeist moment of garage rock revival in the early 2000s. He wasn't just a frontman, he was an icon.
Despite its cover art, there's nothing revolutionary about Everybody On My Dick Like They Supposed To Be. There's no denying that the experimental mixtape could have been a lot worse, but it probably should have never existed in the first place. On the tape, there are moments of rare, quiet calm, though they're far and few between. In those seconds we're reminded that Paul Banks– the iconic figure, that is– still might exist somewhere. We know he's there, but does he? Until Paul Banks gets re-acquainted with himself, I'll be listening to Interpol and biding my time.

1 / 5 bars
05 – Whats In The Box (feat Talib Kweli)
Paul Banks – "Whats In The Box" (feat Talib Kweli)
12 – Trace (feat High Prizm)
Paul Banks – "Trace" (feat High Prizm)
20 – Quite Enough (feat El-P)
Paul Banks – "Quite Enough" (feat El-P)