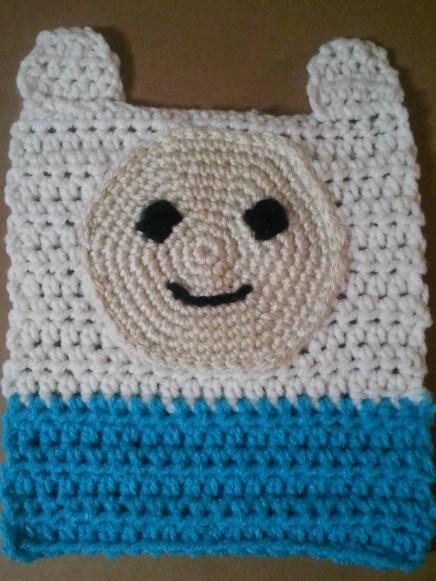 …might be more of a rectangle, but that can be managed…
Finn:
Size J crochet hook
Worsted Weight Yarn in blue, white, cream, black, (and a pale yellow for Fiona's hair.)
This pattern is in American crochet terms.
In white
Ch 22, turn and half double crochet in the 3rd chain from hook and the next 19. Ch 2 and turn.  20 stitches
Hdc across ch 2 and turn for 10 more rows,
Hdc to the end of row 11 and change to blue, FO white,   making 12 rows of white.
In blue
Ch 2 and turn.
Hdc across, ch 2 and turn. Repeat for 5 more rows making 6 rows of blue, FO.
Ears   (make two)
In white
Leave a long tail for sewing at the beginning, ch 7 , turn and hdc in 3rd chain from hook, and next 4, ch 2 and turn.
***
Skip next stitch and hdc 4, ch 2 and turn.
Skip next stitch, hdc in next two stitches, ch 2 and join to last stitch. FO
Align ears to the top corners of the head (the white part is the top) and sew on. FO and weave in tails.
*** To make Fiona's ears, hdc 5 across, ch 2 turn
Head
In cream
Start with a magic circle, sc 6 times
In first stitch of previous round 2 sc in each stitch. making 12 stitches
(sc in next stitch, 2 sc in next stitch) around, 18 stitches
Continue increasing in multiples of six for a total of 9 rounds ending with 54 stitches, FO.
To finish, embroider eyes with black and surface crochet or embroider his smile. Surface crochet or sew on his face to the middle of the white part. FO and weave in ends.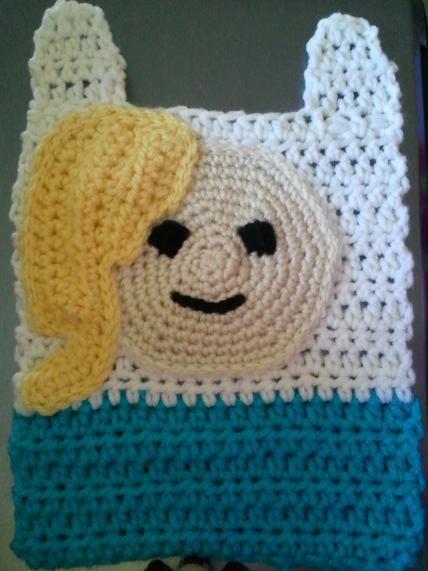 If you click on the picture you may be able to see the stitches of Fiona's hair and be able to wing it yourself!
For Fiona's hair, I free formed it and didn't write down the pattern so I will have to look at it and figure out what I did. I should have that up soon.
I hope you can read this!! I tried to translate it from my pattern scratch but I have the flu so I'm not at my best today, sorry. If you have any questions or concerns, feel free to contact me, I will be glad to help!
Also, this pattern is completely of my own creation (though I do not own the characters Finn or Fiona) and is for personal use only. I ask that you do not sell this pattern or the items you make from it. Thank you.