Patanjali  Neem Kanti Soap Review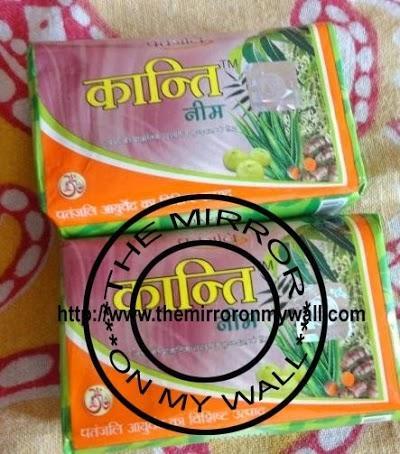 Hi Everyone,
Product Claim:-

 Useful in rejuvenating, nourishing and glowing the skin. Useful in removing dryness and roughness of skin.
Price:-
INR 13
Quantity:-
75 gm
Ingredients:-
Olad pack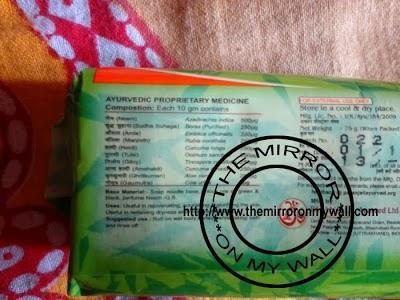 New pack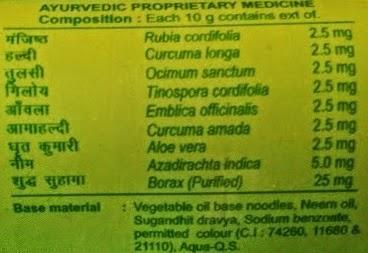 Manjistha    Rubia Cordifolia   2.5mg
Haldi   Curcuma Longa   2.5mg
Tulsi   Ocimum Sanctum   2.5mg
Giloy   Tinospora Cordifolia   2.5mg
Amla      Emblica officinalis   2.5mg
Aamahaldi   Curcuma Amada   2.5mg
Ghrit Kumari   Aloe Vera      2.5mg
Neem   Azadirachta Indica   5.0mg
Sudh Suhaga   Borax(Purified)   25mg
Direction For Usage:-
Rub on wet body surface while taking bath and rinse off.
My opinion on the product:-
The ingredients list in old pack and new pack do not match. Old pack had 10 ingredients but the new one has only 9. Haldi is the extra in old pack and not listed in the new one. Even then the smell and feel is all same and I can assure you nothing has changed.
I remember using margo soaps in my childhood and my father used to bring it especially in summers and monsoons. I used to like its strong smell of neem leaves and antibacterial properties which makes it medicated. Its antibacterial property used to make me feel cleaned and rejuvenating. You know summer and monsoons are the season when you need to protect your skin from infections and a medicate neem soap is the only thing my family trusts.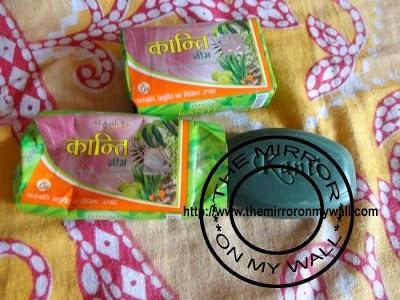 Monsoons has started and I have stocked up neem soaps from patanjali as I am very fond of the brand. It comes in simple packaging and the color of the soap is dark green which is very much similar to the margo neem soap. The smell, I really don't know may be I am using a neem soap after such a long time but somehow I am not a fan of its strong smell. But I really liked the soap considering the price and the fact the it is herbal neem soap. It is dirt cheap and even you don't like it can toss it in you dustbin. But trust me if you like neem soaps you wold certinaly like this one. The smell doesn't stays long after bath so don't have much problem. I don't hate the smell but it gave me a little headache when first time I used it, might be possible because I was not well.
 What I Liked:-
Contains neem as main ingredients
Antibacterial
Price
Ingredient list full of herbs which do wonder for skin
Doesn't dires my skin out
What I didn't Liked:-
Has strong smell but doesn't lingers for long.
Will I repurchase and recommend:-
Yes, I have been using soaps from this brands now a days and would recommend this to every one especially in summers and monsoons to control body odour and save body from infections.
Rating:-
4/5
Final Words:-
If you are looking for a nice budget soap which is full of natural herbs and goodness of neem then you should try this out. You won't be disappointed as it is really cheap.







VN:F [1.9.22_1171]Rate this Product :VN:F [1.9.22_1171]