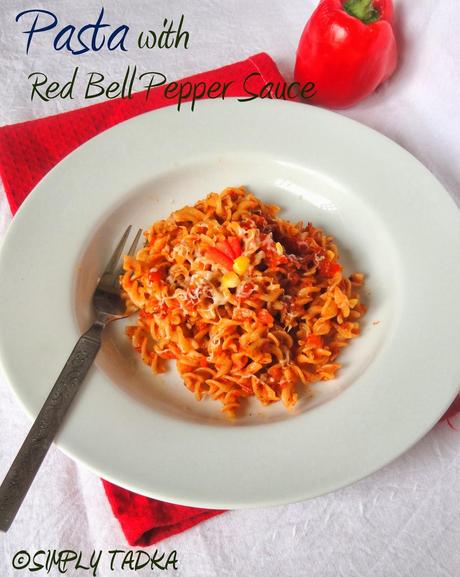 Pasta is a staple food of Italian cuisine, which served with lots of variations. Typically pasta is made from durum wheat flour or maida, but I prefer semolina based pasta to eat which is healthier than maida based. This pasta dish is really delicious and tasty with roasted bell pepper sauce. For this recipe you have to roast the bell pepper on stovetop, mashed with tomatoes and prepare sauce.
Pasta, especially whole wheat pasta, is known to have several health benefits. Whole wheat contains considerable amount of minerals such as magnesium, iron, calcium, zinc, potassium and manganese. Minerals are important for the body because they help with the structure of bones, regular heartbeat, and take part in regulating cell growth.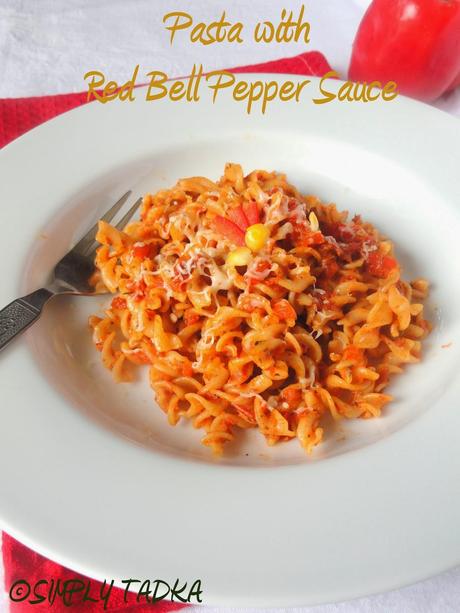 Preparation Time: 20 Minutes
Cooking Time: 15 Minutes
Servings: 4
Category:  Pasta & Noodles
Ingredients:
1 Cup Twisted Pasta
1 Medium sized Red Bell Pepper
2 Tomatoes, chopped
Cheese, grated for garnishing
1 Tsp. Chili Flakes
1 Tsp. Oregano
Black Pepper to taste
Salt to taste
1 Tbsp. Olive Oil
Instructions:
Boil the pasta with water and 1 tsp. olive oil. (How to Boil Pasta)
Roast the bell pepper directly on stove and peel it burnt skin.
Roast the chopped tomatoes with 1/2 tsp. oil in pan for 2-3 minutes and keep aside to cool.
Blend the roasted bell pepper and tomatoes in mixer until to smooth consistency puree.
Heat the 2 Tsp. olive oil in non-stick pan and add bell pepper puree, sauté for few minutes.
Add black pepper, oregano, red chili flakes and salt and mix well. Add boiled pasta and mix it.
Garnish with grated cheese and serve hot. 
Notes:
You can use any pasta or macaroni which you like, I prefer semolina based pasta.
Tags:
how to cook pasta recipes, roasted bell pepper recipes, bell pepper pasta recipes, easy pasta recipes, Italian recipes, pasta with roasted bell pepper recipes, easy way to prepare pasta recipes, tiffin recipes,
Enter your email address:
Delivered by
FeedBurner