I mostly prefer experimenting or cooking a new dish on Thursdays or Fridays to break away from the mundane life. Last Thursday, husband was out with friends. Little A loves to eat pasta and noodles at any time of the day, so while we both were alone  I thought of cooking up his favorite dish! We went to the supermarket downstairs in the afternoon and picked up the grocery we needed to prepare our dinner. Believe it or not, as much of foodie is there in me, I had never used shallots in any of my dishes!! After using it for the first time that day, I have become a huge fan of them.
I made pasta with light red cream sauce with baby corn and shallots. I have usually prepared pasta with heavy white sauce and mostly baked it, but this was something very unique and quick. This is what you will need -
2 cups penne pasta (or any that you desire)
4 shallots roughly chopped
100 gms baby corn medium sliced
1 tsp oil
4 cloves of garlic finely chopped
2 tbsp cream
1/2 cup milk
1 tbsp tomato ketchup
1 tsp chilli flakes
1/2 tsp oregano
2 tbsp grated mozarella cheese
salt to taste
Boil water in a heavy bottomed pan with some salt and olive oil. Add pasta and cook till al dente which is firm to the bite but not over or under cooked. Drain water, lightly rub with cold water so it doesn't stick and keep aside. In another pan heat oil and cook garlic, shallots and baby corn. Meanwhile, in a small bowl mix together cream, milk and ketchup. Add in the same pan you cooked shallots and baby corn. Mix well and wait for the water to evaporate. When it slightly gets to become a little thicker add the seasonings (chilli flakes, oregano and salt) and grated cheese. Now mix the pasta in a cream mixture and coat it well with the sauce. Your pasta is ready to be served hot!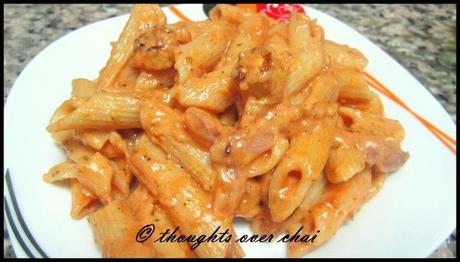 Pasta in a light red cream sauce with baby corn and shallots.
Filed under: Thursday Food Invasion Tagged: Foodie, Italian, Pasta