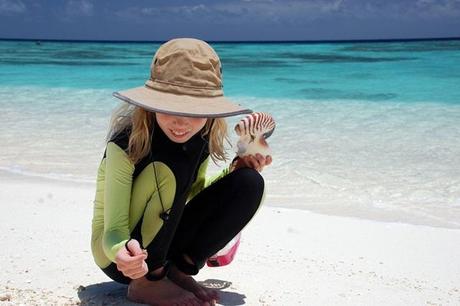 The unmistakable bellow of conch horns echoed around the bay yesterday morning as the 50' sloop Love Song headed out, bound for the Indian Ocean. Next stop: Maldives, if they need fuel, otherwise- Mauritius! With a likely three thousand mile passage looming, their exit earned a salute.
Love Song was the latest in a series of boats making their exodus from this quiet harbor in Langkawi we've called The Duck Pond as a nod to the calm, protected waters sandwiched between by two little islands and the shoreline. It's that time of year: in our corner of Southeast Asia, the seasons are in transition, and the rainier southwest monsoon prompts most cruisers to move on to different corners or the region- or away, like Love Song, looking for favorable winds to cross the Indian Ocean. I can't resist following boats who have pointed for South Africa, and daydreaming about passage making again.
The night before Love Song's departure, we gathered around with other cruisers in a local watering hole and reminisced. It's funny how the reflections were all good memories, even though we know, at the time, some of those miles were miserable. There's a kind of amnesia that sets in not long after the joy of a landfall. The last, very uncomfortable stretch of our 19-day passage to the Marquesas in the reinforced trades of a La Nina year were quickly erased from memory as we reveled in the immensity of arrival. The squash zone that caught us in gale conditions for days was quickly repressed as we discovered our landfall was an island where nautilus shells lay sprinkled periodically along the fringing white beach.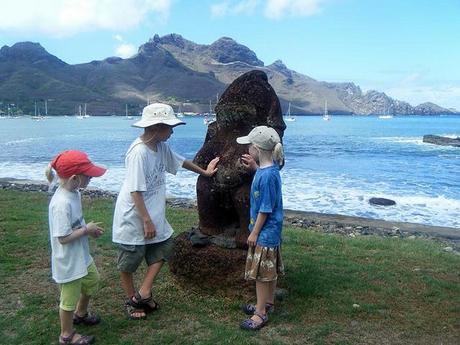 Our journeys this year are scaled back. Parked in Langkawi for two months (an unusually long time for us to stay fixed in one place), we've caught up on both the cruising kitty and boat projects. Jamie has worked with boats on rigging and electrical projects, enabling us to make progress on our list of maintenance needs. In addition to installing our new 1000Ah battery bank, we have put up a new 420 watt Silentwind turbine and 270 watt solar panel to pump in the juice. Worn cloth is being replaced: the torn settees in our main cabin have pretty new covers, there's a mainsail cover showing up soon. Meanwhile, essential parts of our trusty Yanmar are undergoing spa treatment in Kuala Lumpur. As much as we'd like to have continued to South Africa, these and other projects come first.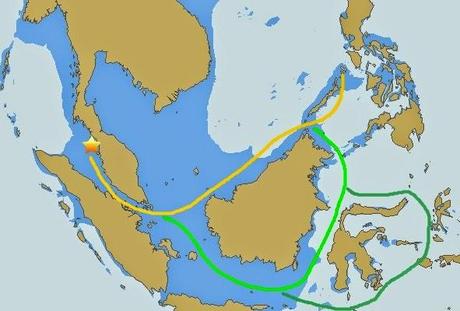 What WILL we do? This has been the subject of much debate. How do you choose a route? Weather practicality comes first. Then, there's a magic mix between the places that draw us, those that we can afford, and the plans of our friends on other boats. Bringing those together, a plan is taking shape that takes us back down the peninsula and out to the Philippines, where we'll enjoy pretty clear water for a while before making a U-turn back to mainland southeast Asia- probably landing back in Langkawi again around the end of this year- the yellow line, approximately.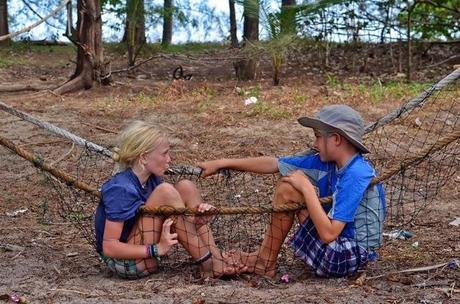 I hoped to spend more time in Indonesia, along one of the two green line routes, but adding up the miles and considering that we'd spend most of them motoring, it just didn't make sense. We'd be pushing ahead instead of enjoying places, and burning a lot of diesel. No thanks! The world is round, and mostly likely, I'll get to spend time in my beloved Indonesia again someday.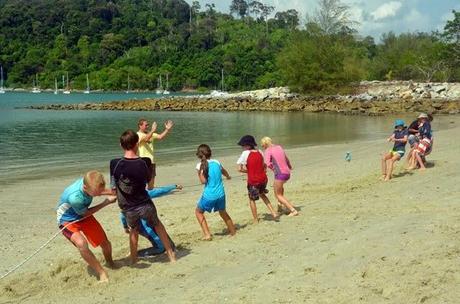 Meanwhile, kid boats know that life is better when you are with other kid boats. We're lucky to know quite a few in the region that we can share anchorages with along this way. There were a dozen kids celebrating Mairen's twelfth birthday on the beach this last week, and many of them will be with us in anchorages between here and the Philippines.
On the far side of the Pacific, we watch reports of friends sailing from Mexico- Fluenta's reports from their journey, Hotspur celebrating landfall in the Marquesas. I make some of Meri's kimchi (an excellent cruising solution for on-refrigerated, long life, crunchy veggies), pass a jar of it to Love Song, and dream of anticipating life at sea for weeks again.
Reaaders who go the distance know we love it when you read this on the Sailfeed website.