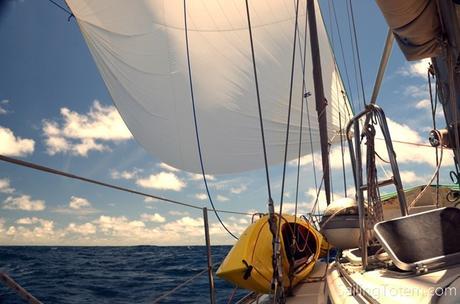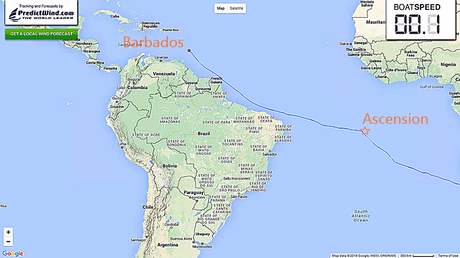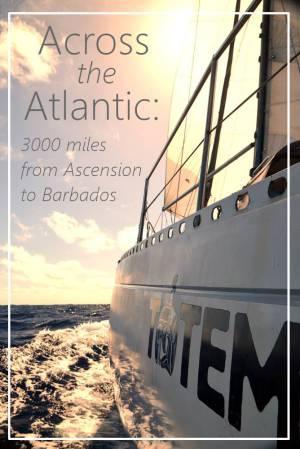 Seventeen days (and five hours) after leaving Ascension, we made landfall in Barbados on a sunny afternoon. Impending arrival was heralded by small fishing boats: wooden runabouts with a small cabin and a miserable radar footprint. It made the first one a little extra exciting, as it barreled towards us at dawn about 50 miles south of the island. In the following hours, several more passed close by and we and had to maneuver (or be maneuvered around) to avoid a boat-vs-net situation with a couple.
This was the fastest, most comfortable passage we've made…ever? In years, anyway. Averaged out, Totem put away more than 180nm per day. Considering how mellow conditions were- 15 knots was typical- it's pretty speedy, especially over such a long time. Jamie is an inveterate sail tweaker, but it came down to smart routing and the kicker was the current.
The typical route from South Atlantic to Caribbean, as written by Jimmy Cornell, indicates an equator crossing around 30 west. That's recommended because northeast trades make for an upwind slog to the Caribbean for boats crossing too much further west. But studying the conditions for a while, Jamie didn't see the NE winds materializing; from Brazil up to the Caribbean, it tended more ENE. That meant we'd be reaching, not upwind. He ran routing software in PredictWind's Offshore program, and it also wanted to send us nearly to the Brazil coast. A delivery captain shared her waypoints, which also recommended routing that crossed at more like 43 west. With so much lining up, why were so many boats crossing 700, 800 miles to the east? We ultimately crossed around 44 and had a passage that was days shorter from A to B.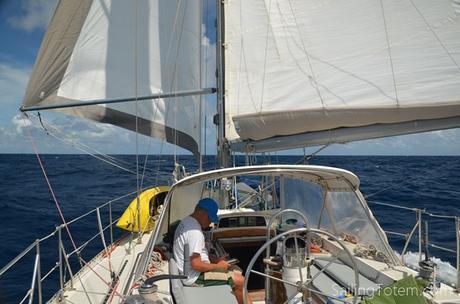 While westing below the ITCZ, we were either wing-in-wing like this, or flying the asymmetric, as above, on port tack in gentle SE trades.
Cornell's recommendation also eliminates a lot of the ocean current that was our key to an efficient passage. Boats following the Cornell plan also have the west flowing equatorial push, but then nothing once heading north. We got to ride that equatorial current, then trade it for an even bigger push along the South American coast (up to three and a half knots!).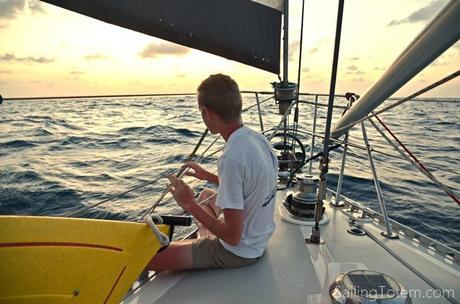 Dolphins play in the bow wake at sunset: Niall's getting close to hear them squeak
We also saved a lot of motoring in the light airs along this passage. Our big ITCZ crossing was only about 14 hours of motoring, because near Brazil, it more or less pinches shut. We watched boats to the east got stuck in an expanding ITCZ and spend days powering through to get to the other side. The asymmetric got a workout, too: the right sail plan was a significant help.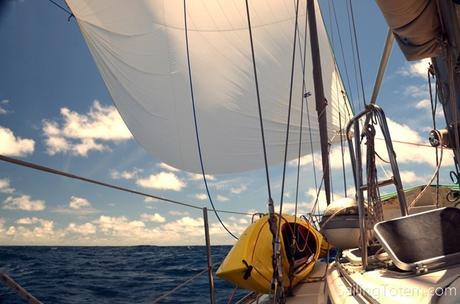 Starboard tack in ENE wind north of the equator – and, more asymmetric miles
Of course, routing isn't static. We had a great passage, but that doesn't mean this is "the way to go." When we went, with the conditions we had, we had a great ride. But it hopefully makes the point that it's a good idea to look hard at the options instead of following what's worked for the herd historically, since maybe it doesn't fit your immediate situation.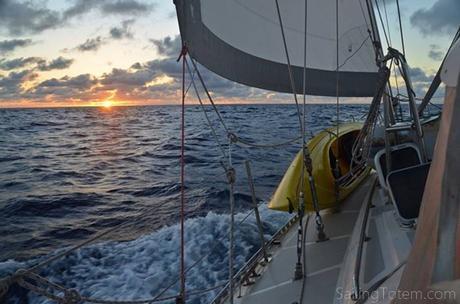 We don't fly the asymmetric at night, so when the sun goes down the genoa comes out
How did it all feel, in hindsight? A great passage, very comfortable, and if I have any complaint… it's that it was kind of boring. And yes, "boring"is the best kind of problem to have on a passage! Not much went amiss.  It was two and a half weeks of mostly spectacular conditions, with a few undramatic squalls thrown in…no big deal. I love sailing, but arriving is pretty great too.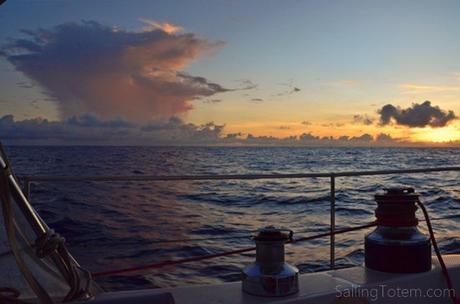 OK, not always boring: squalls are especially stunning at sunrise!
During the last few days the anticipation of land was palpable. We were alternately excited (looking up information about Barbados, again, and at our next Caribbean stops) and blobs (reading another book or three, introducing Mairen to Seinfeld and giggling through season 1). And finally having that feeling of ARE WE THERE YET?! And then at last, we were. Not too tired, because we had such easy conditions and plenty of sleep with our watch schedule, but a little mentally friend nonetheless…promptly reset with the laid-back welcome of island time.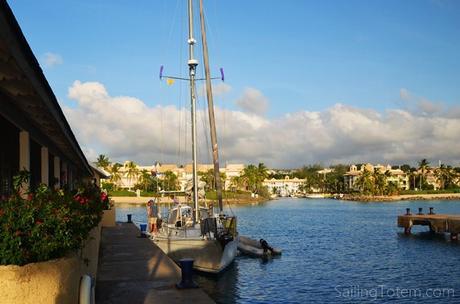 Totem at the dock for clearance inspection in Port St Charles, Barbados