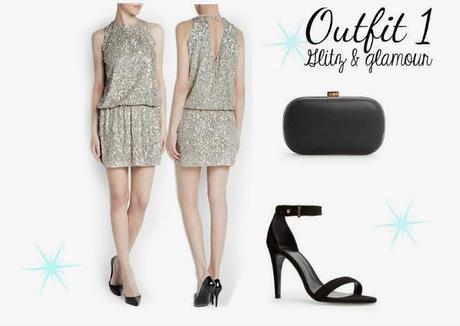 | Dress | Clutch | Shoes |
Christmas is the best time to rock a glitzy frock! & the Disco open back sequined dress would be absolutely perfect for any party season occasion. I love the color of this one, it's lovely to see a sequined dress in something other than black - However it is also available in navy blue, which I think is a great alternative if you own one too many LBD's! I wanted to keep this look relatively simple, the dress should take center stage, so paired with a great little structured bag - In this case the Boxy metal frame clutch. & some great classic strappy sandals, you will look glamorous enough for the red carpet.. Or the office party!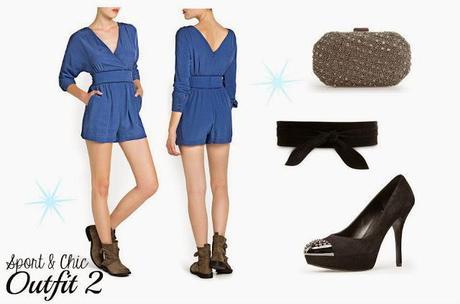 | Playsuit | Clutch | Belt | Shoes | My second outfit comes with the gorgeous Monito lightweight wrap playsuit. Jumpsuits and playsuits are great for the party season, I myself own more than I can count on two hands & they're a special occasion favorite all year round. I particularly love the color of the Monito playsuit, the blue is a gorgeous tone & a little more standout-ish to the blacks & reds we usually see around A/W party season. You have that lovely thick waistband, so I thought adding one of Mango's classic suede wrap belts into the mix will add a more dressy feel - Although scrapping the belt and spicing the mix up with some gun metal jewelry & a statement clutch would work a treat too. I may be a little in love with this box bag.. I'm thinking of doing a post dedicated just to the amazing box clutches. Mango have a great statement clutch collection at the moment, probably the best I've seen from the past few seasons. Finally, throw in a pair of your favorite black leg elongating courts & you're ready to party!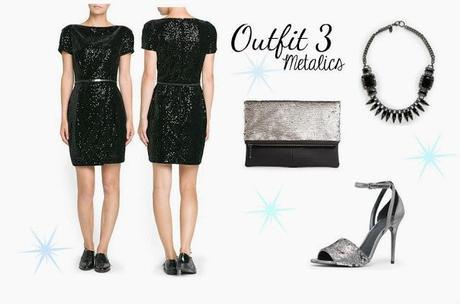 | Dress | Shoes | Necklace | Clutch |
Sequins, sequins, sequins everywhere! I think I probably could have toned this down a little, but it's Christmas and the perfect time to sparkle! The velvet dress is quite subtle, we have it in store now & it looks gorgeous on. Although it does have sequins in the fabric, I don't think the photo here does it justice, I feel the pattern is a little more understated after seeing it up close.
I wanted to create a really effortlessly sparkly look. Again I've gone with the classic strappy sandals style, I think the silver tones go really well, & Mango have a great metallic accessories range at the moment.  The clutch from Look 2 as well as this lovely sequinned envelope clutch would go great with this dress, anything metallic gun metal tones to tie in the dresses thin belt.
& finally, for statement necklaces, Mango are definitely a contender this season. I was blown away when I first started working there by the jewellery, & this season is no exception.
For this outfit I chose one of the smaller necklaces, I played around with the idea od something big & chunky but I think the 'grunge' element of this necklace works really well with the velvet dress without being too overpowering.
 Are you looking forward to the party season?
Which is your favourite  party look? 

Bloglovin

 | 

Facebook

 | 

Twitter

 | 

Instagram