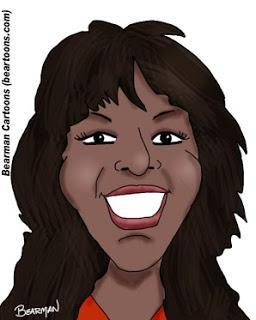 What? A party planner gets MUGGED and almost has a heart attack? Are you kidding? Is this for real?
Yes, it's true... because it happened to me.
You guys, I got "MUGGED"... by +Bearman Cartoons! And let me tell you... it's a real honor.
It's really special... because getting "MUGGED" doesn't happen to everybody. 
So when it happened, I couldn't believe it. I was so excited... I thought I was gonna have a heart attack!
I have to tell you... I'm really blessed. Because I've had the good fortune to meet the nicest, most talented cartoonist on Google+. And since I meet nice people here on Cater-Hater (like you!), I wanted you to know about +Bearman Cartoons too.
Don't know what kind of gift to give to someone? 
Get them MUGGED by Bearman Cartoons, a premier editorial/pop culture cartoonist with crazy-mad skills. How does it work? Go to the Bearman website or contact Bearman on Google+, Facebook, or Twitter. After you work out the pricing details, upload your photograph, and then sit back and wait to be impressed!
I really wanted to get "mugged".
I always wanted a cartoon/caricature of myself and now thanks to Bearman Cartoons, I have one. And the best thing is, because of the quality of his work, I really like it! As soon as I saw one or two Bearman "muggings", I was instantly "sold". And it was right then and there that I became a big fan. But now... I'm a BEARMANiac! It's not uncommon for me to "stalk" his Google+ page; looking at all of his latest "mug shots".
Here's what people are saying about Bearman Cartoons... 

Bearman Cartoons
Yesterday 1:35 PM  -  Public
Well I haven't done a caricature in a while and if the Mayans are right - this is the last one you will ever see from me.
+Carlo Powe-Crawford you have been MUGGED!!!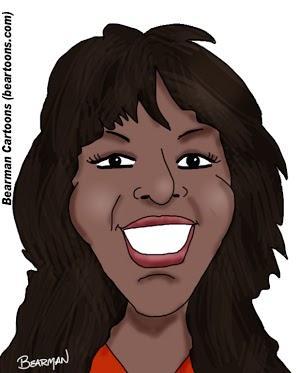 More photos from Bearman Cartoons


2
+44 Hide comments



Michael PohrerYesterday 1:36 PM
+ 2
1
2
+Bearman Cartoons Very cool


Bearman CartoonsYesterday 1:36 PM
+ 2
1
2
Thanks Michael


Dave ThieryYesterday 1:36 PM
+ 4
3
4
Damn Mayans are screwing me out of my mugging!


Ashlan NathensYesterday 1:37 PM
+ 2
1
2
Lovely caricature mate!


Bearman CartoonsYesterday 1:37 PM
+ 3
2
3
If they are wrong then you are safely on the list for 2013 Dave.


Bearman CartoonsYesterday 1:37 PM
+ 1
0
1
Thanks +Ashlan Nathens 


Lord ParkerYesterday 1:44 PM
+ 3
2
3
Well and truly Mugged +Bearman Cartoons... your work continues to impress me my friend


Lori FriedrichYesterday 1:45 PM
+ 3
2
3
Very well done +Bearman Cartoons!  Terrific likeness!


Kenneth Poveda MataYesterday 1:51 PM
+ 3
2
3
Looks awesome!!


Deb RoscoeYesterday 2:02 PM
+ 2
1
2
high 5's +Bearman Cartoons !!!
Flippin fabulous!
Merry Christmas +Carlo Powe-Crawford !!!
I believe I can recall your havin stated that you wanted a muggin' of your very own!
Haha!


Bearman CartoonsYesterday 2:06 PM
+ 1
0
1
Thanks +Lord Parker +Lori Friedrich +Kenneth Poveda Mata 


Bearman CartoonsYesterday 2:07 PM
+ 2
1
2
Oops and +Deb Roscoe


Barry WilkinsonYesterday 2:09 PM
+ 3
2
3
The Mayan's would be proud +Bearman Cartoons, awesome!


Thomas QuintanaYesterday 2:17 PM
+ 3
2
3
Very cool +Bearman Cartoons ! Miss seeing your work! :-)


Bearman CartoonsYesterday 2:38 PM
+ 4
3
4
Thx +Barry Wilkinson
+Thomas Quintana just look at your avatar and you will see my work haha


Krissy Rios VillegasYesterday 4:44 PM
+ 2
1
2
Sweet! :)


Steve HumphreyYesterday 5:48 PM
+ 2
1
2
so perfect, is it drawn or is it a photograph.?
truly talented work again mr +Bearman Cartoons 


Bearman CartoonsYesterday 5:49 PM
+ 2
1
2
Thanks +Krissy Rios Villegas and +Steve Humphrey 


Carlo Powe-Crawford4:18 AMEdit
               +Deb Roscoe I sure did! Hey... and Merry Christmas to you too! 

So when you're in a quandary about what to give someone for a gift, give them a custom Bearman Cartoon. Oh, and don't forget... tell him "Carlo on Cater-Hater" sent you!

Sponsor of the Month

*****
I do this... I write to help to create to opportunities for all who choose to pursue their passion to have parties almost irregardless regard to economic constraints.
I think if we keep talking about the cost of parties (I write blog posts, you write comments), together, maybe we can break down some of the party industry's price barriers and shame some of the people who've taken your money and delivered a poor quality product right into growing a conscious and treating you right (nice thought, huh?).
Opportunities to be inspired about parties are everywhere. Yet, people looking out for your wallet are few and far between. My goal is to inspire you, causing you to question the way things are that have been the status quo for too long. When we stand together and speak up, we can be a powerful force.
Let's keep the conversation of change going. Because in the sea of everyone talking, one voice is a whisper... several voices are a scream.
Leave a comment and share your thoughts, ideas and suggestions below. Remember to be as specific as possible because what you have to say helps us all.
Always... be encouraged and encourage others too,