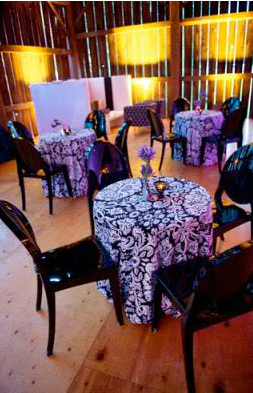 Deciding what decor pieces to choose from - deciding how to dress up your party for success, is relatively easy; a few key investment pieces can go along way. 

You can throw a gorgeous printed tablecloth over any table and take ordinary straight to extraordinary, or rotate two of your favorite vases you use for floral centerpiece arrangements as often as you choose with out coming off "one-note" (as long as you play around with your favorite candlesticks and other favorite tchotchkes). 
When the seasons change and it starts to get warm, certain decor pieces might not be appropriate. 
And the list of party faux pas continues to grow: plastic flowers that are too "trailer park", cheap vinyl table covers that make your party look as if you are a party novice instead of a pro, tableware that should be relegated to casual outdoor parties, etc. 
Thankfully, if you stop by your local party rental company showroom you'll see brilliant options to rethink your casual and elegant dinner parties. Because life today is chaotic and busy, being versatile in what you use to spruce up the look of your party is almost a necessity. Let's fact it. We're often overwhelmed with the party process (in the first place), and no one has a lot of time to devote anymore, to make a bunch of significant changes. 
You, the modern party host, face numerous decisions regarding the food and beverages that you'll serve, the decor that you'd like displayed... key party elements that should work, from open-house brunches to elegant small five-course dinner parties, without compromise to what you call "your style". 
So what looks best?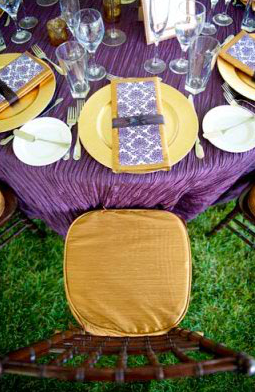 You can't go wrong with a good looking classics (in any neutral color). Pair them with the latest Chivari chair cover, for example, and you'll get compliments galore. Another effortless update you can make is the tablecloth/overlay combination. 
What's so great about an overlay? They're universally flattering, as are the tone-on-tone color pairings the table cloths and overlays come in. Although pastel colors fail for parties for most men, for example, choosing a bold dark shade is a better way to usually standout. 
Color has a tendency to look modern and new when it's bold and strong. For parties, men prefer confident looks that stand out in a manly positive way. Once you can get them to agree to having a party in the first place, the last thing they want is their party to look "too fem" and to not be memorable too.
Another option to welcome in - when the weather is warm - are bright primary colored table coverings. You want your warm weather party to look vivid and polished. People tend to migrate toward "happy" (looking) party environments that have an "easy" vibe to them with versatility that can dress up or down your party decor accessories. 
Who likes these options the best? Women? Or, men? 
Who doesn't is more the question. Masculine or feminine, minimalistic, or anything in between. With happy colored table coverings, in strong, saturated shades - you'll have a surefire look that's au courant and pulled together. Where you're using a lot of color, remember to keep your tablescape simple. Color calls for neutral accouterments. And paired down "basics" don't have to apply. Go for it! Be brave with your accessories: a hurricane lamp, modern custom artisan-made wooden salt and pepper shakers, or your family heirloom table linen can all ass oomph. 
Just because your accessories fit your party decor comfort zone, which means that you can use your new, decorative serving items, don't forget to check to see that they go with your other favorite party serving supplies.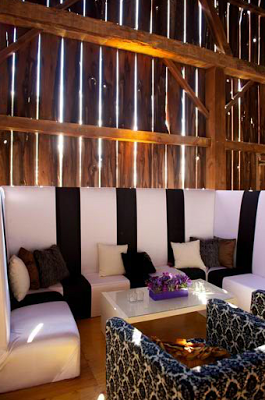 Party planning mavens and crack-caterers who like their parties "edgy" may want to try the new things on display at most top-notch party rental companies that continue to give trendy party hosts sophisticated, chic, party-ready looks (thank you Aztec Party Rentals). 
The best way to make things work is to make your party "sexy" - party being the key word here. That means: put what's best for your party first. 
In the end, the one way to grab everyone's attention - whether it's at a graduation celebration or a man's birthday party - is to be "party tight, party right"; displaying and using what works best. But here's the thing. If you feel good about it, it probably looks good; those two things go hand-in-hand. 
"Creatively decorative" and "useful" are important elements when it comes to how to dress up your party for success. Because they're a good way to showcase your personal brand. And with all of these options that I've spoken about here; your personal style can be party decor fashion-forward. 
If you have any suggestions regarding dressing up a party for success, or can recommend anything pertinent to this post, please mention it in the comments. I would love to try hear what you have to say. 
Sponsor of the Month

*****
Help spread this message. Feel free to share it with your friends.
I do this... I write to help to create to opportunities for all of you who choose to pursue your passion to have parties, also taking into account today's economic constraints.
I think if we keep talking about the cost of parties (I write the blog posts, you write comments), together, maybe we can break down some of the party industry's price barriers and shame some of the people who've taken your money and delivered a poor quality product right into growing a conscious and treating you right (nice thought, huh?).
Opportunities to be inspired about parties are everywhere. Yet, people looking out for your wallet are few and far between. My goal is to inspire you, causing you to question the way things are that have been the status quo for too long. When we stand together and speak up, we can be a powerful force.

Let's keep the conversation of change going. Because in the sea of everyone talking, one voice is a whisper... several voices are a scream.
Leave a comment and share your thoughts, ideas and suggestions below. Remember to be as specific as possible because what you have to say helps us all.
Always... be encouraged and encourage others too,