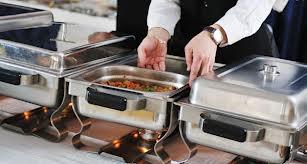 Party Catering: How To Hire A
Caterer
is a quick class you should take when you want to entertain and don't want any disasters taking place.
You
do not
want to be the party host that actually is the caterer for a party of 50 - especially when this isn't your forte. And you already know why.
50 guests can involve a lot of effort - you could run out of
food
, and during the planning process; being so busy with other details, you can completely forget about serving something suitable and satisfying for your vegan and vegetarian guests.
Go Pro or Go Home (Stay at Home)
Going pro is the only way to do this when you're not experienced at this kind of thing, want to eat on time, and don;t want to enlist your guests to help you keep the momentum and continuity of your party going all night (not to fail to mention involving them in party clean up!).
Frankly, when you have a guest list of more than around 12 to 15 people, its just not cute to invite people for dinner and cause them to have to roll up their sleeves and take on your party stress too, because you don't know what you're doing, so you don't have it together.
Let this be your guide...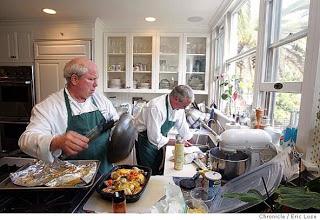 Cater-Hater Tip:
when you invite at least 10 to 15 guests - hire one Chef and one
food server
- irregardless, if the Chef tells you they can handle it alone. Remember the old saying, "There is safety in numbers". Sure the connotation of that saying is typically used differently. But the same saying applies here too. Just say "No" to potential nightmares (
before
they happen).
Inviting 20 to 25 guests? Hire another Chef or cook and two more servers - taking the total of party staff to two
Chefs
and three food servers.
Get Input
Your friends (your
good
 friends anyway) want to see you succeed, so it's safe to ask them for their honest suggestions. It's possible that you run with a crowd that stays up on all the latest trends and knows what's up... with
everything.
When that's the case, they can probably steer you in the right direction about finding a great caterer with crazy-mad skills to hire. But then, you have a favorite
restaurant
... so, find out if they'll permit you to hire a sous chef (or two).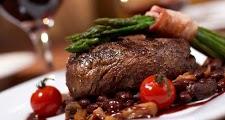 It's On-Site Or... It's Off-Site, Out Of Site & Wrong
Fresh
is best. No matter what, make sure the food you serve at your party (
wedding reception
, corporate special event) is of the freshest, highest quality. So don;t get sold on how great and easy it's going to be to receive a drop-off catered meal. That is
not
catering. That is a drop off. Period. Point blank. End of story.
It might be cheaper, but always remember the old adage that is true: "You get what you pay for". Why not serve food that's been dropped off? How do you know what day the food was prepped and prepared? See, here's the thing...you don't (know). If it's not cooked in your kitchen, right in front of your eyes, never mind.
If you want to order and serve your guests a great big carry-out restaurant meal, certainly that's your choice. But if you're going to do that, why don't you just invite everyone to meet you at the restaurant for dinner and pick up the tab? Kind of makes more sense. Doing it that way, at least you should be assured the chance to eat hot food, not warm or cold food brought to you by a carry-out driver who may have one or two stops to  make (if not more) before they find their way to your home or office address.
Hire a Chef to cook in your kitchen, even if it is the size of a matchbox. A talented Chef can cook anywhere and use just about anything to execute their culinary vision - although, they'll arrive with their own gear (be sure to ask questions if you want to know exactly what they'll bring to work with). Most chefs are picky like that; exacting and extremely particular about their equipment.
Your best bet is to "steal" menu ideas from places that you've been that have impressed you with dishes that you could execute yourself or hire a cook to re-create that you know for a fact is delicious. Now is not the time to experiment, usually. Inviting people over to as guest guinea pigs oftentimes doesn't go over well. That is, unless the people you're inviting are what I call, "experienced eaters"; people who are known to have palates that can tolerate trying new things, new dishes.
Most caterers don't allow "tastings", unless you're shopping for a wedding caterer. When you are looking for a good wedding caterer, call a couple of companies and ask them to place a bid (to receive a proposal). What you typically will receive after doing so will be two to three detailed menus, along with wine suggestions, and a list of possible special requests. The company to hire is the one that goes the distance, that is willing to customize things (if need be), that asks you a lot of questions regarding your "vibe"; the look and style that you're going for.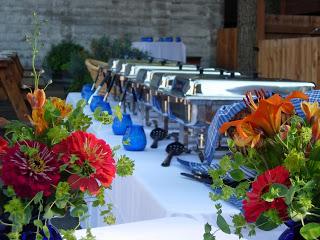 Not know (a lot of things, for various reasons) can be the world's worse feeling, can it not? When you're hiring a caterer, you'll
need
to know what you
want
to know. Questions you'll want answers to are things like, "What is my exact menu?" - not your kind of/sort of menu, "How many courses will you serve?", and questions that you'll have about the wine ("What
wines
will you be serving?" or "What wines do you suggest that I buy to go with your menu?"). You'll also want to know exactly what time they will you arrive, approximately how long will things take, and oh... about the gratuity - "Is it included or do I have to add a gratuity fee myself?"  And in case you didn't know, the standard gratuity rate (also called a "tip") these days is 20% .
Just today, I had a guy on Google+  tell me that the fees that caterers charge cost "too much", to quote him exactly. And my thing is, hey... if that's what you think, that's cool. You're not going to get any argument out of me, the Cater-Hater who writes Party Mad Monday posts.
You don't like the prices? Then don't pay the going rates that caterers charge these days... and do everything yourself. And now, just in case you're thinking that doing things yourself is biting off a bit too much to chew, I've given you some Party Catering: How To Hire A Caterer information to help. Whatever you decide, I'm sure at the end of the day the choice that you'll make will be the best choice, considering the circumstances.
No matter what, have a great party!
Sponsor of the Month
*****
I do this... I write to help to create to opportunities for all of you to pursue your passion to have parties without regard to economic constraints.
I think if we keep talking about the cost of parties (I blog, you write comments), together, maybe we can break down some of the party industry price barriers and shame some of the people who've taken your money and delivered a poor quality product right into growing a conscious and treating you right (nice thought, isn't it?).
Opportunities to be inspired about parties are everywhere. Yet, people looking out for your wallet are few and far between. My goal is to inspire you, causing you to question the way things are that have been the status quo for too long. When we stand together and speak up, we can be a powerful force.
Let's keep the conversation of change going. Because in the sea of everyone talking, one voice is a whisper... several voices are a scream.
Leave a comment and share your thoughts, ideas and suggestions below. Remember to be as specific as possible because what you have to say helps us all.
Always... be encouraged and encourage others too,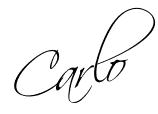 "The greater danger for most of us lies not in setting our aim too high and falling short; but in setting our aim too low, and achieving our mark." - Michelangelo
Image source: Google Images
wedding party catering services, wedding party catering event, wedding party catering few, wedding party catering written, wedding party catering food, how to hire a caterer, catering basics, catering event checklist, catering reviews, cheap catering, how to hire a caterer for wedding, how to hire a caterer party, how to hire a caterer start looking, how to hire a caterer friends, how to hire a caterer important, party catering, party catering ideas, birthday party catering, party catering prices, party supplies catering, party food, party event planning, party catering areashire a caterer
how to hire a caterer for wedding, can hire a caterer, menu hire a caterer, hire a caterer servers, hire a caterer event, caterer work, create caterer, find and hire caterer, plan caterer: Technorati Tags


>>Your Email Address... No Spam. I Promise." />
Special Offers for Cater-Hater Subscribers!
>>Your Email Address... No Spam. I Promise.';} " name="email" value=">>>Your Email Address... No Spam. I Promise." id="awf_field-35516496" onfocus=" if (this.value == '>>>Your Email Address... No Spam. I Promise.') { this.value = ''; }" type="text" class="text" tabindex="500" />