Copenhagen, Denmark January 7 – January 10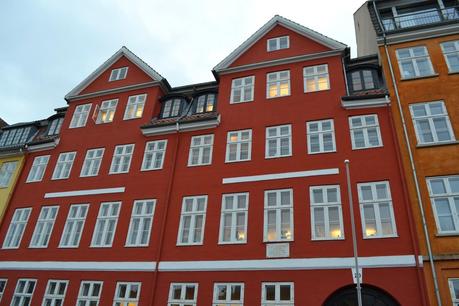 The bright colours of Nyhavn
Day Six
We had the breakfast at the hostel, just your average continental breakfast, but the cost was something we weren't used to, 75DKK each (around £8). It was great though, we love hostel breakfasts, getting to fill up on; ham, boiled eggs, salami, cheese, yoghurt, bread rolls and coffee. It gives you enough fuel for exploring all day long, or until you can find somewhere reasonably cheap to eat. We joined in on the free walking tour, our guide Rosie (originally from London) met us at the hostel and lead the way to the Town Hall, where we waited for her to pick-up more travellers from another hostel.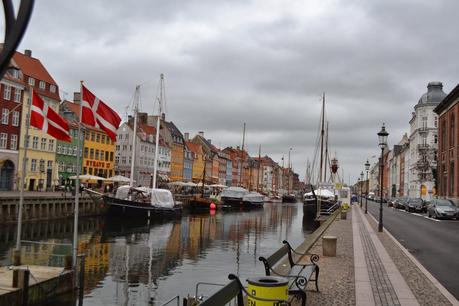 Nyhavn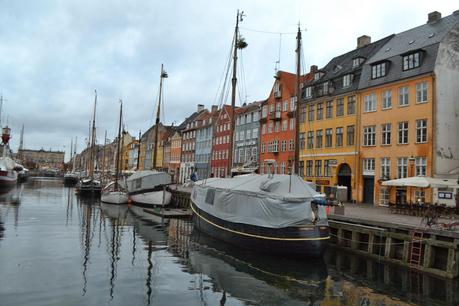 A the colours of Nyhavn
While we waited we had a quick look around inside the beautiful building, but left the proper exploring of it for another day. Rosie told us everything from the bad luck the Copenhagen locals possess with fires to a legendary Second World War saga. We even stopped at coffee shop to have a coffee and because we were part of the tour we were given 10 per cent discount. We walked through town, along the canal, through the Amalienborg Palace grounds and finished in front of the Marble Church.
Rosie was finishing up her tour with said war story, when out of nowhere we heard drums and trumpets, which gave us a stir of excitement. Unfortunately she had stopped her story mid-sentence. After she had a peek around the corner to see what was causing the commotion, she hurriedly ushered us over; because low and behold Queen Margrethe and her man Prince Henrik were arriving home to Copenhagen in grandeur; with a royal parade and in their fancy royal carriage.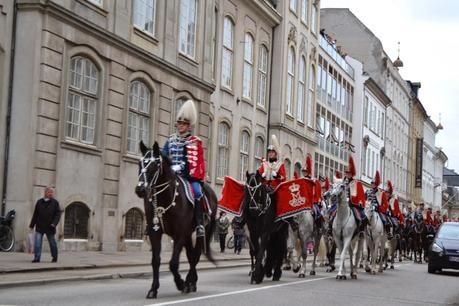 The parade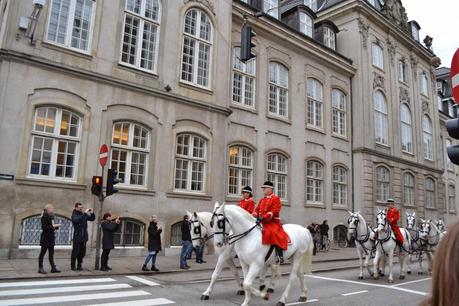 Beautiful 'Royal Horses'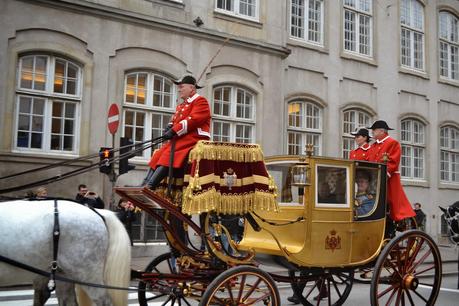 The Royal carriage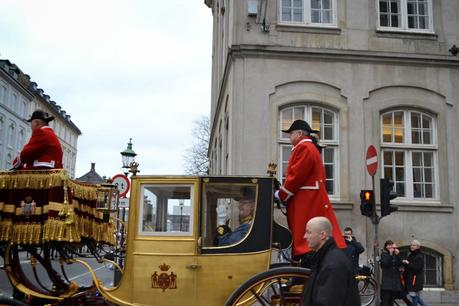 You can just see Prince Henrik
The Queen even waved at me. It was true splendour to see them so close-up, there were no barriers or guards walking along side the carriages or horses.
After the excitement and seeing the royals and Rosie finally finishing her story, we joined a couple of other travellers from the tour and walked to Christiania in the district of Christianshavn, the alternative community, that works like a cooperative and abide by their own laws.
Once we were inside, you could instantly smell 'it' lingering in the air and dark old buildings surrounded us. You could see some artists and sculptors, making their art, but it mostly looked drab. I imagine it would look a lot nicer in summer though.
We then came to the sign at the start of Pusher Street, where it read, "Dear Friends, there are three rules in the Green Light District: Have fun, don't run – it causes panic [and] no photos – buying and selling hash is still illegal." It was a kind of creepy street with its dealers in their tracksuit, gangster-like outfits, quite dodgy, compared to say Amsterdam's Redlight district, where it is done indoors and you are dealing with shopkeepers and not drug 'gangs.'
We met up with some Canadians (also from the tour), who were smoking joints they'd just bought. It seemed expensive for the little fun that it could bring. Then we all decided to sit down, some bought food at this organic café – J and I shared a juice.
Then we started heading on out of there, but not before two of the girls we were with, decided to use a bathroom, well what they thought was a bathroom, a sign above the door read "badeanstalt," unfortunately for their eyes, it was not a bathroom, but in fact a bath house/sauna full of naked men and women.
We all left the Christiania behind and headed back to our hostels. J and I rested in the bar back at our one with a Weiss beer.
Then it was the search for dinner and by search, I mean like an actual search.
We walked all over town almost to find a restaurant to eat at, as we really wanted to try local cuisine, as you do when you're in far away lands, however we were on a tight budget. After about a half an hour walk, we eventually sat down at Sporvejen. Which looked like an old tram on the inside and it was full of old tram memorabilia, from when Copenhagen had a tram*. We ate delicious burgers and had two glasses of Tubourg Gold. It was a really fun dining experience.

Day Seven

On this morning, J and I walked through town to Nørrebro, just for coffee, but a coffee shop we'd read in our Lonely Planet: Europe on a shoestring (2011), so of course it must be good. So it was at the Coffee Collective where we had found ourselves that morning, and it was of course tasty coffee; we even had a hindbær snitte along with it, an almond pastry that was out of this world good.
After our coffee we waltzed along Jægerborggade, looking into the chic Scandinavian designed boutiques, you could tell we were in the 'it' suburb of Copenhagen, with all its 'hip-ness,' J and I were saying to ourselves we'd live there if we ever moved to Copenhagen. We then grabbed more pastries from the bakery Meyers Bageri; we both bought savoury potato and pesto buns and then I chose a cinnamon and chocolate scroll for myself, where J on the other hand picked a caramel scroll for himself.
Then we walked across the road to Assistens Kirkegård and sat down at a bench seat among the shrubbery and enjoyed our feast.
It was only as we started walking through the park, we realised it turned into a cemetery and then we started seeing signs for Hans Christian Anderson's tomb. After wandering around the shrubbery and other haunting tombstones, we eventually found it, to pay our respects to the author.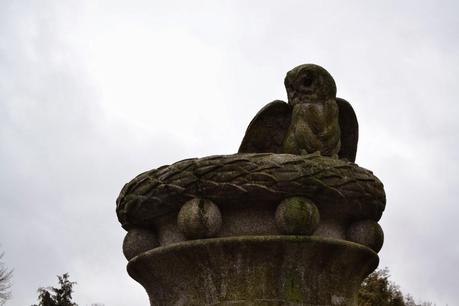 A beautiful headstone 
Afterwards we walked back into town, back through the suburbs, until we came to the Copenhagen Town Hall. With no entry fee, unless you wanted to go on a tour of the joint, it was up to yourself to explore, though it would've been nice to look around the rest of the building, it was something that had stayed with me, since Rosie had told us about it; Jen Olsen's World Clock; with displays that include lunar and solar eclipses, positions of the planets, a calendar and the time. The slowest gear completes a revolution every 25, 753 years. It has to be the most intricate and fascinating
pieces of mechanics I've ever seen. 
Then we were off to the National Museum, where we enjoyed walking through the Danish Prehistory part, displaying findings from 13,000BC to 1050AD, which was fascinating. There were remains of a woman and a boy that been discovered in Vedbæk, North Zealand, and they were dated as being more than 7,000 years old. There was also Viking treasure; including a Viking boat.
Afterwards we went back to the hostel, where we had a break, before finding a nice restaurant not far from the hostel, where we drank two small beers (that's all we could afford) and ate nachos and tapas for dinner.

Day Eight

It rained all day, I'm not even kidding, it was all day! I think this is the worse holiday we've had in terms of bad weather, but we did go during winter after all*. It rained so much when we were walking from the hostel to the 'the Little Mermaid,' that we had to turn around and find a café to sit down and wait for it to stop.
We were soaked from head to toe when we arrived at MorMor's, an antique café, where were drank lattes and (of course) munched on pastries.
After our coffee break we decided to go back to the hostel, to get changed, rest and dry off and wait the rain out. Once it had stopped we then wandered into town and walked around the shops, wishing we were wealthy enough to shop at all the lovely and expensive stores. We even went into the Lego flagship store and bought a Lego man key ring, which was wearing a Copenhagen t-shirt, as a souvenir for ourselves.
We stopped to have a hot dog at a Pølsevogn, J had found a name of one during some research on what to do in Copenhagen. There were different types of delicious sausages and then all sorts of different toppings and sauces. I think I got the French-type sausage and of course had fried onion, mustard and ketchup. There is a few different ways you can have a hot dog in Denmark, so it is best to look at the pictures on the menu for explanations. For a cheap food option, it is also a staple food there, so you get a taste of what locals really enjoy eating.
We then had dinner at the hostel and we tried a new Danish beer and then we played some pool. We even came across some more Australians and we found out that not everyone follows the same 'rules' for the game as we do; where you put you gold coin on the green of the table so as to shotgun the table and to ensure you go next. We confused a couple of people by doing that. Who knew we were the only ones that did that.
Day Nine
We paid for the continental breakfast at the hostel again, and we played a game of pool again, to wait the rain out…again.
The rain did die off eventually and we were finally able to walk all the way to see the Little Mermaid, a sculpture based on the Hans Christian Anderson children's story. J didn't think it was worth getting soaked for, but I thought it was quite a nice gesture of Carl Jacobsen (the man behind Carlsberg) who commissioned Edvard Eriksen to sculpt the piece after he fell in love with the character at a ballet performance of the fairy tale.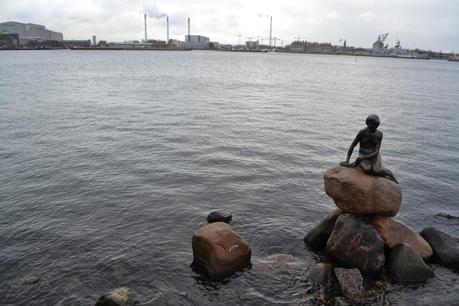 The Little Mermaid
After a few snaps of the mermaid, we walked to the palace grounds, to watch the changing of the guard. Which was a spectacle, and they had normal security to move you around the square, so as you could watch the whole show properly, it was very well done.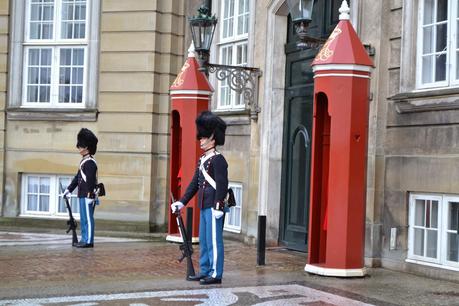 Royal Guards at their post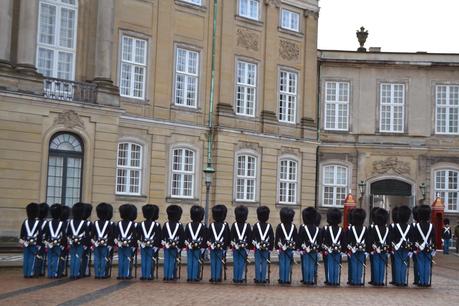 The Changing of the Guard ceremony

Then of course it started raining and then the ceremony was interrupted by some guards (without their traditional hats on) ran to the residence of Prince Frederik and Princess Mary and then a police car arrived with its siren on, and escorted someone in a car out of the palace grounds. We wondered if it was Prince Frederik, it definitely wasn't Mary.
We continued to stand in the rain and see the whole thing through, once it was over we went into the first café we saw and had a simple lunch of soup and toasties while our feet defrosted.
Then sadly it was home time, we walked back to the hostel to get our stuff, caught the metro back and flew back to Edinburgh.
Well until next time… x
PS. For more details about a trip to Copenhagen have a look at the Visit Copenhagen website www.visitcopenhagen.com/copenhagen-tourist

 * The irony didn't escape me, since we're living in Edinburgh, where a new tramline is set to start running in May this year, after the original trams stopped running in 1956.

* Don't let this put you off visiting Copenhagen during winter, because a few weeks after we returned to Edinburgh, Copenhagen was treated with light snow, which of course instantly transforms any city. Especially if you're from the Southern Hemisphere, you can sit outside cafes, under an outside heater, with a blanket on your lap and a mulled wine in your hand.