J's parents and sister came to visit us over Christmas and Hogmanay (what Scottish folk call New Year) here in Edinburgh, which was lovely. And we also decided to head to Europe with them, just so we could spend some more time together.J's mom had her heart set on going to Italy, since she had never been, so we decided to tag along with them to Rome. Oh Rome, my third time and J's second. What can I say? I can never get enough of Italy. We decided in the end to take a week and a half off work, and make a bit of a trip out of it. So then we decided on going to Copenhagen for a few nights as well. Especially, since we hadn't made it to any Scandanavian country thus far, which is a shame, because I don't think (at the time of writing this) we'll be able to visit another Scandinavian country until…well who knows. Our reason for wanting to go to Copenhagen you ask - well I don't know, apart from seeing the photos of the colourful houses along the canal in Nyhavn and hearing about how wonderful Scandic life is. Copenhagen, out of all the Scandinavian countries was probably the cheapest option as well, as there is a direct flight to Edinburgh with Easy Jet. We had managed to find cheap train tickets on trainline.com to train it to Manchester on New Years Day and so we booked our flights to fly out from Manchester Airport on January 2. We stayed at the Premier Inn (the South complex) near the airport. Which was a perfect location for our early flight the next day and after our four-hour train journey from Edinburgh. But we had great meals at the restaurant and a nice comfortable sleep there. The staff are friendly as well, which was lovely (you know what I'm like with bad service).Rome, Italy January 2 – January 6Day OneWe left when it wasn't even light out, we hadn't been up that early since that shady flight from Faro, Portugal last year. Even at this hour though, I was very excited to be going back to Rome, to be with 'my people*'.We had collected our bags and were waiting for our shuttle bus (an open return to Termini Stazione was €8) by mid-morning. Once we arrived at Termini, we bought metro tickets and caught the metro to San Giovannistation, and found our way to the airbnb flat J's Mum had booked for all of us. We had to walk through the ancient city walls to find it on Viale Carlo Felice. We were buzzed up to the third floor, where we were greeted by one of the owners, Susanna. Due to last minute changes to our arrival (we booked earlier flights), instead of J's parents and sister beating us there, we arrived first and Susanna was still having the house cleaned and prepped for our stay and the current guests still had their luggage there. So instead of getting in everyone's way, we decided to head out for lunch and a wander around the area. After finding the suggestion that Susanna had made was closed during the day, we turned around and went back to the corner of Viale Spezia to eat at Bar Spazio, where the food was appreciatively cheap. J ordered mushroom pizza and I order gnocchi in a tomato and basil sauce. 'Mmm,' I hear you say. It was delicious and cheap, and I had my first real experience of 'trying' to order espressi. This was mainly a failed attempt, because, a) It was break time, and a big group of people rushed into the café and b) they ordered as Italians were intended to do… they ordered their espressos and drank them at the bar, but in the 'Italian' way, which it means it was really fast and really noisy. Needless to say J and I had our espressos brought to our table…how un-Italian of us.J's parents and sister arrived later in the early evening. While we let them settle in, I decided to try out my Italian skills over the phone. You know what they say, 'practice makes perfect.' I was calling Al Duello, the restaurant J and I ate at two nights in a row when we were on holiday in 2012. My favorite restaurant in the whole world (apart from the ones we're yet to eat at), so I dialled and someone picked-up and I said…"Vorrei prenotare un tavolo per cinque persone, per le otto domain notte."Which loosely translates (or I wanted to say)…"I would like a table for five people, for eight o'clock, tomorrow night."The lady on the phone, basically then said sorry I don't understand. And then I said something along the lines of "oui" and "pardon," which is of course French! Pretty embarrassing. Then the lovely lady on the phone then asked if I spoke French and I said 'no'… so she spoke English to me. Oh the irony of the situation is not lost on me still. Look at me, I'm multi-lingual, not! When everyone was ready, we decided to try out Susanna's recommendation, and headed for dinner at Al Grottino. A pizzeria, which used traditional pizza cooking methods, which mean it was cooked in a wood-fired oven.J, his dad and sister and I ordered a pizza each, and J's Mum ordered chicken wings for herself. I had pizza alla Romana, a pizza typical of Rome, a pizza topped with mostly onions, it had to be one of the best pizza's I've ever had*. We also shared red wine that came in decanters. And then came dessert, I had a chocolate fondant, which had a delicious oozy chocolate center. Dinner was perfect, definitely one of the best places where I've eaten in Rome. After that it was bedtime, so we could get a full nights rest to prepare ourselves for a day of sightseeing. Day TwoAs soon as everyone was ready to head out, we walked from the flat towards the Colosseum, stopping off first at Chiesa Basilica di San Clemente, a church that J and I visited in 2012 after reading about it in Lonely Planet Traveller magazine.It is historic excavation sight, which has three distinct levels, home to the ruins of a Roman house and the original fourth century basilica. After exploring the depths of this lovely church, we were only a minute down via di San Giovanni in Laterano before we stopped again, this time at a small bakery, where we bought delicious baked pastries, with either spinach or bits of pancetta. We eventually arrived at the awe-stopping sight of the Colosseum. We all stood across the road first taking photos before getting closer and walking around the front to find of course, a huge line-up. J and I then lead the search to find a representative who had the best rates for a tour, because that's what we did in 2012 and we did get in fairly quickly, plus we got a tour of the Forum.While they were doing their tour, J and I decided to go and find Largo di Torre Argentino, the site of the ancient Pompey's Theatre, the ruins of an 18th Century opera house, now turned cat sanctuary. I remember back in 2009 going there on my Topdeck tour and my tour guide telling us that it was here where Julius Caesar was murdered and that the legend was due to his relationship with Cleopatra that was the reason why cats lived there.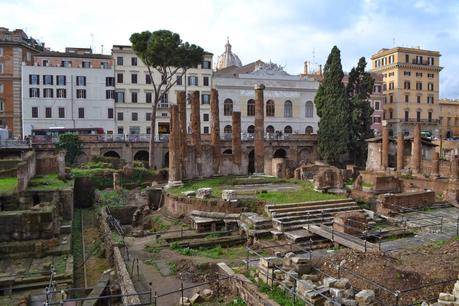 Largo di Torre Argentino

After trying to spot all the kitties, we decided to retrace our 2012 tracks and try and find Al Duello and Caffé Sant'Eustachio, where of course J did lead the way to, with his extremely handy map reading skills*. Then it was that awkward time of day when your travelling, you're busting for the loo and in desperate need to find a public one… an extremely rare find, if you have ever been to Europe. If you spot a McDonalds, it is usually your best bet, but this one we found happened to be the BUSIEST McDonalds toilet EVER. I'm only using caps to help exaggerate how busy it really was. I waited half-an hour to use the ladies. The only thing positive that came out of this experience (apart from being able to relieve my bladder) was being surrounded by only Italians and hundreds of them, and experiencing a normal time in the life of Italians.*After such a long wait we were due to meet J's parents and sister back at the Roman Forum. We all then walked back towards
Via San Giovanni in Laterano
and stopped off at one of the nearby streets to have some lunch. The food was good, the service and price is almost what I expect of places situated so close to tourist attractions.Needless to say it had been thus far a long day and I was ready for a sit down before going out to dinner at Al Duello that night. But J lead us the long way round and for a little while I think he was lost, as we walked all the way past
Circo Maximo
to arrive back at the flat.We rested, before we headed to
Vicolo della Vaccarella
, a short walk from Piazza Navona for dinner at
Al Duello
. We were greeted by a gorgeous, smiling lady, and I told her I had made a reservation for 'Dunlop,' she said then said there was no reservation, but then said not to worry and she and a waiter pulled two tables together and rearranged the table settings for the five of us. I love good service! And this is one of the reasons why this restaurant is one of my favourites in the world, not only is the food delicious, but friendliness of the staff is next-to-none. Anyway, after going on about how we'd eaten the five-course degustation menu last time, J's sister thought she would give four courses a try. Well she failed in style, I don't even know how J and I did it, I think it took us good few hours. I had three courses; the French onion soup (with an Italian twist), the Al Duello pasta and the chocolate fondant dessert – everything was delicious and I've already vowed to return again.On leaving the restaurant, we were seen off by the waitress (the owners sister) who first greeted us, and she did the very 'Italian' thing and kissed me on the cheek, a good sign of friendship in my eyes.
Day Three
J had caught everyone's cold, and thank god for his Mum and giving him all these drugs, he seemed to be a bit better this morning. But we decided to sleep in anyway, while his parents and sister went to do a tour of the Vatican Museum.When we eventually left the flat we headed to the
Bocca della Verità
– a site at a church, made famous by Audrey Hepburn and Gregory Peck when they place their hands in the 'mouth of truth,' in the scene from
Roman Holiday
. It was a new place for us that we thought we could explore. We walked there from the flat, passing Circo Massimo on the way, and J even gave directions to a lady and her daughter*. When we arrived, there was a huge queue to get in, but it passed reasonably quickly. We eventually got chatting to the couple behind us, who were also Australian and in Rome on their honeymoon, to pass the time. Once we were at the front of the queue, we gave a gold coin donation and asked the Australian couple if they could take our photo for us. We then stuck our hands in the mouth of the
Bocca della Verità
…and they didn't get cut off.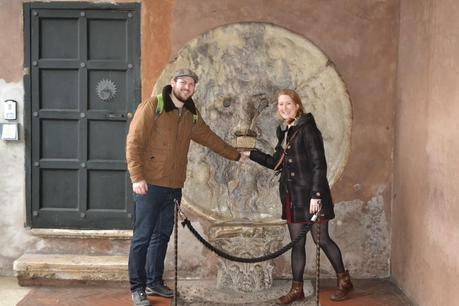 J and I putting our hand in the mouth of the Bocca della Verita
Lucky we don't tell lies I guess.After we also gave a donation to go underneath the
Chiesa di Santa Maria in Cosmedin
and have a look at the ruins of an old chapel. After we crossed the bridge into Trastevere. Where we wandered around the winding cobbled streets, losing ourselves in the gorgeous surroundings. We stopped for lunch at a bakery, J had mushroom pizza bread and I had spinach and ricotta ravioli.Then we walked along the winding cobbled street we were on and found a gelaterie; I had a hazelnut chocolate scoop and J had Crema di Catalana. We continued on our merry way, walking past flats, shops and the daily life that surrounded us, and then we had to find a bathroom, so we stopped to have an espresso at this franchise café that we'd seen before somewhere.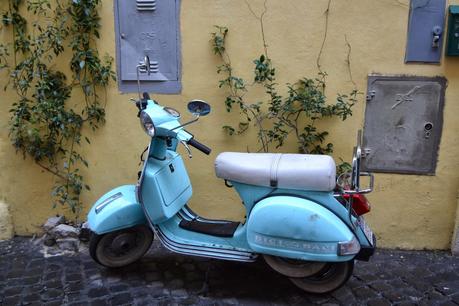 The symbol of busy Italian streets; the Vespa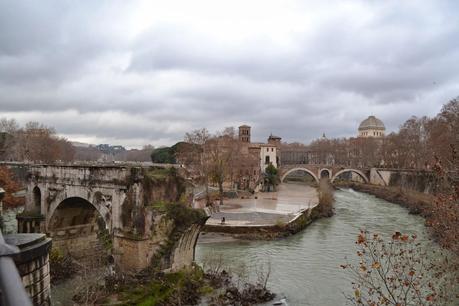 The view along the River Tiber
We then walked along the Tiber River, leaving the magic and peaclefulness of Trastevere behind us and headed towards the Vatican City.We waited under the columns, that guarded us from the rain, when it stopped and the sun had disappeared, we took a few photos in front of St. Peters with the lights on. Then we walked to find J's sister and his folks waiting for us at a nearby restaurant.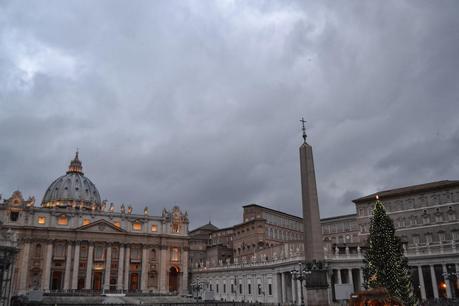 St. Peters Basilica shadowed by gray clouds
Once we arrived back at the flat, J and his sister made their way up to the flat and J's parents and I headed to the nearest supermarket for ingredients for a picnic dinner; we bought salami, cheese, bread rolls and olives and arancini balls from a local pizza bar. I even got to test-drive my Italian again, this time I managed to stuff the words for orange and the rice balls.We ate all this accompanied by wine, also bought from the supermarket.
Day Four
So today, it was J and my turn to lead the way. Firstly we caught the metro to Fontagna di Trevi, to throw our coins to make sure our future included another trip to Rome. J's parents and sister loved it, and I really don't think you could find someone that wouldn't, especially because there was no scaffolding attached like there was in 2012. We threw our coins in and hoped for the best.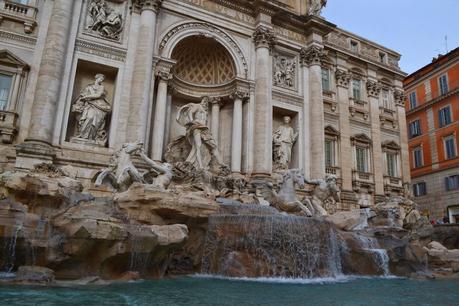 The Trevi Fountain: Not under renovation 
Then we wandered through the cobble stone covered laneways to find San Crispino, on
Via della Panetteria
, for some gelati.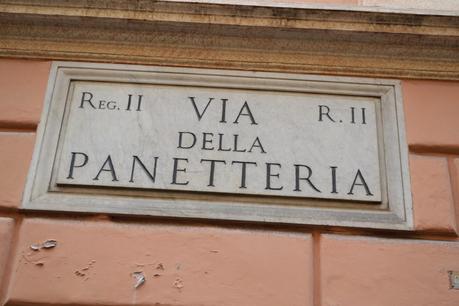 The street where San Crispino lives
Then we were off to the Spanish Steps, climbed the many stairs and trying to ignore as many men as we could who were trying to flog us roses, among other things. And what a great view it was. When we were there in 2012, J and I didn't walk up, due to how overflowing it was with tourists. The last time I saw that view was when I was there in 2009 with
Topdeck
.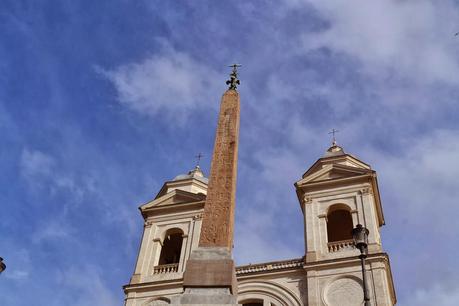 On top of the Spanish Steps
We then walked to Piazza Navona, where it was full of people all trying to take photos of
la Fontagna dei Quattro Fiumi
, though I stood to admire the intricate fountain, my eyes we scanning among the bustle for Tre Scalini, a café/gelaterie that sells its infamous
tartufo nero
, a deliciously large ball of chocolate gelato, with chunks of chocolate chip, served with cream and with a glazed-cherry in the center. One of the most disgustingly over-indulgent things I've eaten and somehow I've managed to eat two in my short lifetime.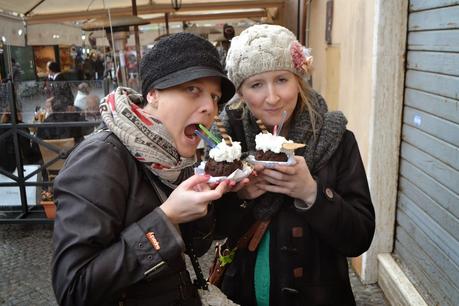 K and I overindulging 
After boasting about the 'best' coffee in Rome, we finally took J's parents to
Caffé Sant'Eustachio
for an espresso. And this time J and I weren't here in the morning or as part of a tour group, again it was every man or woman for themselves. And I was brave enough to order in Italian, among the many Italians on their coffee break. It reminded me of that scene in the movie version of
Eat Love Pray,
where Julia Roberts finds it daunting ordering a coffee. It was insane. We then walked towards the Pantheon, though it felt like we were going on a huge detour, considering they look so close together on the map*. We ended up stopping at a small bakery for flat bread and pastries, where they were nice enough to give us tasters.After a much-needed sit down in the church pews at the Pantheon, we did some more walking, but this time with the intention of reaching the flat, we were stuffed. Though we did make a minor detour to have a close-up look at the
Vittorio Emanuele
memorial and then it was back to the flat. We were so tired all of us from the long day of walking that we decided to eat dinner close to home again, but this time at La Spaccio for dinner – just around the corner from
Viale Carlo Felice
– a laid back franchise, where the food was tasty and cheap. It even had some Italian craft beers on the menu. It was a nice relaxing night for our last night in Rome, and the last time (well until September this year) we'll see J's parents and sister.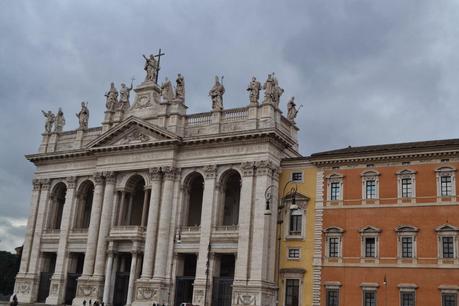 Basilica di San Giovanni in Laterano down the street from where we were staying
Day Five
Well we said our 'see-ya laters' to J's parents and sister, since it would be another eight months till we see them again and then caught the metro to Termini Stazione; where we just made it in time to catch the shuttle bus to Fiumincino Airport.
On the way, possibly the most-scariest thing almost happened – the bus almost broke down – it started shuddering and the bus driver had to stop and wait about five minutes while he kept trying to re-start the engine. Especially scary because we didn't have travel insurance, we definitely did not want to miss our flight to Copenhagen. And then of course our flight was possibly the shittest we've had so far (*touch wood*), it was quite rough due to wind on the last hour of the flight, scaring the s**t out of me. We caught the metro into the center of Copenhagen where it was about a ten-minute walk to
Generator Hostel
where we were staying. Arriving there at around 1:45pm. We then went for a walk around town, and had a delicious sandwhich in a café nearby, before continuing on our walk and admiring all the beautifully merchandised window displays of the shops…it was truly cool and how I imagined Scandinavia to be. We eventually headed back to the hostel where we ate Danish meatballs for dinner and washed it down with a pint of Tuborg Classic.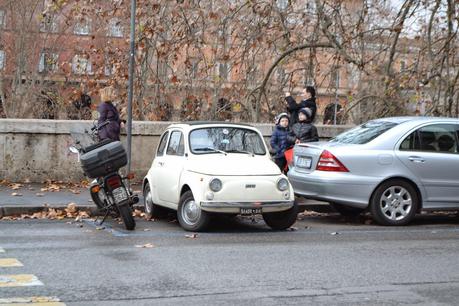 Just a funny photo of Italian parking skills you can see all the time in Rome
*I don't identify as Italian, but sometimes I like to imagine that I am.
*My favorite pizza that I've ever tasted was at the Barcelona food markets in 2012. *He can read a map, but that was an over exaggeration of his skills. *Obviously that is not the recommended way of experiencing Rome like a local.*Obviously he is good with directions, just sometimes he likes to rub it my face.*A classic example of when J thinks he is reading a map properly, but actually he gets the directions so very wrong.
Part two soon to follow...stay tuned x