Parquet Courts have created a bonafide epic in the form of a debut album, however, don't exactly expect Masterpiece Theater; Light Up Gold is pure, perfect, lowbrow fun. Co-frontmen Andrew Savage and Austin Brown are adopted New Yorkers, but the album's "ride 'em, cowboy" cover art isn't the only nod to their Texas heritage. Light Up Gold is a playful album that's brighter, badder, and yes– bigger– than anything else released in 2013.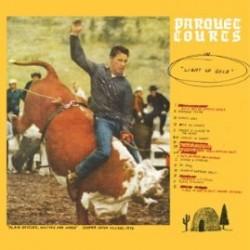 Okay, so 2013 is only, like, two weeks old. Never mind that. I'm telling you– and you heard it here first– Light Up Gold is an album that will continue to have people talking as the year rides on. Savage and Brown have taken thorough, diligent notes from each and every nook-and-cranny of the past thirty years in indie rock, post-punk, and the American underground. Add a dash of tepid, slacker enthusiasm, a sprinkle of anxiety, and what have you got? A couple of snarky, poetic troubadours for a new generation.
Light Up Gold is fifteen quick, concise tracks that definitely pack a punch, as well as leave an impression. Guitars are bold and dynamic, drums are steady and precise, and all the while raw, graceful vocals weave in-and-out like a boxing champ. "Seems these days I'm captive in this borrowed time," goes excellent, frenetic first single "Borrowed Time." There are moments of poignancy on Light Up Gold, but the sillier moments are what really keep things light and fresh. "Donuts Only" is one such occurrence. The groovy, screechy tune laments the lack of bagels in Texas– a true issue of our time.
"Stoned and Starving" continues in this vein, a perfect little punk ditty to which any twenty-something can relate: "I was walking through Ridgewood Queens/I was flipping through magazines/I was so stoned and starving." A few tracks later, an unfiltered punk riff positively rips through "Disney P.T." Light up with, kick back to, or just simply swoon over "Tears O Plenty," a classic, irresistible jam that feels all at once timeless and remarkably new.
And that's just it– the secret behind Light Up Gold, that is. It's rare that an album manages to feel both surprisingly fresh and delightfully familiar, the tried, tested formula that results in listen after listen. Light Up Gold is a seriously good debut, but thankfully, that doesn't mean it takes itself too seriously. Parquet Courts are definitely playing with us, and it's all in good fun.


4.5 / 5 bars