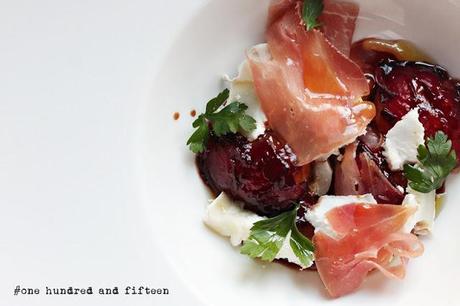 This is a great and unusual way to use plums, try to get firm and red ones because the won´t get to soft when heated with the vinegar. The combination between sweet and sour plums the salty ham and creamy cheese is a great one that you can apply to other dishes like salads or bruschettas. 
It also works well as a side to grilled meats, if you think it would get to heavy on the meat you can exclude the Parma ham.
Parma ham with balsamic vinegar glazed plums & goat cheese
Parma hambalsamic vinegarfresh plumsgoat cheeseparsleyolive oilsugar
Cut the plums in half and remove the pit. In a pan add a little bit of sugar and let it melt, add the plums flesh side down and let cook for a few seconds. Add some balsamic vinegar and bring it to a boil, add a splash of water in case it gets to dry.
On a plate combine the Parma ham with the plums and the vinegar from the pan with crumbles of the goat cheese. Add a few leafs of parsley.