Paris Fashion Week:
Days 8 & 9
We've eventually come to the end of SS'13 Fashion Month and it has done so with a bang: shows from the wonderful Sarah Burton/Alexander McQueen, my all time favorite and inspiration Elie Saab and of course: Chanel, Valentino, JCDC, Miu Miu, Louis Vuitton and Paco Robanne all showed on the final two days this week of PFW. Oh and while I'm posting this on the night of the Cosmopolitan Blogger Awards, I'd just like to say congratulations to my category winner, Lulu Trixabelle and runner up It's A LDN Thing!
Day 8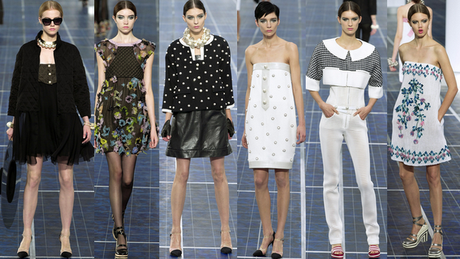 Chanel


Stripped down to one and only element: Karl Lagerfeld took the classic Chanel aesthetic and simplified it with large, gobstopper sized pearls, clean white cuts and a little decoration in the form of some cross-stitched-esque and applique florals. My favorite looks were the simple, clean cut pieces with oversized pearls on both the clothes and the bracelets/necklaces. Some silhouettes verged on clinical - look at the white dress with oversized pearls shown above - as though they were simply a piece of cloth wrapped around the body, but in a way I still liked them as they would make for a very interesting editorial shoot. The actual show set was extremely noteworthy, as the runway was lined on either side by giant wind turnbines which could make you think that Chanel was going to take a slightly more ecological route for Spring 2013. Karl mentioned the set after the show stating: "It's more about the mood of the times, not something you translate...It's all about the wind, it's in the air". Oh and there was even a bag which was basically a hula hoop with a large pocket. Anything goes when it comes to Karl Lagerfeld though. He likes to keep us on our toes.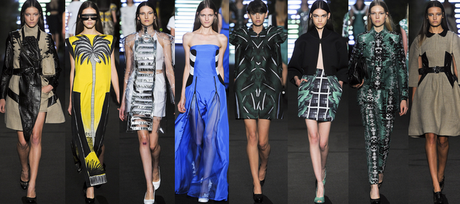 JCDC
JCDC is one of those designers whom I truly have an appreciation for, purely because of his raw, creative talent and ability to have me excited about how fun fashion can be after looking at any of his collections. Spring/Summer 2013 is no different. In fact, I think he managed to shock me, but in a way that I was completely unprepared for - he gave us garments that I could actually see myself wearing. Normally, a JCDC collection to me is all for a bit of fun. To appreciate but only from afar. At his show on Tuesday however, I was pleasantly surprised with the amount of garments that I mentally wrote down on my SS'13 wishlist: the green palm tree print skirts, dresses and trouser suits, as well as the grey/beige coloured dress with large sleeves, leather side panels and belted waist. I could even see myself trying out his clear coats with almost bionic metallic detailing up the front. I don't know how I could have been more pleased if I'm honest.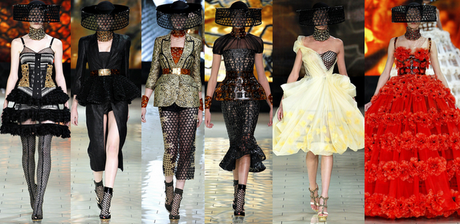 Alexander McQueen

I don't think I have to tell you what the theme for SS'13 was in the mind of Sarah Burton: bee's, bee keepers and all things honeycomb. Personally I think it was a fantastic take on Spring/Summer, and definitely different from shows that we've seen this past month - which is a breath of fresh air to be quite frank. Peplum waists were back through coat tails and slightly strange framed pieces. Harness', leather and honeycomb patterns were a heavy feature in the collection, with florals taking on a brighter and quite obvious role in the finale gowns. The shoes were as ever, impeccable: the platforms were filled with tiny jewels in yellow/gold and red, with other designs taking on a netted look in black. The headgear, while undeniably interesting and amazing alongside the garments on the runway, is ultimately a show piece: Susie Bubble couldn't pull something like that off on the street. Although it would be interesting to see how someone might style that bad boy. 

Day 9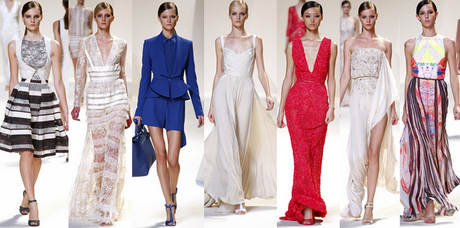 Elie Saab

My love: Elie Saab. The man who introduced me to fashion when I came across his collections on Fashion TV - you've heard this story before on here, so I won't bore you with it again. For Spring 2013, Elie Saab took on a rather minimalist approach, using bright pops of color to make a statement. Colourful tailoring opened the show with trouser suits, nipped in blazers with a fanned peplum detailing on the front to help define the start and stop of each separate and some rather gorgeous bags to match. Then came the print: colourful ink-blot patterns mixed in with streaks of black to break things up a little and to define the waist, then flowed into lace-y pieces in black and white. The finale gowns were as ever the best part of the show. Amazingly intricate bead work with floating skirts and the odd thigh-high slit added some much needed sex appeal and red carpet sparkle. Although the collection didn't necessarily have the wow factor that we saw from the designer in February's A/W'12 shows, it was still one of beauty and I absolutely adored it.
Now that Fashion Month is over, which collection stole your heart across the four cities?
Photo Credit: www.vogue.co.uk - edited on polyvore