Paris Fashion Week:
Days 6 & 7
----------------------------------------
Day 6:
Costume National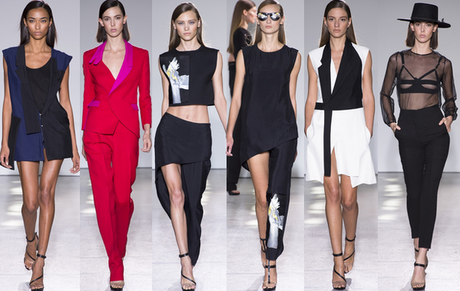 What I loved the most about the SS'13 collection from Costume National were the striking cuts and use of very minimalist placement print on a select few garments. The mainly monochromatic collection was livened up a little with an injection of hot pink and 

fuchsia

 alongside a more subdued royal blue in contrast. Crop tops and A-symmetrical dresses with side trails were the show stoppers for me as I just thought they added quite a fun and playful feel to the collection. And those shoes - mamma mia. I absolutely loved their simplicity and single twisting strap detail. I will 

definitely

 be adding those to my SS'13 wishlist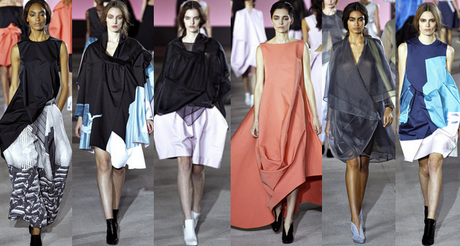 John Galliano


Industrial oriental was the theme behind John Galliano's SS'13 collection, with a lot of heavy draping being the key feature 

among

 many of the looks. What should have appeared very parachute or tent-like actually came across quite tasteful and interesting in a way that surprised me. I loved the graphic prints and use of bold colours to make the garments pop, as well as the use of more sheer fabrics to create softer tones. Probably not the most wearable for me personally, but never the less, a rather stunning collection as a whole. 


---------------------------------------- Day 7: Giambattista Valli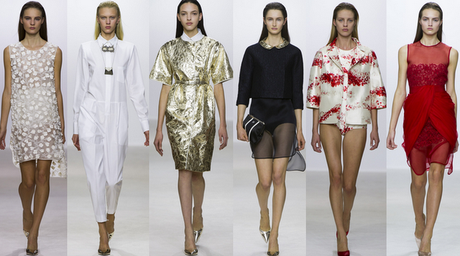 With Giambattista Valli officially on the Couture register and a new official outlet for his more creative juices,  it's no wonder that the SS'13 RTW collection is a little more subdued and simplistic in comparison to the collections seen previously at the label. Beautifully delicate and sweet sheer dresses with applique florals were shown alongside head to toe white ensambles, followed by some metallic gold and finished with a smoking hot injection of juicy red: it was a collection of grace, beauty and just enough edge to bring it all together in one neat little package. The best part? Those metallic heels with severely pointed toe. I can't imagine they would be great for the feet after a while, but they're stunning never the less.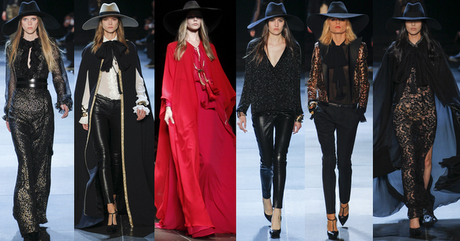 Saint Laurent
As you all know Hedi Slimane took over as Creative Director at YSL earlier this year and had the well known label spread across tabloids and fashion blogs alike with his decision to change the labels name to Saint Laurent (I still wrote YSL on my show notes) and to keep his first collection for the label hidden from the press. Naturally, by the time Paris Fashion Week rolled around, fashionista's everywhere were in a frenzy over what the Spring 2013 collection would look like and couldn't wait to see it stroll down the runway. I can't speak for everyone out there, but I was massively disappointed with the collection. Apart from a few leather pieces here and there and that sparkly sequined jacket, the collection was a flop in my eyes and just looked like a promotional tactic for a Fall Rachel Zoe collection. Hedi Slimane did know he was designing for Spring/Summer, right? Where did all the capes, leather and dark color palette come from then? Does he not realize that this kind of attire is only acceptable in Spring/Summer if it's in the UK or North Pole? I apologize if I sound a little harsh, but that's because those are the only feelings I have towards this collection. And clearly the designer knew that he would face some criticism when it was announced that he wouldn't be answering any questions backstage after the show! Perhaps it's the fact that i'm still a little bitter over the name change - don't fix something if it isn't broke - but I feel as though Hedi Slimane has a lot of work to do if I am going to change my mind on his appointment to the label.
What are your thoughts on the Saint Laurent collection? 



Photo Credit: www.vogue.co.uk - edited on Polyvore