Paris Fashion Week SS'13:


Days 1 & 2




After receiving the feedback regarding review types, I decided to format my PFW reviews in paired days: I liked the idea of the posts containing shows from a couple of days as a catch up and it means that I can also focus of my studies a little better as well - Wednesday and today contained my first few classes and I now have more work to do than I can get my head around. Worry not, Vita di Moda will still be updated on a regular basis and won't be falling off on the side lines any time soon.
Day 1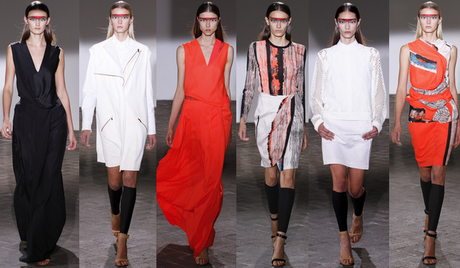 Cedric Charlier

I can't decide which aspect of Cedric Charlier's SS'13 collection I loved more: the casual yet chic minimalism or the pops of bright coral. The collection was just to die for with sleek deep V gowns in black and coral mixed with sportier shapes and white perforated pull over jumpers and boxy white coats and dresses. It was easy on the eye but in no way boring. As soon as I saw the collection I just couldn't wait to show it to you and let you all know what I thought about it. The few printed pieces in the collection really stood out due to their limited appearances, however for someone like myself who enjoys mainly basic pieces with only a few prints thrown in here and there, this was a welcomed thing.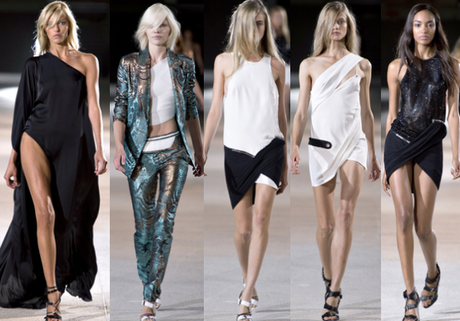 Anthony Vaccarello

Anthony Vaccarello gave us tailored pant suits for AW'12, but for SS'13 the designer has taken a load off his shoulders and gone softer with draped fabrics and rather interesting wrap skirts and dresses. I loved the slight galaxy feel that came with his sparkled black fabrics used in his dresses and the petrol blue and gold print on his pant suit shown above. It was details such as those which took the collection from laid back and almost passive, to "hold on a second, I need to take a closer look". My favorite piece? The draped black finale gown with super sexy hip-high slit. If only I had some beyonce legs to pull it off.


Day 2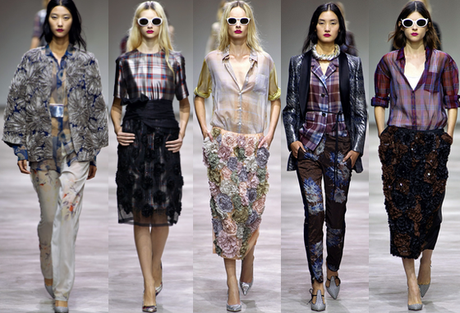 Dries Van Noten

For Spring 2013, Dries Van Noten has just taken nature and a lumberjack and made them join forces: plaid, checked and floral - they're all there, intertwined with one another in a way that should technically appear, well, ugly to say the least. Some of it is though, don't get me wrong and I'm not going to sugar coat that, but there are a handful of looks where I might just be converted into a believer of the patterns coming together in a positive way. I don't really think this collection is one that needs much explanation - just look at it and take your own interpretation from it.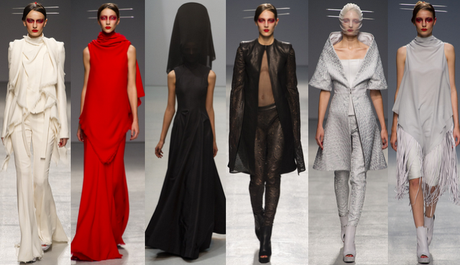 Gareth Pugh

Ah Gareth Pugh: the Prince of Darkness, a designer who will forever be able to pull on my heart strings. You all know by now that if you put anything leather in front of me, then I'm game. I just loved how simplistic, yet strange and gothic the whole collection was with the black, grey, white and extreme injection of red to liven it all up and appear a little less day of the living dead. The black leather head-to-toe garment with veil was just so striking, it was hard to look away and miss what was to come next. If I'm honest, I would probably wear said look without the head piece and veil. Does that make me weird? The draping of fabrics, reptile textures and fringing/ruffling on the last few looks all contributed to the collection as a whole and gave it a very commercial and wearable feel. I just loved it.
Which was your favorite show from the first two days of PFW?



Photo Credt: www.vogue.co.uk - edited on Polyvore