On Sunday 30 April, my friend and I dusted off our season ticket and paid a visit to Parham Gardens in Pulborough.  We are lucky that it is only 20 minutes away and makes for an enjoyable afternoon out, without much driving.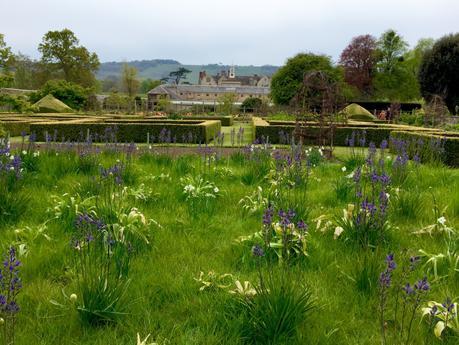 There is a small restaurant called The Big Kitchen at Parham that serves a light lunch of soup, quiche and salad, with some delicious looking cakes.  So we tend to eat first and then wander around the garden.  There was a kitchen issue on Sunday, sadly only sandwiches and cake were on offer, but it didn't stop it from being busy.  The little cafe just by the main garden entrance was also closed.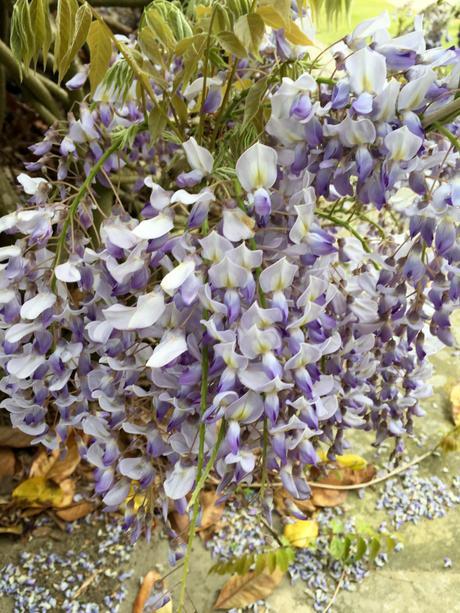 In the open entrance one of the building walls was covered with wisteria and a week earlier must have looked wonderful.  Sadly it had been caught by the frost, but those flowers that had avoided the frost looked spectacular.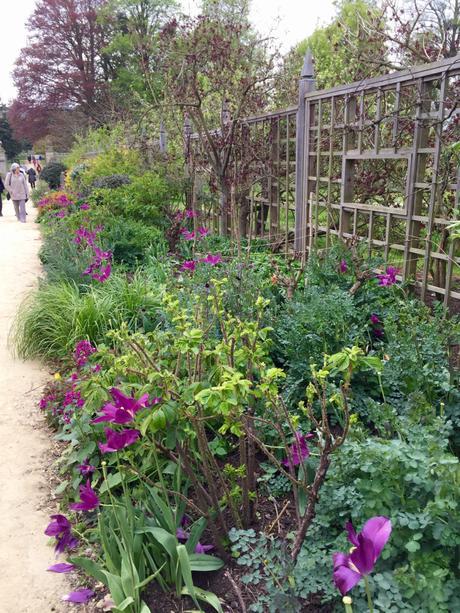 As we walked through the gate into the garden,  the purple tulips made a splash of colour, although they were almost over.   I love tulips at this stage, the petals are floppy and more colourful than when they are closed and the traditional tulip shape.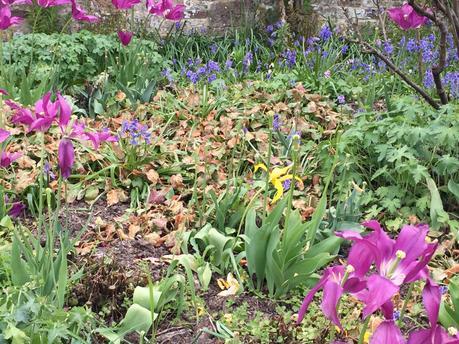 It was here, it struck us as to the amount of frost damage which hit Parham.  We also wondered whether some of the wilted planting, especially the Buddleia, were also suffering from lack of water.  It hasn't rained for weeks in our area so all gardens must be very dry, not what is needed during the growing season.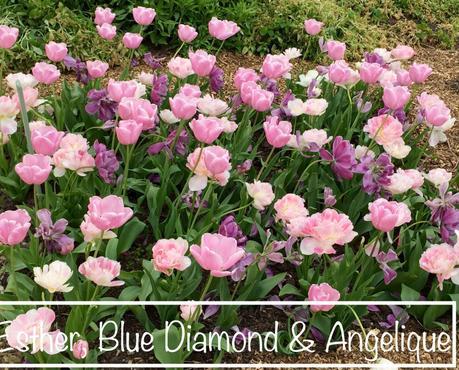 Last year, May 2016,  I wrote about the tulip trials held at Parham (click here) and it was lovely to see the best of the tulips in flower beds in the walled garden.  Considering all my tulips are over, including the late varieties, it was so good to see these still in bloom.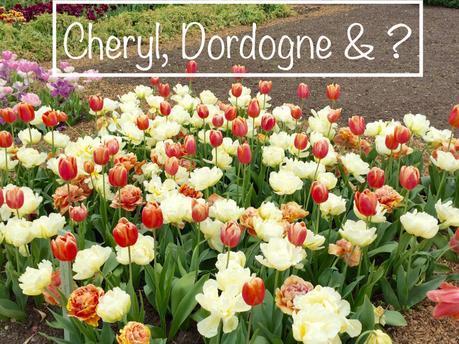 I managed to find the names for most of the tulips but the fringed orange one escaped me.  It is similar to my favorite tulip I grew at home this year called 'Bastia'.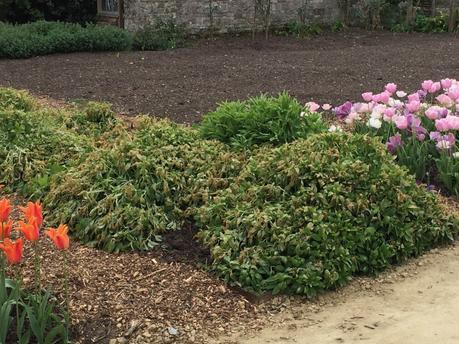 There is a bed of Alstromeria with the tulips and that too had succumbed to the sudden frost last week.  It will recover but I wonder if this year it will flower as prolifically as it usually.   
At this stage, my friend checked me in and I was told not to take anymore photos of frost damage, especially if I was going to blog about the garden, because it wasn't fair, the garden is still beautiful and interesting, which of course it is!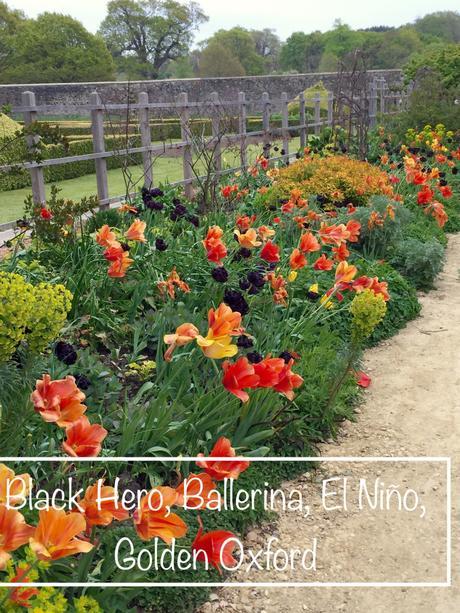 One very bright, striking border was the one above.   The black and orange tulips contrasted so well against the green.   These varieties are in my notebook for 2018.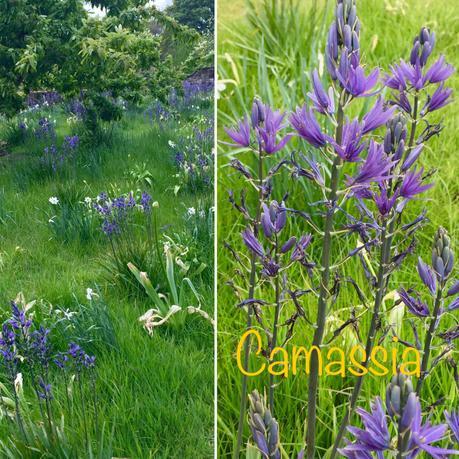 You will have already seen on the first photo of this post the meadow full of camassia.  Such an impressive plant and one I never think to have in my own garden.  This is probably because I first met camassia in this meadow and assume meadows are the place they grow.  There are also a lot of alliums planted here also which will be in flower very soon.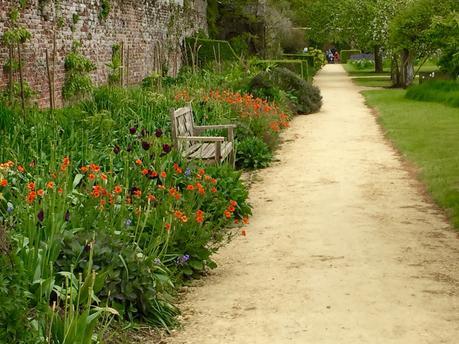 There is always a lull in the garden  between the colourful spring displays leaving a mass of green.  The clever planting of orange Geum breaks up the green until the alliums and peonies open, and they are not far off.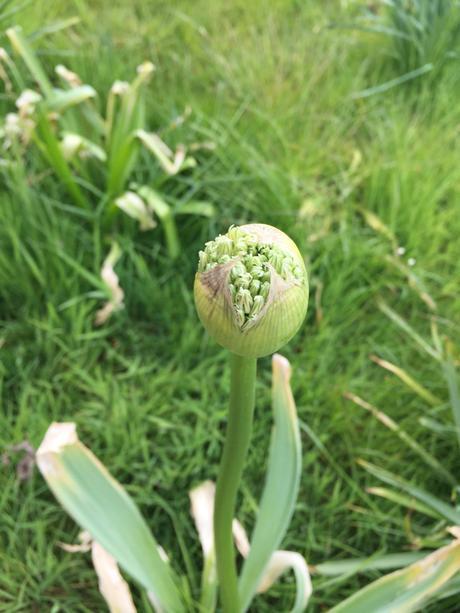 Talking about alliums, my one and only dislike are their leaves which always look so untidy.  I noticed in the Rose Garden (sorry no photos) that some of the alliums had their leaves stripped leaving just the flower stems remaining.  An interesting idea and one I might try.  
A season ticket is really good value if you are going to visit a garden regularly.  Ours cost £42 and weighed against the ticket price of £9 each for the garden only is excellent value, and has more than paid for itself, and you get 10% off plant sales!
Opening times:  Parham is closed Monday, Tuesday and Saturdays unless there are events, see below. 
House | 14:00 – 17:00
Gardens | 12:00 – 17:00
Big Kitchen Restaurant | 12:00 – 17:00
Last Admission | 16:30
Parham Nursery & Garden Shop open to visitors free of charge from 10:30am to 12 noon on standard open days and from 12 noon to 5pm for paying Garden visitors.
Parham always has interesting events, which you can find HERE.