I like an album with a theme. No, not so much concept albums since those rarely work out. What I'm talking about is an album that leaves you feeling fuller, and somewhat richer than before, because something about it simply "clicked" with you. That's Parenthetical Girls' latest, Privilege, in a nutshell: The album offers a cool, crisp concept you can really get behind, though it's not without its shortcomings.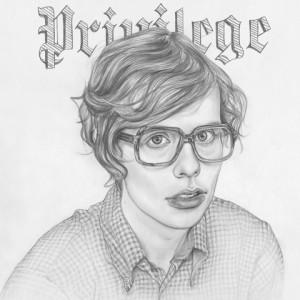 Parenthetical Girls' singer Zac Pennington is the slickest, slyest of frontmen, a man whose voice practically oozes with a cheeky, steely, charm and an enticing edge of gender-ambiguous sex appeal. On Privilege, he's a modern troubadour of sorts, weaving melodramatic, melancholy tales of love, lust, and ill-fated romance. Title track "The Privilege" finds Pennington playing the part of wise, old narrator in a story that features all the tell-tale signs of twisted, dark romance. There's the former lover who "swore to never fall in love again;" the "strange, heart-sick, autistic" sister who "drover herself to the doctor's;" the strict, absent father who never suspected a thing. If it doesn't make too much sense to you, don't worry too much; it sounds damn good, regardless of what any of it means.
"Curtains" is the dreamy duet that finds two lovers bidding each other goodbye from  "under a sky of patent leather" and over above a bed of heavy synth sounds. "Let's not talk about love," Pennington croons, but he sure does like to contradict himself. Nearly every second of "Sympathy for Spastics" references sex in some way, as well as Pennington himself, who never comes off more vain or self-indulgent. The theatrical, OK Computer influenced "Weaknesses" is also worthy of mention, as well as the nuanced baroque pop of "For All The Final Girls."
So, what's the theme of Privilege, then? Well, privilege is the theme of Privilege, if you haven't figured it out yet. Pennington mentions the word several times throughout the album, in many different ways, and although his credibility is sometimes less than sound, he still manages to paint a delicious portrait of those who struggle with the very idea of it. "Trust must have its privileges," he sings on "Young Throats." A tad scattered and confused but altogether dreamy, Privilege is an ambitious take on a much grander theme.

3 / 5 bars