Situated on the Atlantic coastline north to Agadir and near to the surfer's village of Taghazout, Paradis Plage, reinforces Morocco's tourism strategy of the "2020 vision" of eco-friendly travel by dedicating its hotel practices to environmental and social sustainability. The resort provides a unique eco-conscious experience that balances surf with yoga and spa treatments.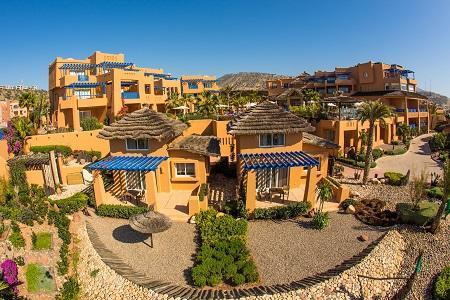 Paradis Plage Agadir, Morocco
Social sustainability is a major defining component of the resort, where the skills and amenities are predominantly provided by local businesses. Regional artisans using traditional Moroccan methods have fabricated the furniture, pottery and hotel fixtures which are enhanced by paintings by local artists. The sustainable approach focuses on the environmental and social level, protecting the well-being of both the land and local residents alike.
Reflecting the environmental commitment, the hotel rooms were designed to optimize natural resources and decrease electricity consumption by maximizing the use of sunlight. Each room contains its own air conditioner and water heater while the wastewater from the resort is treated by its own sewage plant, before it is recycled for watering the gardens.
The Paradis Plage provides 4 distinctive dining experiences. The Lounge, The 27, The Ocean, and Chiringuito. They all offer authentic Moroccan cuisine that uses organic products cultivated from the agriculture of a neighbouring farm. There is also the Khaima, a nomadic style tent, is available on request.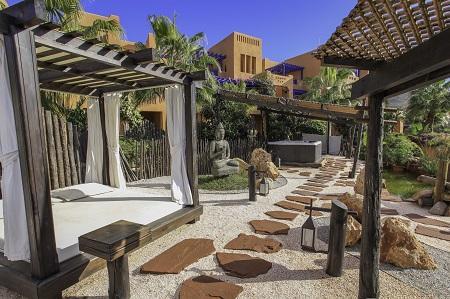 Paradis Plage Agadir, Morocco
Similarly, the nearby fisheries that use traditional fishing practices provide the restaurants with fresh fish every morning. Each restaurant, ranging from The Ocean, a buffet-style meal overlooking the water. To the Khaima which can be set up on the beach to embody the traditional Moroccan culture. Supply the freshest and healthiest meals to guests while sustaining the local economy.
Exemplifying the overall guiding eco-friendly principles. The signature Paradise Spa, provides mental and physical treatments with the use of local Moroccan ingredients that are harvested in respect to the environment.
With hints of orange blossom and rich chocolate, the sensorial massages incorporate natural active ingredients. As well as essential oils to relax and rejuvenate. Additionally, the hammam, an Islamic variant of the traditional Turkish steam bath. Integrates the mineral-enriched, organic clay ghassoul. That is extracted from the Moroccan Atlas Mountains to provide longevity and vitality.
Paradis Plage Agadir, Morocco
Characterized by ideal surfing conditions combined with a variety of relaxing yoga classes and spa amenities. Paradis Plage provides guests with an eco health and wellness-oriented experience. While still possessing the luxuries of a getaway resort.