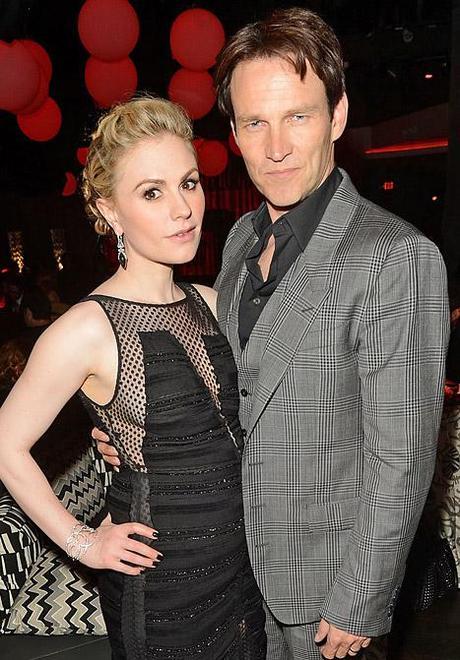 Unlike their characters Sookie Stackhouse and Bill Compton, the married True Blood co-stars Anna Paquin and Stephen Moyer seem to be living quite happily ever after together, as shown by the announcement of their upcoming arrival of twins. The True Blood actors have been married for two years since first meeting through the show and are excited to add their two children to their family of four consisting of Moyer, Paquin, and Moyer's two children from another relationship: Lilac, 10, and Billy, 12. Moyer says,
"I love my kids so much. And I think that the fact that Anna is pregnant just adds more crazy to the bundle of fun."
Amazingly enough, these twins to come are not the first to arrive on the True Blood scene. Moyer and Paquin's co-star Sam Trammell has 11-month-old twins, Winston and Gus, with his girlfriend Missy Yager. Trammell seemed happy to help the expecting couple, saying, "I'm so excited for them. We sent them a special gift. It's so interesting that True Blood has become, like, the 'twins' show."
As far as advice for his friends, Trammell says: "It's harder, having twins, but it's all we know. So we're trying to impart some decent wisdom. I told them to hold on tight!"
We wish them the best of luck!
Source: Usmagazine.com
Photo: Jason Merritt via UsMagazine.com