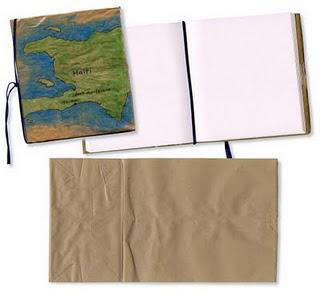 In just a few days I will be traveling to Haiti with Project HOPE Art, an amazing group of women I met and joined up with earlier this year. We will be visiting the cities of Port-au-Prince and Jacmel, making art with children in orphanages and schools in an effort to bring creativity to their lives. 
As a fan of art travel journals, my first instinct was to go and buy a leather-bound, magnet-closing, super-embossed luxurious book to record all my writings for this very special trip. But then my practical side got the better of me, and I decided to try an idea I saw recently using paper bags to make books. I've also learned that Haiti has an issue with trash, so I decided that my journal should be made with products on hand and no more. 
1. My corner market gave me a handful of 11" x 6" (flat) brown paper bags to work with. Drawing paper was cut into 10.5" x 6" panels, folded in half, and then tied to the folded paper bag with a leather string. 2. I drew a map of Haiti on the cover of the brown paper, and traced it with a permanent black marker. I used watercolor colored pencils to shade in the land and water, and painted it with water to soften the image. 3. Finally, in order to protect my journal from water and stains, I covered it with clear packing tape. Not super fancy, but I like the homemade look. 
Stay tuned to read about my adventures in Haiti!