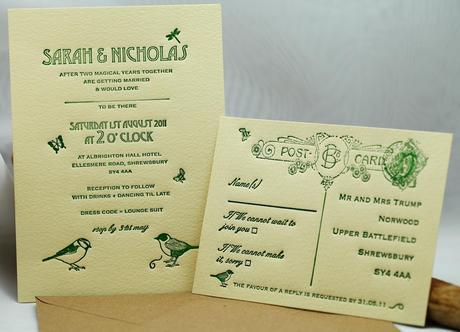 Above: beautiful and unique letterpress wedding invitations from Artcadia – this is a new range called Early Bird
Scratchy Save the Dates from www.swisscottagedesigns.com on the Oh So Beautiful Paper blog – with a little guessing game for wedding guests too!
Cake signs – is this a stationery step too far? Or just an extra excuse for pretty signage at your wedding? Lucky Orchid blog has some ideas for wedding cake signs
Ornate embossed letterpress wedding invitations from Bella Figura
I love these floral wedding invitations from Made With Love - they're so perfect for spring!
Beautifully written quirky calligraphy wedding invitations by Renee Troy, with a seaside theme
If I could write this beautifully in pencil I'd be a happy lady indeed! A self-indulgent, calligraphy link for you: from Long Village Lettering