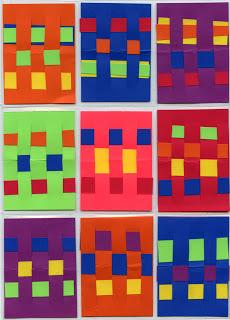 Call this a weaving sampler, it's one way to introduce just the very basic idea of "over and under" to little ones.
1. Cut lots of cardstock cards that measure 2.5" x 3.5". Students fold them in half to measure 2.5" x 1.75". Using a scissors, they cut four slits on the fold, and open the card up again.
2. Cut lots of skinny strips that are 2.5" wide, and randomly varying heights. Students weave them into their cards horizontally, hopefully getting at least 3 in each card. Those that want to add a little extra flair may add very thin strips on top of fatter ones, as shown with the yellow and orange in the top right card. Place all the cards in trading card sleeves that you can find at Staples.