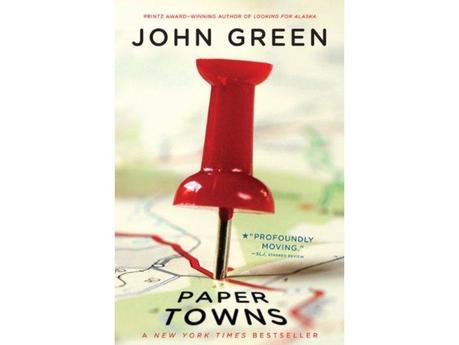 Who is the real Margo? Quentin Jacobsen has spent a lifetime loving the magnificently adventurous Margo Roth Spiegelman from afar. So when she cracks open a window and climbs into his life - dressed like a ninja and summoning him for an ingenious campaign of revenge - he follows. After their all-nighter ends and a new day breaks, Q arrives at school to discover that Margo, always an enigma, has now become a mystery. She has disappeared. Q soon learns that there are clues in her disappearance . . . and they are for him. Trailing Margo's disconnected path across the USA, the closer Q gets, the less sure he is of who he is looking for. -Amazon
Being a big John Green fan, I was looking forward to reading another of his book and I really did enjoy it. 
From a young age, Q has been in love with his next door 

neighbour Margo however over the years they've stopped being friends and are now in two different leagues of social class in the high school social ladder yet for some reason, Margo chooses Q to help with her campaign of revenge and then disappears the next day and Q is determined to find her.
Once again, John Green has managed to create real, well-rounded characters who aren't stereotypical, but relatable to on so many levels. The relationships they have are believable too; Q, Ben and Radar all quirky in their own sense and the dynamics between them is funny, often slightly cringe worthy and oh so compassionate at times. Even though I'm a girl, it's really nice to have the story come from a male perspective because it isn't anywhere near as common as the teenage girls perspective and it's really refreshing. 
I loved the whole book and related to it on so many levels. I used to be in the school concert band and orchestra (like Ben and Radar) and often felt like they all did and I long to go on a road trip like these characters do. John Green has managed to encapsulate what the majority of teenagers feel like without being filled with typical cliches. As a reader, you aren't treated as stupid and the characters too, aren't a load of air-heads which is nice. 
I really recommend this book to...well everyone because I think that it's easy to relate to and can make you laugh and cry.
5/5  Katie xxx
Twitter | Bloglovin | Facebook | Instagram