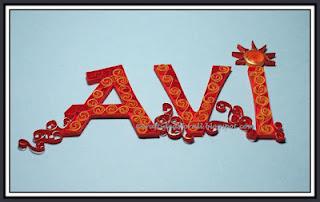 I made this for a friend's son's Birthday. He turned four this year. His parents requested for no gifts for the party. Initially I  planned to make a birthday card with his name in quilled typography. I thought that would be a meaningful gift and being handmade rather than store bought would respect he no gifts request from the parents too ;). But while making the project I changed my mind and framed it so if they wish they can display it in his room.
His name is "Avi ". In our native language Hindi it means Sun and Air.  I tried to include the colors Orange Red and Yellow to signify the brightness of Sun and a cool blue as background with a few scrolls between the individual letters to signify "Air".  I added a sun over the letter "I" using special quilling strips with golden edge. I tried the
bee hive
technique invented by Susan  for the first time and it sure was fun.
The letters measure almost 2.5 " in height. The finished design is 5 " x 7" approx and is framed in a 8" x 10" matted frame. Here is another photograph of the finished project.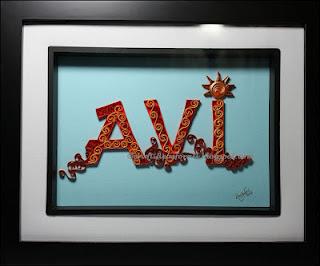 I would love to get your feedback/ comments. They definitely make my skies brighter here in Seattle :).