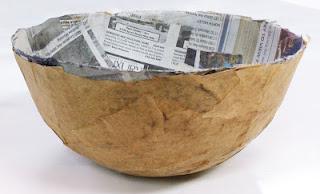 Paper mache bowls don't have to be made of one material. Newspaper + brown paper makes a really great earthy, recycled-looking bowl.
1. Students did a variation on my "Tissue Paper Bowl" project, but used newspaper and paper mache instead. The bowls were covered in one layer of paper and let to dry.
2. Thin brown paper was mached onto the newspaper and let dry. Several layers are best for a strong bowl.